The use of public data leads the creative economy
Nov 12, 2013
The Korean government is implementing new plans that will realize its new vision for creative industries and help it achieve "
Government 3.0
."
These efforts center around the opening of public data in a way to create more jobs and new industries. This will provide support for those who plan to launch start-up businesses based on this government-collected data. The central government currently makes as many as 3,395 different types of data available to the public. On October 31, it announced its plans to publicly release a total of 9,470 types of data by 2017.
To do this, the government is using what's called "Big Data."
Big data is a collection of data sets. It often refers to the technology used to "read" those data sets, technology that can efficiently process large quantities of complex data. This would have been difficult to process using traditional database management tools. The concept also includes data produced in real time through online platforms such as social networking services (SNS) and global positioning systems (GPS). In many countries, the analysis of big data has been well-recognized for its effectiveness and efficiency. A number of corporations, including Google and Amazon, have already been providing researchers and developers with big data platforms through which they can collect, store, manage and analyze data.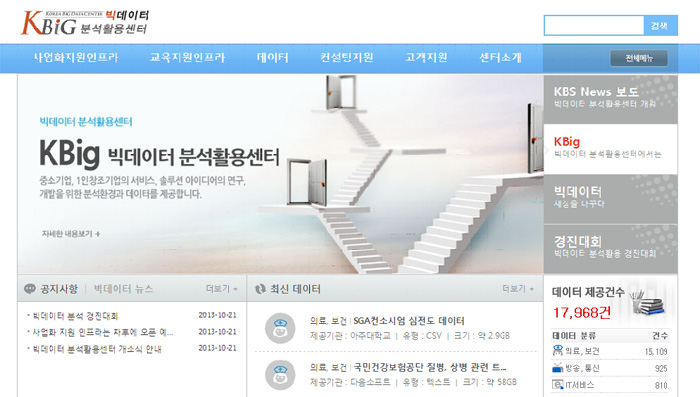 To bring these tools home, the Korean government launched its Big Data Center on October 24. It was established by the
Ministry of Science, ICT and Future Planning
along with the
National Information Society Agency
. It aims to facilitate the adoption of big data analytical tools. The center has two areas of focus: business and education. It provides the infrastructure and an environment where businesses and researchers can develop new services and test model projects, while educational institutions can test their practical programs.
"It means a lot to the public and to small- and medium-sized firms that have a shortage of capital and staff," said CEO Gwon Dae-seok of Clunix, a big data services company. "I hope that the information services and software solutions produced at the center can build a solid foundation for a vibrant economy."
This push toward big data analysis and management has been made by the
Ministry of Security and Public Administration
, the
Ministry of Land, Infrastructure, and Transport
, the Presidential Committee on the Younger Generation and the
Small and Medium Business Administration
. To encourage companies and people to get involved in working with big data, these four government bodies jointly hosted an "ideas competition" aimed at new start-ups. The competition organizers began accepting entries in July and the winners were announced on November 6.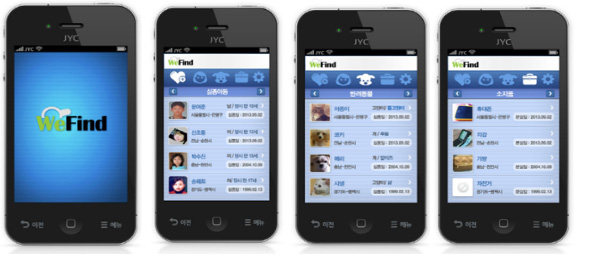 A wide variety of creative ideas were presented at the competition, including concepts from tourism, transportation, real estate and more. Among them was the new app "We Find." It uses publicly available data and social networking services (SNS) to help people find stolen or lost property, lost pets and even missing children. The program can be used by anyone who has lost anything valuable. They launch the application and upload their story about what they are looking for, how they lost it, where, when, etc. App-users who read the message, generally on smartphones, use text messages to spread the message through their own SNS networks while providing words of consolation to the affected parties. This app was co-designed by the Seoul Metro Lost and Found Center and the Missing Child Center at the National Police Agency.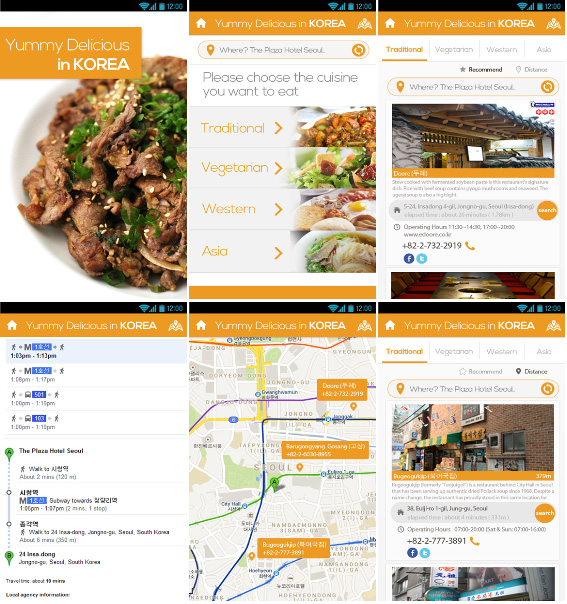 Tourists travelling around Korea can easily get information on restaurants and eateries through "Yummy Yummy," an app for foodies. The program suggests to the app-user a number of options to choose from, with details about a restaurant's popularity and distance. The application uses data from TourAPI 2.0, part of the Korea Tourism Organization, and adds tagged photos from pages like Flickr.
In addition to these two, a whole range of informative and creative applications have been introduced. "Guesthouse" provides a number of affordable accommodation options nationwide. "Beeline" offers the best transportation options for commuters during rush hour, while "Hwahae" shares with app-users information on cosmetics, based on data provided by the Ministry of Food and Drug Safety. The prize winners at the competition will be given a specific sum of capital and the support needed to expand their new business.
More details can be found at the Public Data Portal website. (
www.data.go.kr
)
By Lee Seung-ah
Korea.net Staff Writer
slee27@korea.kr
Department Global Communication and Contents Division, Contact Us