President Park, Laos leader hold summit talks
Nov 22, 2013
President Park Geun-hye and Laotian President Choummaly Sayasone discussed ways to boost bilateral cooperation between Korea and Laos at Cheong Wa Dae on November 22.
The two presidents exchanged opinions on how to deepen Korea-Laos cooperation in politics and business, and how to broaden bilateral cultural exchanges and people-to-people exchanges. They also discussed cooperation on how to respond to regional issues involving the Korean Peninsula, Northeast Asia, the Association of South-East Asian Nations (ASEAN) and international issues on the global stage.
The two leaders highly valued the remarkable progress both Korea and Laos have made in the less-than-two decades since the establishment of diplomatic ties in 1995. They discussed these measures during the Laos president's visit to Korea.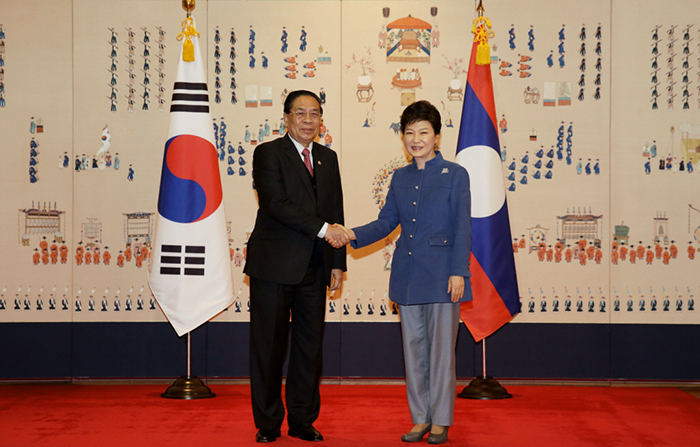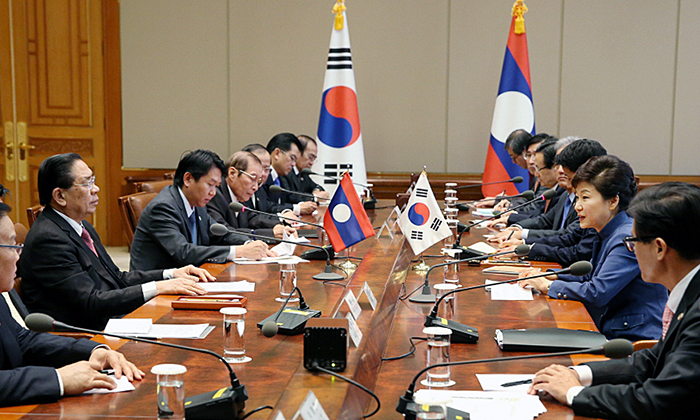 President Park welcomed her Laotian counterpart's visit to Korea, as he has now become the first Laotian leader to visit the country since the establishment of diplomatic ties. She said that his visit will offer an opportunity for both countries to advance the bilateral relationship across many areas such as politics, business and culture. President Park expressed her hope that the mutually beneficial bilateral relationship can develop further and contribute to the happiness of the peoples of both countries.
After the summit, the two governments signed memoranda of understanding (MOU) on the provision of grant-type aid from the Korea International Cooperation Agency (KOICA), loans from the Economic Development Cooperation Fund (EDCF) and cooperation on preserving historic sites in the Champasak region in southern Laos. The MOUs on the provision of both grant-type aid and credit assistance provide legal grounds for Korea to provide various types of assistance to the Southeast Asian country. Under the adopted MOUs, Korea will provide Laos with some USD 200 million from the EDCF between 2014 and 2017.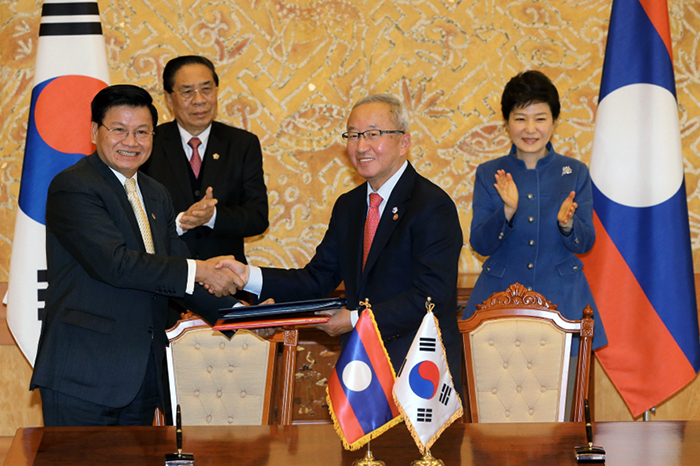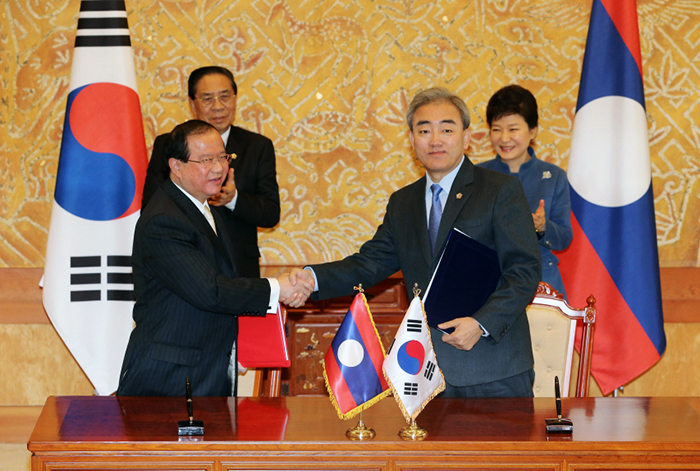 Both presidents agreed to boost bilateral economic cooperation and exchanges between Korea and Laos by using the abundant natural resources of Laos and Korea's high-end technology. They further agreed to strengthen the bilateral alliance and cooperation in international arenas such as ASEAN and the U.N. The two leaders agreed to bolster cooperation on hydropower and mineral resource development by expanding Korean firms' participation in hydropower development projects in Laos. The country holds ample hydropower potential due to its natural mountainous areas.
They also agreed to expand Korean businesses' participation in the exploration and development of mineral resources such as gold, copper, steel and zinc, another area in which Laos holds untapped potential. The two presidents agreed to make concerted efforts and to extend bilateral economic cooperation to solve the difficulties that hinder more investment such as issues of minimum wages, employment procedures for foreign workers, the corporate tax rate and financial cooperation.
By Yoon Sojung
Korea.net Staff Writer
arete@korea.kr
Department Global Communication and Contents Division, Contact Us