Korea, Colombia agree to keep up cooperation in trade, economy
Jul 01, 2010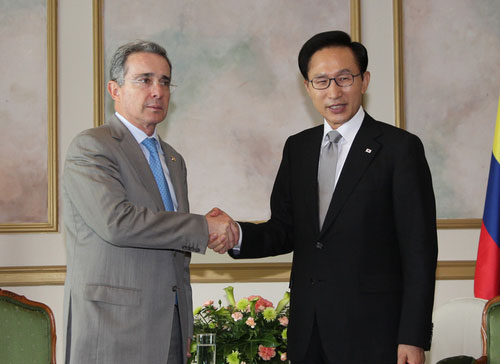 President Lee Myung-bak met with President of Colombia Alvaro Uribe on the sidelines of the third Korea-SICA summit meeting in Panama to discuss pending issues between the two countries and other matters of mutual concern on Wednesday (Jun. 30)

In the wake of the 60th anniversary of the Korean War (1950-53) this year, President Lee expressed thanks to the Colombian government for the dispatch of troops over half a century ago to help the fledgling Republic of Korea (South Korea) that was under attack. President Uribe, in response, acknowledged the long-held friendship between the two countries. Colombia was the only country in South America that sent its troops to the war raging in Korea at the time. The war claimed 214 out of 4,314 Colombian servicemen.

Lee expressed great satisfaction about Colombia's improved status in both public security and its business environment, allowing new opportunities for Korean firms. Uribe welcomed the recent advancement of Korean companies and promised active assistance in the future.

The two presidents agreed to accelerate talks for a free trade agreement and to continue to build up systemic measures to enhance cooperation in bilateral trade and economy such as a double taxation prevention treaty, an Economic Development Cooperation Fund (EDCF) and an investment guarantee treaty.

President Uribe expressed thanks to the Korean president for various joint development projects between the two countries. President Lee assured that Korea will maintain the cooperative projects, as Colombia is an important recipient of ODA (Official Development Assistance) in South America.

By Kim Hee-sung
Korea.net Staff Writer
Featured Topics
http://www.korea.net/NewsFocus/Policies/view?articleId=81802
URL Copy
Department Global Communication and Contents Division, Contact Us