President Lee meets Belgian veterans
Oct 04, 2010
After arriving in Belgium on October 3, President Lee Myung-bak visited the Royal Museum of the Armed Forces and Military History in Brussels and met with Belgian veterans of the Korean War.

President Lee expressed thanks for the contributions of the 3,500 Belgian and Luxembourg soldiers who served in the Korean War (1950-1953), and particularly those who sacrificed their lives to protect democracy.

Lee said the sacrifices Belgians made during the Korean War became the foundation for today's Korea-Belgium ties and served as an important cornerstone for Korea's economic development.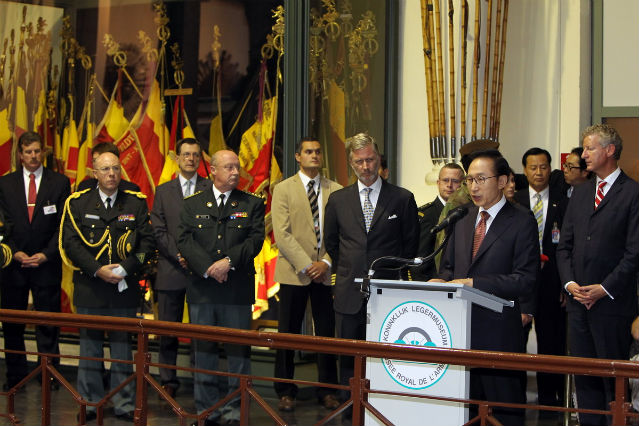 President Lee Myunug-bak (second from right, front row) giving an address at the Belgian Royal Museum of the Armed Forces and Military History on Oct. 3


President Lee then spoke of Korea's goal to play a larger role in the international community by hosting the G20 Seoul Summit next month, and the Seoul Nuclear Security Summit next year.

High-profile figures like H.R.H. Prince Phillip and Belgian Minister of Defense Pieter De Crem received President Lee at the museum.

President Lee will attend the ASEM summit meeting later that day and tomorrow in Brussels, where he will ask for support and cooperation for the G20 Seoul Summit.

By Yoon Sojung
Korea.net Staff Writer

Featured Topics
http://www.korea.net/NewsFocus/Policies/view?articleId=83200
URL Copy
Department Global Communication and Contents Division, Contact Us