Kimchi World offers a taste of Korean cuisine
Nov 30, 2010
"Kimchi World" a cultural space to experience Korean food, opened in Insa-dong in central Seoul on November 8.

Located between Nakwon Arcade and Anguk Station, Kimchi World was established by the kimchi manufacturer, Chongga Kimchi, for foreign tourists.

The place is divided into three zones: the Information Zone, Experience Zone, and Sale Zone. The Information Zone features photos and video clips on the history of kimchi, and the Sale Zone has popular Korean foods like hot pepper paste, kimchi and dried laver for purchase.
The Experience Zone offers cooking courses for visitors to learn to make their own kimchi. The basic course lasts 30 minutes and teaches participants how to make cabbage kimchi, while the premium course teaches people how to make kimchi, topokki, and makgeolli and lasts an hour. Classes are available in English, Japanese, and Chinese.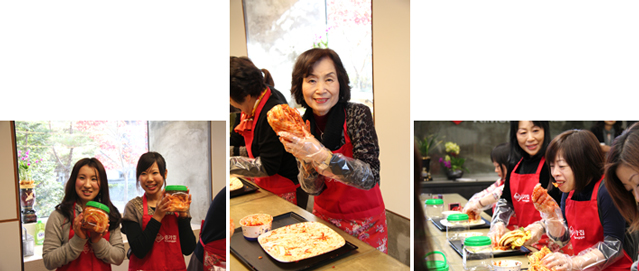 "The kimchi here tastes deeper and less spicy than kimchi in Japan," said Kagimoto Miyako, a Japanese tourist visiting with her mother and daughter. "My mother didn't like kimchi before but now she loves it after tasting the kimchi she made here."
Making rice cakes in spicy sauce is also popular. "Topokki is very common in Korea, but it's not easy to season," said Kimchi World staff. "Most foreign visitors here make ddeokbokki for the first time, and they are really satisfied with the taste of what they made."

The Information Zone and Sale Zone
Foods in the Sale Zone were selected after researching what foreign tourists most want to buy in Korea. In the Sale Zone, kimchi, dried laver, makgeolli and hot pepper pastes are available at lower prices than at department stores and tourist shops.
They also offer free delivery to Incheon Airport for purchases of 30,000 won or more.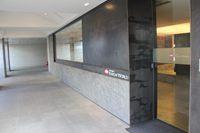 Jeong Wun-cheon, chairman of the Korean Food Foundation, said, "Because kimchi includes the history, culture, taste and spirit of Korea, it is very meaningful that foreign tourists make kimchi when they visit Korea."

Kimchi World classes can be booked ahead of time through some Japanese websites, such as www.conest.com and www.seoulnavi.com. Classes can also be reserved by calling by phone or in person two hours ahead of time.

For more information, please call (02) 3290-8801~2 or email kimchiworld@daesang.co.kr

Jessica Seoyoung Choi
Korea.net Staff Writer
Featured Topics
http://www.korea.net/NewsFocus/Policies/view?articleId=84171
URL Copy
Department Global Communication and Contents Division, Contact Us