King Sejong Institute to open in Indonesia
Aug 12, 2011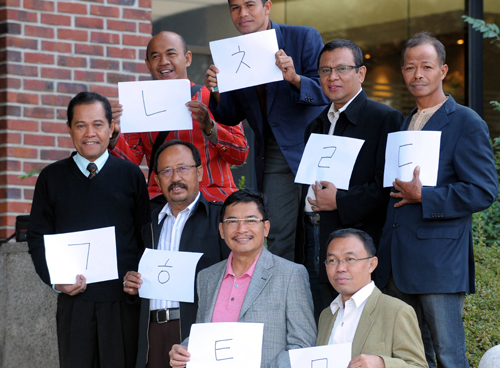 Officials from Indonesia visited Korea last year to celebrate Hangeulnal, Korean Language Day. (Photo: Yonhap News)
A new branch of the King Sejong Institute will open in September at Buton University in Bau-Bau City, Indonesia. The King Sejong Institute is a Korean language institute run by the Korean government , and has 16 branches in 28 countries.
Bau-Bau City is home to many members of the Jjia Jjia ethnic group, which chose Hangeul as their official written language in 2009, and uses textbooks written in their native language using Hangeul letters.
According to Hunminjeongeum Society, Gyeongbuk University will open the Bau-Bau Sejong Institute in cooperation with Buton University on September 1. Most of students at the university are also members of the Jjia Jjia ethnic group.
The institute will accept around 100 students into four levels, based on Korean ability, for one year courses held at the university.
Gyeongbuk University is currently hiring Korean teachers, and final two candidates will be sent to Bau-Bau City with two local Korean teachers from Indonesia.

By Jessica Seoyoung Choi
Korea.net Staff Writer

Featured Topics
http://www.korea.net/NewsFocus/Policies/view?articleId=88208
URL Copy
Department Global Communication and Contents Division, Contact Us