Korea adopts green lifestyle, industry and technology development
Aug 19, 2011
Three years ago, on August 15, 2008, President Lee Myung-bak proposed "low carbon, green growth" as the country's new development strategy.

At the time, few people understood the concept or development direction, but today, "low carbon, green growth" is the country's official development paradigm. Korean society is taking action to reduce greenhouse gas and carbon emissions.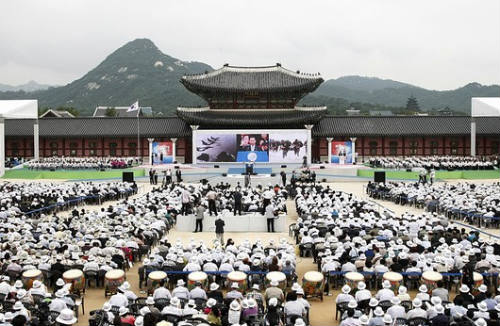 President Lee announced low carbon, green growth as the country's development policy on Aug. 15, 2008.
One year after the announcement of the country's new vision for growth, the Korean government established the Presidential Committee on Green Growth (PCGG) in 2009.

The government also set up five-year development plans and national strategies to provide firm legal ground for green growth laws.
In 2010, the government pushed forward with the development of green industries and technologies, which include solar power, wind power and light-emitting diodes (LED), and provided support for small and medium-sized firms in green industries.

This year, the government is focusing on improving the country's systems by enacting laws designed to limit greenhouse gas emission and advancing energy management in order to transform the country socio-economic structure in favor of low carbon emissions.

◆ Gov't builds new system to lower greenhouse gas emission

The Korean government aims to rank as one of the world's top seven leading countries in green growth by 2020 through implementing the national strategies and five-year plans set up by the Green Growth Presidential Committee in 2009.

The government announced its goals to reduce greenhouse gas emission by 30 percent by 2020. From September of this year, nearly 500 firms will begin working towards their reduction goals through the national greenhouse gas and energy management system.

The government raised its investment volume in research and development (R & D) for green technology to 2.3 trillion won last year, up from 2 trillion in 2009. It also created a list of 27 important green technologies and introduced a green certification system in order to narrow the technology gap with other countries.

Wind power plant on Jeju Island
The government also expanded support for small and medium-sized firms in green industries. The number of venture start-ups in green industries has risen more than 40 percent since 2009, with nearly 800 businesses registered in 2010. The government's green certification system, introduced in April last year, has certified more than 400 cases of green technology, projects and firms.

◆ More people sharing understanding, participating in green life

Korean citizens have also cultivated more social awareness of green living.

The KTX bullet train network will connect most major cities nationwide by 2020, making most destinations less than 90 minutes away from any other major city and turning rail into one of the country's most important transportation systems.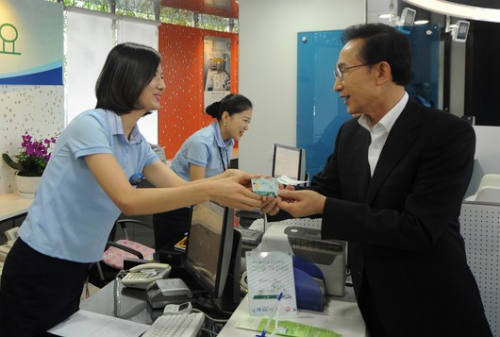 President Lee (right) receives a "green" credit card, which provides incentives when users make environmentally responsible lifestyle choices, including using recycled products and public transportation.

The country is also increasing its supply of green homes and strengthening the standards for energy efficiency for new building construction.

More and more Koreans are also participating in campaigns to promote green lifestyles in cooperation with related government bodies and civic groups.

Thanks to increased awareness of green living, the number of households which joined the carbon point system rose to 2 million in July 2011.

◆ Gov't aims to upgrade climate change response capacity

Along with the goal of reducing greenhouse gas emissions, the government has been upgrading the country's capability to effectively respond to climate change by developing climate change scenarios and setting up climate change adaptation plans in seven selected sectors.

Korea has also been playing a leading role in promoting green growth policy in the international community through international organizations like the OECD. The country has launched the Global Green Growth Institute (GGGI), a global think tank for green growth, and introduced the East Asia Climate Partnership in order to expand its support for developing countries so that more countries can be involved in green growth policy initiatives.

By Yoon Sojung
Korea.net Staff Writer
Department Global Communication and Contents Division, Contact Us