Korea to commercialize production of electric cars from 2014
Aug 19, 2011
Korea will begin to produce medium-sized electric cars from 2014.

The Ministry of knowledge Economy said on August 10 that it selected a consortium of businesses, including Hyundai Motor Company, as partners for the ministry's electric car development project, which begins this month.

The ministry will inject nearly 70 billion won into the project over the next three years, along with 100 billion won of investment from the private sector.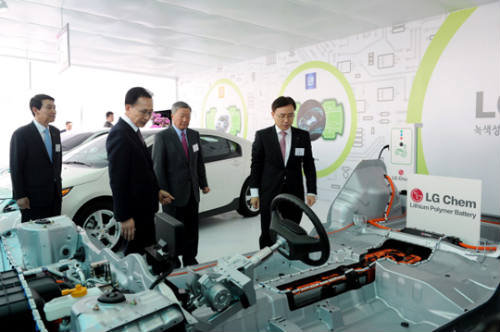 President Lee Myung-bak (second from left) looking at an electric car displayed at a lithium battery plant in Korea

Through the project, the ministry aims to upgrade the overall performance and lower the price of electric cars. It also plans to advance performance of key parts and materials so that people can use the vehicles with as much convenience as a standard gasoline car.

The ministry also plans to develop electric vehicles which can reach speeds of up to 145 kilometers per hour with a battery capacity of 273 kilowatts.

The ministry said in the press release that it will secure core technology for electric cars and parts and materials in order to help the country rank among top three leading nations in green cars.

By Yoon Sojung
Korea.net Staff Writer

Featured Topics
http://www.korea.net/NewsFocus/Policies/view?articleId=88333
URL Copy
Department Global Communication and Contents Division, Contact Us