Korea-Japan Festival 2011 in Tokyo wraps up
Oct 03, 2011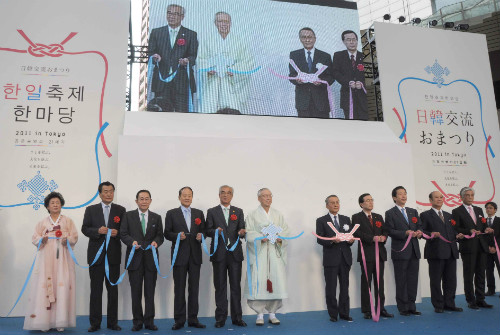 Korea-Japan Festival 2011 in Tokyo (Photos courtesy of the Ministry of Culture, Sports and Tourism)
Following the event held in Seoul on September 25, the second part of the Korea-Japan Festival 2011 took place in Roppongi Hills Arena in Tokyo.
The two-day festival kicked off on October 1, with an opening ceremony under the slogan "Coexistence and co-prosperity for the 21st century," followed by K-pop and cover dance contests alongside other cultural events.
Various outdoor concerts were organized the next day, providing a unique chance to appreciate and compare the two nations' traditional performing arts. A number of culture ministry-sponsored performances of fusion traditional Korean music and interpretative traditional dances were also performed on the stage. That evening, a K-pop concert featuring Korean idol groups including Miss A marked the highlight of the festival, reconfirming the heightened attention on Korean pop music.
Throughout the event, visitors enjoyed Korea's culinary culture, including tastings of savory Korean dishes and spices as well as a special cocktail performance involving makgeolli, a traditional Korean alcohol made with rice. The festival brought to the Japanese capital a variety of hands-on activities designed to offer an experience with Korean traditions and culture, such as trying on Hanbok, or Korean traditional clothing.
This year's festival featured a special program to support recovery efforts and aid the victims affected by the massive earthquake and tsunami which struck Japan last March. The Korea-Japan Festival hosted a charity bazaar that drew donations from famous Korean entertainers like Kim Hyun-joong. All proceeds from the event go to the Japanese Red Cross.
During the congratulatory address at the reception celebrating the event, Minister of Culture, Sports and Tourism Choe Kwang sik expressed his will to further reinvigorate bilateral cultural exchanges that involve mutual understanding among the people of both countries.
The Korea-Japan Festival was established in 2005, in conjunction with the "Year of Friendship," the 40th anniversary of the normalization of formal diplomatic relations between the two countries. Every October, the festival committee, composed of each nation's culture delegates, hosts the series of events under the auspices of the two governments, affiliated organizations, and corporations, along with participation from civil volunteer groups. The annual event was initially held in Seoul and has extended its presence to Tokyo since 2009. The festival has marked an important step in boosting bilateral cultural exchanges and cooperation in both the public and private sectors.
By Hwang Dana
Korea.net Staff Writer
Department Global Communication and Contents Division, Contact Us