Korea, IT nation on the rise
Nov 14, 2011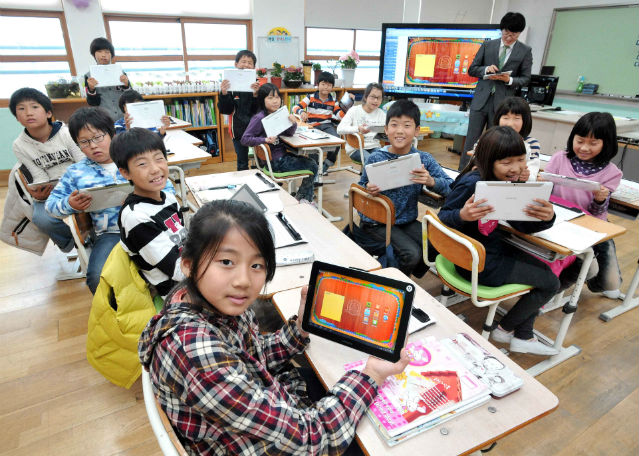 Elementary school students in Wando, South Jeolla Province, test out the new learning tools they have received as part of the "smart school" initiative recently launched by Samsung. The initiative provides for the use of the Galaxy Tab 10.1 to access educational materials and contents online (Photo: Yonhap News).
According to the Guinness World Records, both the world's thinnest mobile phone and the world's thinnest LCD television hail from Korea. Samsung's Ultra Edition 8.4 Z370 3G mobile phone, which includes an in-body 2-megapixel camera, is a mere 8.4mm thick and weighs only 7.1 grams. And LG Korea's 2.6mm thick high-def liquid crystal display panel, quips Guinness, is "thinner than a UK £1 coin."
As such tallies suggest, the contributions by private companies such as Samsung and LG to the information technology (IT) sector are widely acknowledged. In recent years, though, the international community has directed greater attention and commendation to Korea as a country defined by its creative and comprehensive use of IT.
On September 15, the International Telecommunication Union (ITU) published a report entitled "Measuring the Information Society," which named Korea as the highest ranking country on the Information and Communication Technologies (ICT) Development Index for the year of 2010. This was an improvement for Korea's score, which had been second highest in 2008 and subsequently fallen to third in 2009.
The index score incorporated eleven indicators, including levels of ICT access, ICT skills, and Internet usage. While Korea already boasts the highest worldwide growth rate in total number of Internet users, the index confirmed that Korea has the highest percentage of Internet users. Korea also earned positive assessments with regards to both ICT access and skills, ranking second and tenth respectively in each category. Moreover, Korea and Hong Kong, which ranked sixth on the index, were the only two Asian countries in the top ten, with countries in Europe comprising the rest.
Korea's extensive e-Government system also received praise. After ranking first among 192 countries in last year's UN e-Government survey, Korea went on to win first place in the 2011 UN Public Service Awards (PSA). The PSA is organized by the UN Committee of Experts on Public Administration and rewards public service institutions in countries worldwide for creativity in providing effective and responsive public administration.
Korea was recognized for its Information Network Village (
www.invil.org
), a multi-purpose online portal created by the Ministry of Public Administration and Security to reduce the "digital divide" between rural and urban areas. The site provides an array of e-Government services, e-commerce tools, online learning programs, and other tools designed to improve quality of life for rural communities.
Minwon24 (
http://minwon24.go.kr
) was also highlighted as an innovative Korean e-Government offering. The online service enables users to file and process various civil claims and petitions over the internet without having to visit a government office during regular business hours.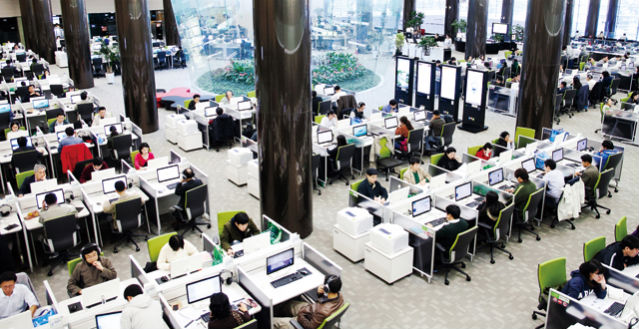 The Digital Center for the National Library of Korea, dubbed a "dibrary," provides the public with access to a growing repository of digital content and resources (Photo: Weekly Gonggam).
The success with which Korea has pursued and implemented e-Government measures has also been underscored by the UN e-Government Readiness Index. This index, produced by the UN Department of Economic and Social Affairs (UNDESA), gives comparative assessments of the 192 UN member states with regards to their e-Government readiness levels. Scores are evaluated on the basis of three primary indicators, including a Web measure index, a telecommunication infrastracture index, and a human capital index.
Although country rankings for this past year have yet to be released, it has been announced that Korea received a perfect score for "the state of e-government readiness" in 2011. Korea is the first country to have received full points for the online service index since the Index was created. Moreover, as the online service index considers factors such as the accessibility and safety of e-Government services, a perfect score speaks to the first-rate quality of Korea's e-Government system. Korea ranked first among the assessed countries for Web measures in 2010 as well, a marked improvement from its sixth place ranking in 2008.
The telecommunication infrastructure index looks at a composite of five indicators measuring the prevalence of telecommunications use per 100 persons, including Internet use, personal computers, telephone lines, mobile cellular subscriptions, and fixed broadband subscriptions. The Human Capital Index, meanwhile, looks at the capacity of citizens to efficiently utilize e-Government services.
While scores for the telecommunication infrastructure and human capital indices were lower, finding Korea at a predicted 13th and 7th in each arena respectively, these assessments were not detrimental to the overall index score. The seventh place ranking in the Human Capital Index was a significant improvement from the tenth place ranking in 2008.
The UN's related Network Readiness Index (NRI), which similarly measures user preparedness and capacity to apply various information and communication technologies, saw Korea move from 15th place last year to tenth place this year. The improvement appeared across the board, especially in the "network usage" dimension, where Korea scored first for the government usage indicator, second for the business usage indicator, and fourth for the individual usage indicator. These scores combined gave Korea the highest score for network usage.
The upward trajectory for competitiveness among Korea's business can also be traced to a foundation of firm IT capabilities. According to the World Bank's Doing Business Report for 2011, Korea improved its performance across six of the ten indicators that are factored into the report's assessment of the quality and regulations of a business environment. In the indicator for "starting a business," Korea jumped from 60th place to 24th place. This improvement was attributed to a streamlining of the start-up process, namely a more convenient and accessible online system for potential business owners, which has reduced the overall time and energy required for starting a business.
The indicator for international trade also found Korea four places higher than in the previous year, pointing to developments in the online system for managing imports and exports and the resultant reduction of trade costs.
In October, the number of smart-phone users in Korea topped 20 million. With two out every five Koreans plugged into the smart-phone trend, titles like "IT Nation" and "Smartphone Nation" are no exaggeration.
Kwon Jungyun
Korea.net Staff Writer
Article adapted from the Weekly Gonggam Magazine
Department Global Communication and Contents Division, Contact Us