Korea and ASEAN urge reinforced ties in economy, development, and green growth
Nov 21, 2011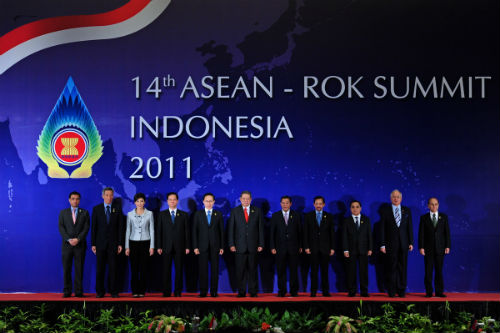 President Lee Myung-bak (fifth from left) posed with ten leaders of ASEAN member states at the 14th ASEAN-ROK Summit held on November 18 at the Bali Nusa Dua Convention Center in Indonesia (Photo courtesy of Cheong Wa Dae).
President Lee Myung-bak participated in the 14th ASEAN-ROK Summit on November 18 and exchanged in-depth views with ten leaders of member states from the Association of Southeast Asian Nations (ASEAN) to further consolidate possibilities for cooperation between the Republic of Korea and ASEAN.
During the summit, President Lee announced the plan to dispatch an ambassador of the Republic of Korea to ASEAN within the first half of 2012 and establish a new diplomatic delegation body of the Republic of Korea in Jakarta, Indonesia. ASEAN leaders welcomed the decision of the Korean government, underlining that the flagship initiative will lead to moving multilateral ties forward.
The Korean president and his counterparts placed a special focus on the prospective trade forecasts between ASEAN and Korea, which is expected to reach its highest this year. The ASEAN-ROK free trade agreement went into effect in 2007. Both sides also agreed to cooperate closely in reaching the US$150 billion target for a two-way trade turnover earlier than the targeted year of 2015.
President Lee reaffirmed his commitment for deepening the ASEAN-ROK strategic partnership and contributing to the sustainable growth and development of the ASEAN region. ASEAN leaders, in reply, positively assessed the hosting and the outcome of the First Korea-Mekong Foreign Ministers' Meeting, which took place in Seoul on October 28 this year, in which foreign ministers from five countries in the Mekong region -- Cambodia, Laos, Myanmar, Vietnam, and Thailand -- converged in Seoul to participate in the inaugural ministerial-level meeting between Korea and the Mekong region. The meeting will be held on an annual basis and is expected to serve as a sub-regional consultative body to provide more focused multilateral cooperation for co-prosperity.
On the sidelines of the summit, an agreement between ASEAN member states and the Republic of Korea on Forestry Cooperation (AFoCo) was signed on November 18. The initiative was developed in line with Korea's Low Carbon, Green Growth policy, and it aims at ensuring sustainable forest management and preservation in ASEAN nations. Since January 2009, Korea has run a pro-environmental project for the restoration of its four major rivers to bring vitality to the ecosystem, water security, and better flood control. President Lee hoped that sharing Korea's experience may contribute to minimizing the impact of climate change and lowering damage caused by natural disasters in ASEAN countries.
By Hwang Dana
Korea.net Staff Writer
Featured Topics
http://www.korea.net/NewsFocus/Policies/view?articleId=89975
URL Copy
Department Global Communication and Contents Division, Contact Us