President Lee Myung-bak attends CEO Roundtable and Business Forum in Philippines
Nov 22, 2011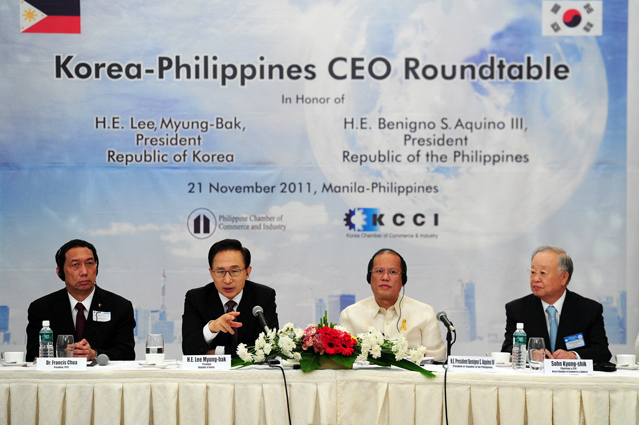 (Photo courtesy of Cheongwadae)
President Lee Myung-bak, currently on a state visit to Philippines, attended the Korea-Philippines CEO Roundtable and Business Forum co-hosted by the Korea Chamber of Commerce and Industry (KCCI) and the Philippine Chamber of Commerce and Industry (PCCI) held at the Manila Hotel on November 21.
Some important figures including Filipino President Benigno S. Aquino III and PCCI Chairman Miguel Varela attended the event along with several the boards of directors from Korean companies such as Samsung, Hyundai Motors, and SK. Corporate members of some Filipino companies from various industries including electricity, distribution, food, broadcasting, and finance also attended the forum to show their interest in the development of Korea and cooperation between the two countries.


During the event, President Lee praised the development potential of the Philippines in natural and human resources. He also stressed that Korea's industrialization experiences and cutting-edge technology will help the Philippines to realize the potential the country has.


He encouraged attendees to build new models of cooperation between the two countries in various industries including infrastructure, renewable energy, and agricultural industries.


The forum was followed by a state banquet hosted by President Aquino at the Malacañang Palace, the official residence of the president. After President Aquino's welcome message, President Lee said that the two countries' relationship has rapidly developed since the establishment of diplomatic relations in 1949. He also prayed for a friendly and positive relationship between the two countries.

Previously on November 20, President Lee and First Lady Kim Yoon-ok attended a meeting with overseas Koreans in the Philippines at the same venue as the forum. The Korean population in the Philippines consists of more than 100,000 residents, which is the biggest number of Koreans in a Southeast Asian nation.

By Jessica Seoyoung Choi
Korea.net Staff Writer


Featured Topics
http://www.korea.net/NewsFocus/Policies/view?articleId=90014
URL Copy
Department Global Communication and Contents Division, Contact Us