Korea to become yachting hub of Northeast Asia
Dec 23, 2011
Asian Games sailing gold medalist Ha Jee-min will be competing at the 2012 London Olympics. Ha placed twelfth in the overall rankings for the men's one-person dinghy laser event at the ISAF Sailing World Championships, in which the top 35 countries would go on to the Olympic games. Korean Lee Tae-hoon also qualified after placing 18th in the men's R:SX windsurfing event.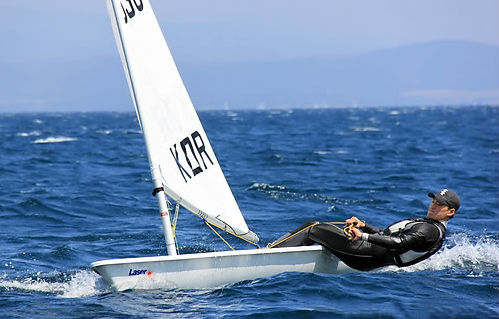 Asian Games gold medalist Ha Jee-min is set to compete at the 2012 London Olympics (Photo: Yonhap News).
Earlier this year in July, 17-year-old Cho Won-woo, a student at Busan Physical Education High School, took gold at the ISAF Youth Sailing World Championships in Zadar, Croatia. Winning in the boys' RS:X windsurfing event, Cho became the first Asian gold medalist in the history of the games.
As Korea's young sailing athletes venture into the international water sports arena, the Korean government has announced plans to bolster the yachting and marina industry back home.
On July 7, the Ministry of Land, Transport and Maritime Affairs announced policy measures that officials hope will set Korea on track to becoming the marina hub of the Northeast Asia region by 2015. According to the new plans, the Ministry will seek to increase the number of marinas in Korea to 35 by 2015 and 44 by 2020, and expand related industries such as yacht sales and maintenance and related tourism facilities to three times their current size by 2015, and ten times their current size by 2020.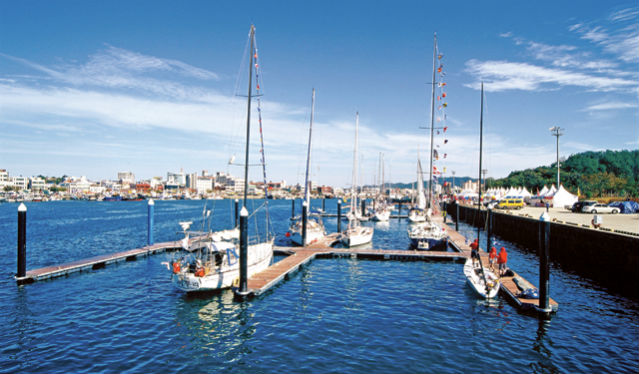 A view of the Mokpo yacht marina, located off of Samhakdo island in Mokpo, Jeollanam-do (South Jeolla Province) (Photo: Weekly Gonggam).
Korea continues to attract a growing number of tourists, and in 2010 over 1.8 million tourists came to Korea from China alone, a figure that has increased by 28% each year. In view of this trend and resultant concerns about a shortage of adequate lodging, the creation of waterfront resorts by the new marinas is expected to give tourists a wider range of options for where to stay. Moreover, with tourism becoming less about the shopping and more about activities and new experiences, assessments for the growth potential of the marina industry are quite high.
Recent programs have introduced locals and international travelers alike to the variety of water sports and recreational offerings that can be enjoyed in Korea. From July to October, yachting classes opened to the public on the Han River, and five yacht centers, including Yanghwa, Yeouido, and Banpo, provided free instruction. All of the classes will be offered in 2012 as well.
The development of Korea's marinas is expected to bring about growth in yacht manufacturing, restaurants, hotels, and other related industries, creating new jobs and helping to galvanize economic growth in the coastal regions.
By Kwon Jungyun
Korea.net Staff Writer
Department Global Communication and Contents Division, Contact Us