President Lee aims to foster
Feb 06, 2012
President Lee Myung-bak stopped by Turkey, the first stop on a series of state visits in the Middle East. The president is spending four days in Turkey to foster closer economic ties in light of the "brotherhood" that has developed between the two countries since the Korean War.
In Istanbul, President Lee met with Prime Minister Recep Tayyip Erdogan on February 5 to discuss free trade, infrastructure development, atomic energy, and culture.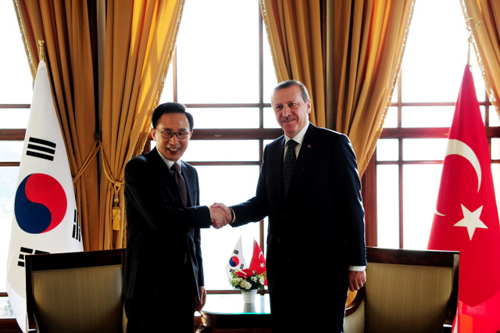 President Lee met with Prime Minister Erdogan on Sunday (photo courtesy of Cheong Wa Dae).
Since April 2010, the two countries have held three rounds of free trade negotiations. The negotiations in the goods sector are coming along, according to officials, but there are kinks to work out in the services and investment sectors.
"If the FTA is concluded, it will help South Korean products expand not only into Turkey, but also other European markets because Turkey already has a tariff alliance with the European Union," a presidential official told Yonhap News.
President Lee also asked Prime Minister Erdogan to support Korean businesses trying to invest in Turkey. As of last September, Korea's investment in Turkey totalled USD 893 million, and exports to Turkey reached USD 5.08 billion last year.
Another major goal of the meeting was to resume negotiations on atomic power plant construction in Turkey. During the talks, Erdogan expressed his hope for South Korea to participate in the project.
Turkey plans to build four nuclear reactors at the port of Sinop on the coast of the Black Sea, and hopes for Korea to build two of them. The Korean government would finance the construction and then recover the cost and earn profit from selling electricity to Turkey.
The two countries previously negotiated on the USD 20 billion project in 2010, but negotiations were suspended when the two sides were unable to come to an agreement on key points such as the location of the reactors, energy prices, and government payment. Korean government officials hope that Erdogan's wish to renegotiate suggest that Turkey is willing to make concessions to Korea.
Turkey's energy demands have been growing rapidly as its economy develops, growing 9 percent in 2010. South Korea is a global leader of atomic energy and has been trying to export nuclear power plants since winning a contract in 2009 to build four atomic power plants in the UAE.
Lee also expressed his appreciation of Erdogan's decision to attend the Seoul Nuclear Security Summit in March this year.
Photo courtesy of Cheong Wa Dae.
The Korean president and Turkish PM also discussed an upcoming cultural expo that will be jointly held in Istanbul and Gyeongju in 2013, and how the two governments can support the cultural exchange.
President Lee also has plans to meet with Turkish President Abdullah Gul on Monday. Discussion topics are expected to include trade expansion, infrastructure projects, and other issues of bilateral cooperation.
His next stop is Saudi Arabia, where he will hold a summit with King Abdullah to evaluate the bilateral ties marking the 50th anniversary of diplomatic relations between the two countries.
By Jon Dunbar
Korea.net Editor
Featured Topics
http://www.korea.net/NewsFocus/Policies/view?articleId=98544
URL Copy
Department Global Communication and Contents Division, Contact Us