Korea, Russia discuss mutual interests
Mar 27, 2012
President Lee Myung-bak met with Russian President Dmitry Medvedev on March 26 at Cheong Wa Dae on the sidelines of the Seoul Nuclear Security Summit, for a discussion of key issues on the summit agenda as well as a shared look at the progress in Korea-Russia bilateral relations.
The president first expressed his gratitude for Russia's efforts to implement measures that align with the aims of the Nuclear Security Summit, including safe disposal of nuclear waste and the conversion of highly enriched uranium (HEU) to low enriched versions. He identified Russia's participation throughout preparations for the summit as having contributed considerably to the event's success.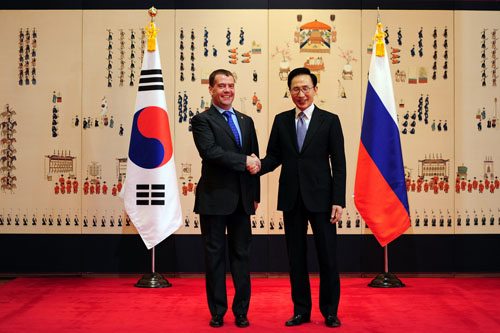 President Medvedev in turn lauded Korea for the role that it is playing in realizing the vision of the international community for a "world free of nuclear weapons," and expressed his confidence that this summit will indeed be a success.
The two leaders also took time to evaluate the substantive progress that has been made in cooperation between their two countries, citing an over USD 20 billion bilateral trade volume in 2011 as well as joint efforts for natural resource development, particularly in Eastern Siberia. Stressing the importance of making sure that existing projects continue to run smoothly, they also agreed to work together to develop new projects in other sectors.
With this meeting marking the seventh summit meeting in the past four years, during which time consistent high-level dialogue has resulted in what the two leaders called a growing momentum in bilateral cooperation, President Lee and President Medvedev agreed to show the same effort in the months ahead.
In addition, the two leaders shared their concerns about North Korea's plans to launch a long-range rocket next month, calling the move a violation of UN Security Council resolutions as well as a threat to security and peace in the international community. Agreeing that it would be better for North Korea to focus instead on improving the basic living conditions of its citizens, they resolved to discuss further the most appropriate responses to North Korea's actions, and to continue to work closely -- together and with other countries -- to address the issue.
By Kwon Jungyun
Korea.net Staff Writer
Featured Topics
http://www.korea.net/NewsFocus/Policies/view?articleId=99678
URL Copy
Department Global Communication and Contents Division, Contact Us