Robot-friendly Korea
Apr 09, 2012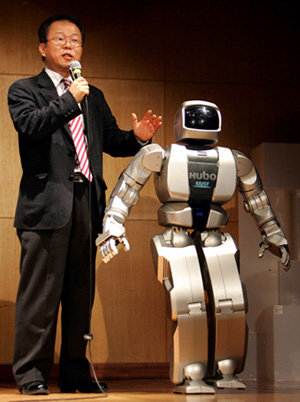 Oh Jun-ho, professor of mechanical engineering at KAIST and HUBO research team leader, with a HUBO prototype (Photo: Yonhap News)
From manufacturing and medical services to education and national defense, Korea has a robot to meet your needs. Since being identified in 2003 as one of the top ten national industries with high growth potential, Korea's robotics industry has continued to expand by means of continued diversification as well as timely incorporation of new technologies such as cloud computing.
Korean robotics received attention from the academic sector last February, when HUBO, a humanoid robot developed by KAIST in 2004, debuted at National Engineers Week in the United States. HUBO, which previously entered the international spotlight in 2005 at a demonstration for high-level leaders at the APEC summit in Busan, stands at 1.3 meters and can not only walk but also use the various joints in its arms and fingers to mimic the movements of the human body.
Seven modified versions of the HUBO prototype appeared on stage and in the laboratories for National Engineers Week events at Drexel University. The robots were made available for study and experimentation by local engineering students and have attracted interest from researchers in similar programs at MIT, Carnegie Mellon, Virginia Tech, and Purdue.
The Korean robotics industry has also brought new possibilities to the entertainment sector, with the upcoming Expo 2012 Yeosu Korea to be a testament to robot versatility. On March 28, visitors to the Expo grounds caught a sneak peek of Korea's tallest robot prototype, the 6.5-meter Navi. Designed and produced especially for the DSME Marine Robot Pavilion at Expo 2012 Yeosu Korea by animatronics company Wizard and the Korea Institute of Industrial Technology, Navi weighs one ton and towers over its human spectators, most of whom only reach to its knees.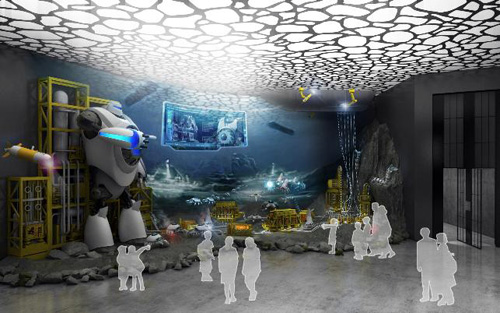 During the expo, Navi will be part of an underwater performance put on by an assortment of robots shaped like various marine animals. Also among the 73 robots on display at the pavilion are a robot that dances to songs by K-pop group Super Junior and one that entertains audiences with over 30 unique facial expressions.
In the education and service sector, robots designed for use by children and by visitors in various public spaces have become more common. The robotic playmates Kibot and Kibot2, developed by KT and iRiver, were recently picked up for export to Saudi Arabia, according to a March 28 announcement by KT. At a mere 32 centimeters tall, Kibot not only sings, reads books, and stores a variety of games and applications on the screen on its stomach, but also allows for remote monitoring by parents through an embedded camera.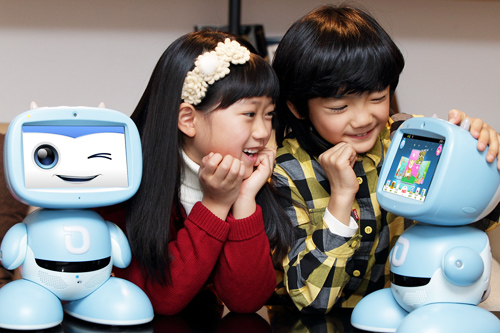 Yujin Robot's iRobi and Dongbu Robot's Hovis series are also remote controlled, with entertainment offerings for children and monitoring options for parents. Both companies also produce household service robots as well as industrial robots.
With Korea's robotics industry enjoying growing visibility and seeing higher demand for its manifold products and services, the Ministry of Knowledge Economy recently rolled out a long-term plan to build Korea into a top-three global robotics leader by 2022.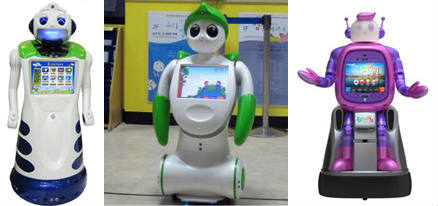 From left: Kiro, produced by the Robot Institute and introduced at Robot World 2011; a Kiro prototype installed at the National Folk Musem; Sia, a service robot at Bucheon City Hall (photos courtesy of Newswire).
This ten-year growth plan sets this year's goal for domestic production at 30 billion won, with an accompanying government budget of over 1.7 billion won to be allotted to R&D, convergence marketing strategies, and development of industry infrastructure and human resources.
"With population aging a global trend, wages will continue to rise, costs of labor will continue to rise, and the demand for services by robots will continue to grow," said No Tae-suk, director of Seoul Robotics High School in a March 14 interview with Financial News. The former vice-president of KT who spearheaded the Kibot project in 2006, No stressed that increasing dependence on robotics is inevitable and that strategic steps should be taken at the government level to ensure that the robotics industry will continue to stay ahead of this curve.
By Kwon Jungyun
Korea.net Staff Writer
Featured Topics
http://www.korea.net/NewsFocus/Policies/view?articleId=99841
URL Copy
Department Global Communication and Contents Division, Contact Us