Eco-friendly GreenCard counts over 2 million users
Apr 17, 2012
The Ministry of Environment's GreenCard initiative has issued GreenCards to over 2 million people over the past nine months.
Introduced in July 2011 to promote a culture of environmentally responsible consumption, the GreenCard initiative rewards cardholders with points and benefits for various environmentally friendly practices, including purchase of eco-certified products and conservation of household energy.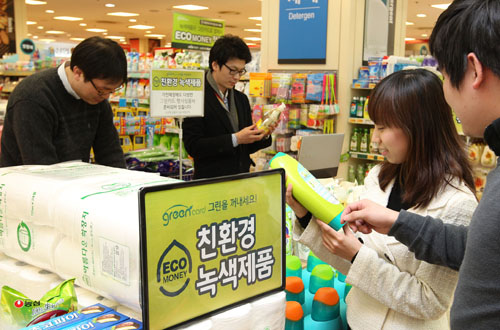 The Ministry of Environment (MOE) announced on April 15 that the number of cardholders surpassed 2 million people on April 13, and estimated that 10% of the economically active population (approximately 24.66 million people in February 2012, according to Statistics Korea) currently uses the GreenCard.
With a corporate card program released in December 2011, local governments and businesses alike now participate in the points and benefits program. In order to increase benefits for cardholders, the MOE will continue to diversify the line of products that qualify for GreenCard points as well as expand the range of partnering retail outlets to include smaller supermarkets and convenience stores.
"Surpassing 2 million users is a significant milestone that demonstrates consumers' commitment to putting green living principles into practice," said a ministry representative on April 15. "We hope the GreenCard will continue to benefit not only the environment but also individual budgets, and we look forward to active participation from consumers and businesses alike."
By Kwon Jungyun
Korea.net Staff Writer
Featured Topics
http://www.korea.net/NewsFocus/Policies/view?articleId=99987
URL Copy
Department Global Communication and Contents Division, Contact Us