Yeosu Expo, a robot extravaganza
Jun 14, 2012
Among the myriad sights awaiting visitors at Expo 2012 Yeosu Korea, one can't-miss experience is a meet-and-greet with the Expo's many robots.

In the
Marine Robot Pavilion
, built especially to display the latest in robotic technology, a 6.5-meter tall robot named Navi towers over crowds of curious visitors. This one-ton robot, the largest ever developed in Korea, leads a simulated underwater expedition with four other robots, exploring the ocean and looking for natural resources at 6,000 meters below the sea. A nearby team of much smaller robots leaves audiences clapping and dancing along with their perfectly coordinated K-pop dance routine.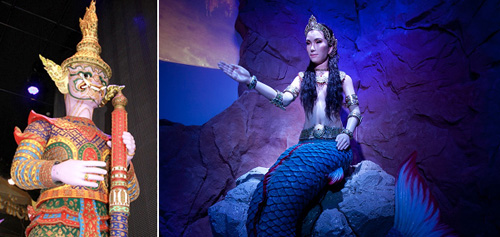 The
Thailand Pavilion
houses a 2.5-meter mermaid robot that greets visitors with a wave, blinking regularly as she tells stories about the waters around Thailand. Developed in cooperation with Japanese robot maker Kokoro, the mermaid robot also interacts with the characters on a video screen nearby. Her skin, made with a special silicone material that allows for flexibility and free movement, gives her a thoroughly humanlike appearance. Outside the Thailand Pavilion, the giant robot Maiyarap, standing 3.5 meters tall, also shares stories with visitors waiting to get inside.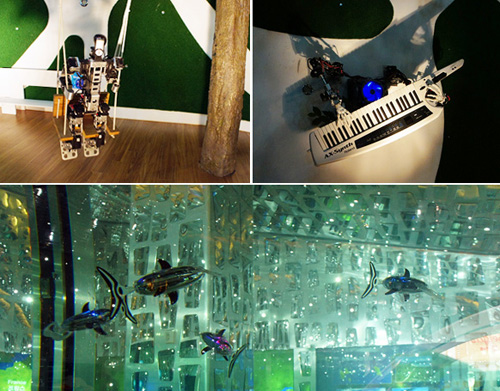 Various kinds of robots come together at the
France Pavilion
. One robot rides a swing, another dances with Expo mascot Yeony, and still another creates music, extending its fingers and hands to play a keyboard. Visitors to the France Pavilion can see fish robots that differ in look and style from those that swim at the Marine Robot Pavilion.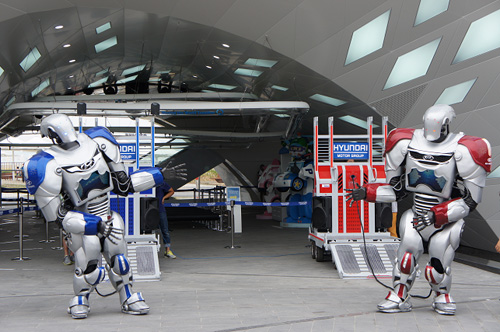 At the
Hyundai Motor Pavilion
, the popular Humoro robots dance for visitors standing in line. Though the Humoro robots are actually humans dressed in robot costumes, they have no trouble getting the crowds excited. What the Humoro robots are to the Hyundai Motor Pavilion, the Han-s robot is to the
German Pavilion
, where he shakes hands with visitors, poses for pictures, and gives entertaining quizzes about Germany.
"Visitors to the Expo, especially families with children, will discover in our many kinds of robots a special kind of fun," said a spokesperson for the Expo 2012 Yeosu Korea Organizing Committee.
More information on Expo 2012 Yeosu Korea

By Kwon Jungyun
Korea.net Staff Writer
Featured Topics
http://www.korea.net/NewsFocus/Sci-Tech/view?articleId=100753
URL Copy
Department Global Communication and Contents Division, Contact Us