Korean culture, IT spotlighted in Italian press
May 23, 2012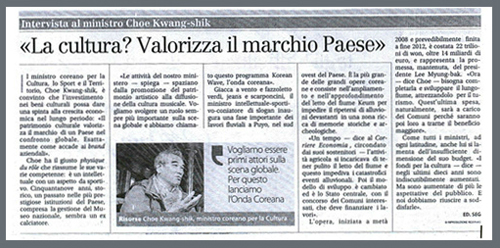 "Cultural heritage builds up a country's nation brand." This statement by Culture Minister Choe Kwang-sik appeared as a headline in the May 7 edition of Italian national daily
Corriere della Sera
as part of a feature on Korean culture and the various activities of the Ministry of Culture, Sports and Tourism.
"In the long run, investment in culture serves to promote economic growth," continued the quote by Choe, who had been interviewed by editor Edoardo Segantini in late April at a lecture on Korea's rivers and their cultural relevance. Segantini had attended the lecture as part of a weeklong visit to Korea, ahead of next year's 50th anniversary of diplomatic ties between Korea and Italy.
"The scope of our ministry's activity includes everything from promoting culture and the arts to aiding the diffusion of Korean pop music," said Choe, who also identified Hallyu as a key component to Korea's expanding its influence on the world stage.
In an article published in
Corriere della Sera
several days later, Segantini once again cast the spotlight on Korea, though this time on the impressive innovations that are taking place in Korea's IT and digital information sectors. The May 12 piece, entitled "Utopia of Digital Libraries," introduced the National Digital Library in Seoul, also known as Dibrary.
"Dibrary, an exemplary model of digital library infrastructure and services done right, sets itself apart from similar projects in Asia as well as Europe," wrote Segantini. Dibrary's Creative Zone, which gives users access to the digital tools needed to produce and edit audio, video, and even newspapers, received Segantini's unsparing praise.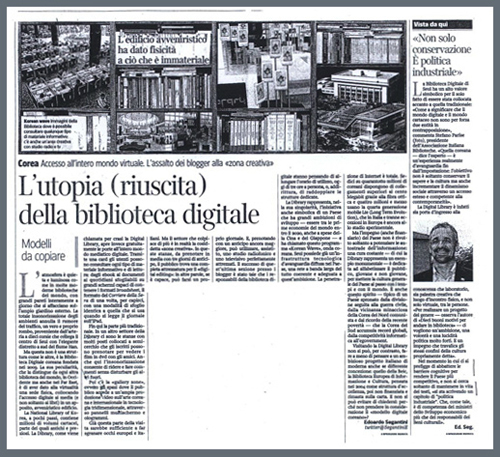 "The library is a symbol of Korea's creative and enterprising spirit, that same spirit which has found expression in the growing Korean wave," continued Segantini. Citing, among others, Korea's record levels of Internet and mobile connectivity, Segantini assessed the national policy objective of a second economic renaissance by 2020 a "viable ambition."
"Italy would do well to consult Korea's digital model," he concluded.
More information on the activities of the Ministry of Culture, Sports and Tourism can be found at the
MCST Official Website
.
By Kwon Jungyun
Korea.net Staff Writer
Department Global Communication and Contents Division, Contact Us