Books for loan at new forest libraries
Jul 20, 2012
For many people, talk of
public libraries
brings to mind images of an indoor space lined with neat shelves, maintained under the watchful eye of a fastidious librarian, and mostly silent save for the rustling of pages, the beeping of the checkout machine, and the soft whir of wheeled book carts in motion. A new library in
Busan
, however, is upturning conventions and turning heads with an inspired reimagining of the library experience.
At the base of
Baekyang Mountain
, one of Busan's most popular outdoor destinations and a surprisingly cool refuge from the summer heat, a walking trail that begins at Mora Station leads visitors along a small creek and through a dense growth of trees. In a small grass clearing just before the entrance to
Unsu Temple
, the oldest Buddhist temple in the county, sits one of the city's four Forest Libraries.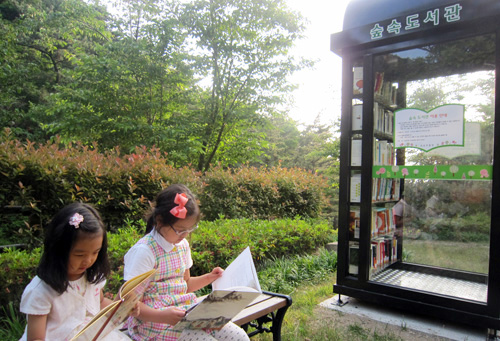 Shaped like an extra-large phone booth with shelves, the Forest Library is stocked with over 300 books that range from illustrated books for younger children to novels of various genres for adults. After selecting their books, visitors find cozy spots for themselves at nearby benches, tables, or the wooden floor of a traditional jeongja (pavilion). The sounds of chirping birds and the nearby creek carry across the small space, providing a unique soundtrack not typically heard in other libraries.
"We came to play in the water and get out of the heat," says 37-year-old Kim Eun-young, who paid a visit to Baekyang Mountain with her young children. "It's easy to catch a cold if you stay in the creek for too long, so the kids come out and read in the library as they dry off. They really enjoy it."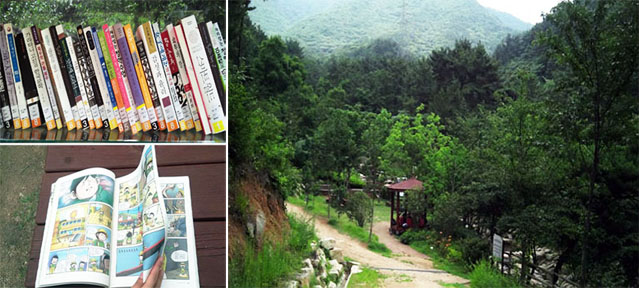 With no regulations, requirements, or fees for borrowing books, the Forest Library is open for any who would like to read, and visitors can borrow books at any time of the day and return them whenever they are finished. Since the first Forest Library opened in March at a park near a local middle school, followed by three additional libraries in public parks throughout the city, a growing number of curious visitors have made their way to the unique spots.
"This area is completely different now," says 57-year-old Yang Mi-ja, who often takes walks in the area around Baekyang Mountain. "It used to be a lot trickier trying to access the creek, but with the opening of this new space, visits here have gotten much easier and more comfortable. Reading books in this natural environment is a great way to relax.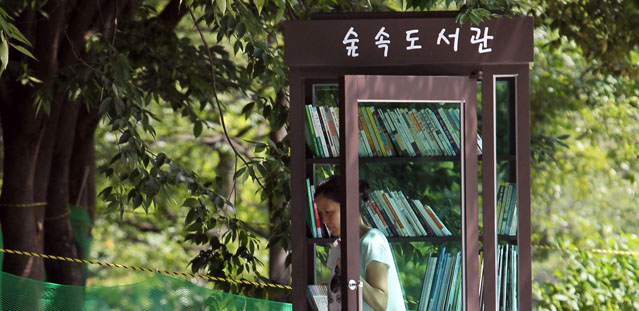 "At first, I had doubts about how long and how well an unmanned library could be maintained," continues Yang. "But every time I come, the shelves are fully stocked and well-organized. It's great to see how the library is encouraging a culture of trust and consideration among users."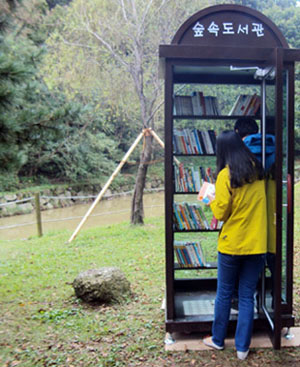 The Forest Libraries were opened as part of a national campaign to promote reading, made official with the designation by the Ministry of Culture, Sports and Tourism of 2012 as the National Year of Reading. They can be found in Busan, Incheon (above), Seoul, Daegu, and the Gyeonggi-do Province (photo courtesy of Incheon Metropolitan City).
While some of the books in stock have been purchased by the local county office, the majority have been donated by organizations as well as on an individual basis, and donations are continuing to be collected. With no library cards and no limits on how long books can be borrowed, the program operates on the integrity, consideration, and generosity of users.
The Forest Libraries were opened as part of a national campaign to promote reading, made official with the designation by the
Ministry of Culture, Sports and Tourism
of 2012 as the
National Year of Reading
. The goal of the initiative is to encourage Koreans to read at least twelve books by the end of the year, and the forest libraries have been designed so that would-be readers do not need to carry around heavy books or confine their reading to specific locations.
"The Forest Libraries invite people to take a break from the busyness and clamor of the city and enjoy reading while surrounded by nature," says a county office representative.
"We hope that such activity will help to promote positive emotional development and health. With fewer physical restrictions to where and how we can read, reading can become a more regular activity."
In addition to the forest libraries in Busan, similar spaces have opened in Seoul, Incheon, Daegu, and the Gyeonggi-do (Gyeonggi Province) area, and this to overwhelmingly positive reception.
Adapted from
Gonggam Korea
Translated by Kwon Jungyun, Korea.net Staff Writer
Department Global Communication and Contents Division, Contact Us