Korea wows with medals, pop music, and smartphones
Aug 17, 2012
When the
2012 London Summer Olympics
came to a close on August 12, much talk was made of the issues that had been spotlighted at this year's games. Amid discussions about the influence of social media, the growing presence of female medalists, and record television viewership, the
steady wins by South Korean athletes
in unexpected events was also a common topic of interest.
The August 7 edition of major Italian daily newspaper
Corriere della Sera
featured an editorial on this theme, comparing Korea's performance as a top medal contender to its "quiet ascent" as a country that embodies the unity, pride, endurance, and sacrifice that are vital for more than Olympic success.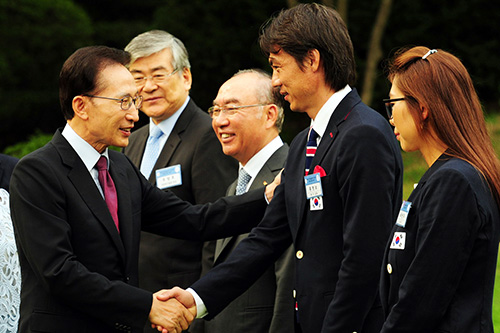 "Quiet but hardly overlooked," is another phrase used by
Corriere della Sera
's Beijing correspondent Marco del Corona to describe the ways in which Korea and Koreans have distinguished themselves in recent years. Citing now well-known names such as two-time
Secretary-General of the United Nations Ban Ki-moon
and newly appointed
World Bank President Jim Yong Kim
, as well as leading
tech brand Samsung
, the article examined Korea's transformation over the past half-century.
From
post-war ruins
to a comparatively healthy
G20 economy
that has withstood successive regional and international economic crises, wrote the article, Korea is on an upward trend. In the political arena, despite being one of two "brothers divided" due to the war, Korea has progressed in the past decades towards a democratic society characterized by vitality and openness, continued del Corona.
In the cultural arena, the popularity of Korean exports such as
television dramas and K-pop
was described as spreading for more than a decade, and the English skills of recent stars such as the Wondergirls and Rain have helped overcome former language barriers with their audiences.
Hangeul
was also mentioned as a writing system that has been acknowledged by many linguists for its ease and precision.
"Korea has won its gold medals, as well as its other successes, on its own strength," was the article's concluding statement. "The attention being given it by other countries is an indication of the important position it has assumed."
More foreign press coverage of Korea's society, technology, and modern development can be found in the
Current Affairs section in the Government menu of Korea.net
.
By Kwon Jungyun
Korea.net Staff Writer
Featured Topics
http://www.korea.net/NewsFocus/Society/view?articleId=101930
URL Copy
Department Global Communication and Contents Division, Contact Us