Autumn athletics day: a look back
Nov 04, 2012
With the arrival of autumn comes
golden leaves
, a round
Harvest Moon
, and in Korea, the long-awaited annual athletics day.
The autumn athletics day or sports day has been a popular and steady pastime throughout recent Korean history, enjoyed by both young and old in all sectors of society. A recent collection of photos and videos released by the National Archives of Korea offers a nostalgic glimpse into this unique heritage.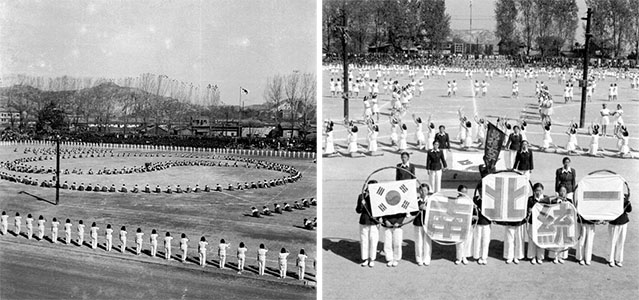 Several scenes in the collection date back to the years immediately following the
Korean War
, with various indications as to the impact of the war and the slow progress toward recovery. Middle school students in a photo from 1953 perform various stretches and exercises while lining up to form a
Taegeukgi
formation in a field. Another photo from 1954 shows the opening ceremony for an athletics day event held by the Republic of Korea Armed Forces (including the national army, navy, and air force). Featured prominently in the ceremony is a formation of flag bearers holding banners that read "South-North Unification."
A scene from 1957 shows a group of mothers, some dressed in loose-flowing
Hanbok
and others in more Westernized apparel, racing down a track, their domestic cares and burdens forgotten for the moment, during the first ever Athletics Day for Mothers. A special students' athletics day competition in 1958 celebrates the ten-year anniversary of the founding of the Republic of Korea.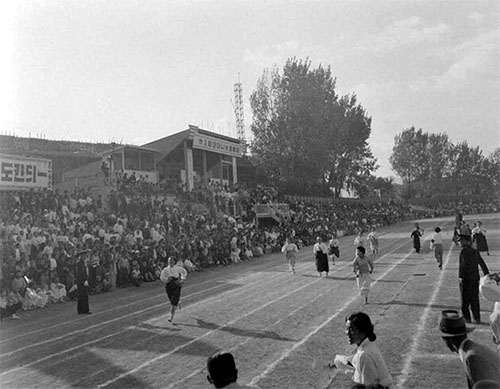 Heading into the 1960s, the collection shows autumn athletics day events being enjoyed by people across the board. Students of the newspaper and broadcasting department at
Ewha Womans University
wear matching hats and hold matching fans to cheer on their teammates during the Fourth Annual College of Liberal Arts and Sciences Athletics Day in 1962. Another photo from 1962 shows employees of the Railroad Administration Bureau (today the
Korea Railroad Corporation
) holding a field day event to celebrate the 63rd anniversary of the opening of Korea's national railroad.
A similar photo shows a sports event being held in celebration of
UN Day
in 1960, and several pieces in the collection document friendly competitions participated in by public servants, writers, members of the press, musicians, and other cultural leaders.

Scenes from the 1970s capture the energy and fun of the athletics day events. In photos from 1976, students at Kyunghee Elementary School are shown stretching in pairs before getting started with traditional games like tug-of-war and taking turns trying to smash a paper gourd full of confetti (while blindfolded).
Other games depicted in the photographs include gimajeon, a Korean version of the ubiquitous chicken fight, where each team props up one team member on their shoulders and runs around trying to knock down competing teams, as well as Chajeon Nori, which pits two teams against each other in a setup similar to that of a jousting match. Said to originate in
Andong
, Chajeon Nori sees two players carried atop large log frames by their teammates. In the photograph of a Chajeon Nori contest, students crowd eagerly around the wooden frames while a large banner inscribed with a phrase from the Confucian Classics ("there is no danger when there is preparedness") flutters above them.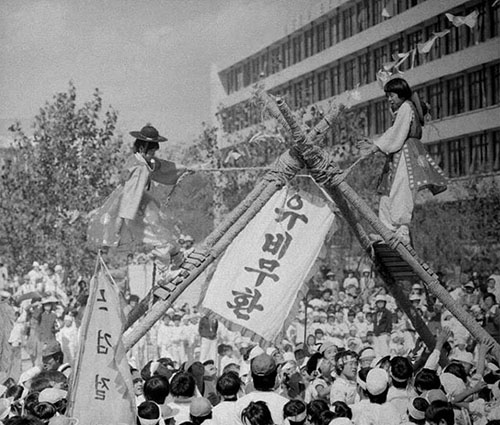 Also included in the collection are images of various cheering squads, from elementary school girls holding pom poms to adults decked out in clown costumes, as well as scenes from as late as 1989, which saw the first ever annual Hanminjok (one people) athletics event held to promote friendship among overseas Koreans residing in the U.S., Japan, and other countries.
"The memories of good times shared with family, friends, and co-workers have been carefully preserved within each piece of this collection," said Chu Gyeong-gyun, head of the Archives Information Service Bureau at the National Archives. "We hope these records will provide visitors with the opportunity to relive some of their most cherished memories."

More information on the National Archives of Korea can be found at the official website (
http://www.archives.go.kr/english/
). Additional themed collections can be found at the National Archives Portal (
http://contents.archives.go.kr/next/content/viewMain.do
, Korean only).
By Kwon Jungyun
Korea.net Staff Writer
Department Global Communication and Contents Division, Contact Us