Arirang flash mob makes impression
Mar 19, 2013
A sense of impression and deep emotion often comes at unexpected moments and places. Many people who happened to be on the street of Ssamji-gil in Insa-dong, central Seoul, on the March 1st Movement Day may have had a chance to feel that kind of sensation when they heard popular Korean folk song "Arirang" being performed by young people in their 20s and students who gathered for a flash mob.
Now the YouTube video of the performance is touching both Koreans and non-Koreans alike, attracting more than 341,000 viewers by March 19.
"I have lived more than 37 years in the United States, but this is most emotional video about my mother country," wrote a Korean-American whose ID is donkeum2013 on YouTube.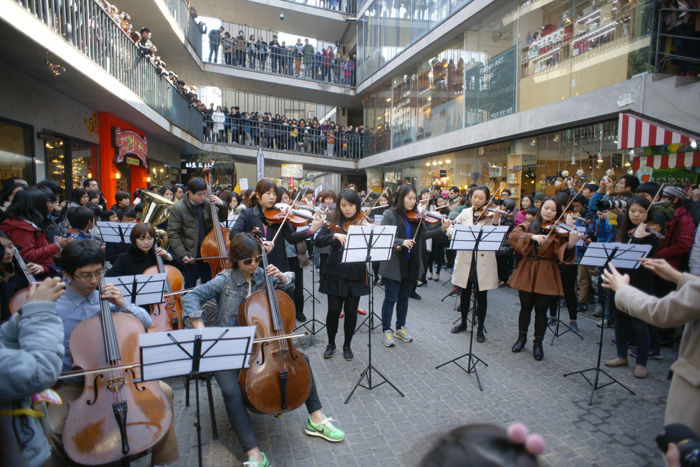 "The song really shows what Korea is today," wrote a Filipino male whose ID is diagann. "It's the love of the people to their country. It's a song with heroism in it and it embodies the true Korean spirit in the song 'Arirang.'"
"This made me feel so great inside and out," wrote Robert Fissel.
The video titled This is Arirang starts with a female student appearing on the street alone and playing the song on violin. She was soon joined by other participants playing various instruments including violas, cellos, and woodwind instruments. Then, performers holding brass wind instruments emerged among the bystanders.
When the song reached its climax, dozens of choir singers started singing Arirang and filled the street with harmony. Then the song changed into the Korean national anthem and bystanders started singing it together. The performance, and the YouTube video, started with an idea from Kim Shin-joong, 24, a Kyung Hee University student majoring in business administration.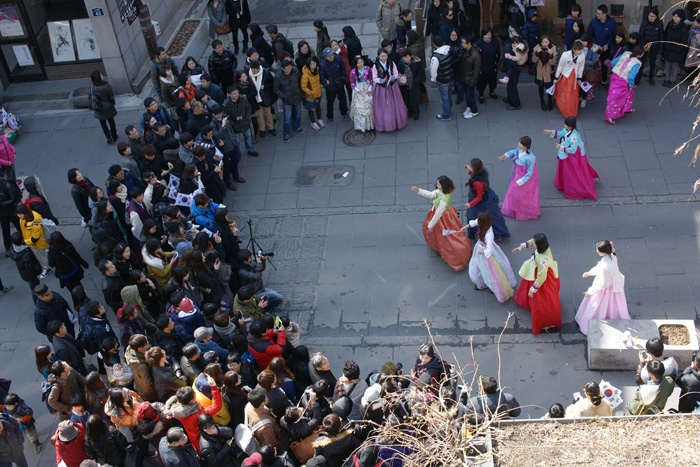 Kim watched a documentary about a Japanese student studying in Korea and learned that there were few places where people could listen to Arirang. So Kim decided to treat the public to a surprise performance of Arirang in Insa-dong, a place where people can easily experience traditional Korean culture.
Kim shared the idea with his friends including Song Jun-ho and Kang Rae-yoon.
"Both classical music and gukak (traditional Korean music) are somewhat difficult genres to access and we wanted to make them more approachable to the public," said Song, 29, a business administration student at Incheon National University and head of Proteurment, a company that helps indie bands find opportunities abroad.
"We also wanted to let the world learn more about Arirang."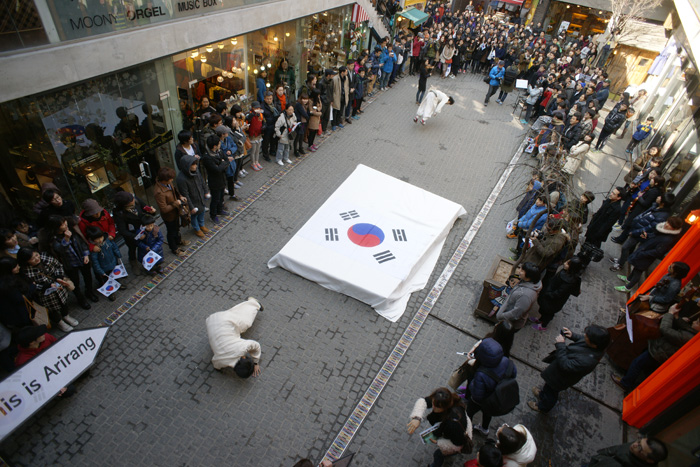 In late January, they started gathering participants for the flash mob through an association named Freeformance. In the end, 45 performers took part in the event and the number of performers including the choir who showed up for the event surpassed 100.
Woolryeok, a media art group, produced the video. Seven other groups and associations including Hanboknoledan and Korea FreeRunning Parkour Federation also took part in the event. Besides the video that includes the performance of Arirang and the Korean national anthem, they had also created teaser videos and uploaded them onto YouTube before the March 1 event took place.
"It cost KRW two million but many people volunteered agreeing on the purpose of the event and chipped in," Song said.
Observers say this kind of event is part of a social movement brought by the development of Social Networking Services (SNS) and youth culture.
"One of the positive roles of SNS is that it enables easy cooperation," Seoul National University sociology professor Chang Duk-jin was quoted as saying by Seoul Shinmun, a Korean daily newspaper. "It makes it possible for people with different talents to voluntarily come together."
By Limb Jae-un
jun2@korea.kr
Featured Topics
http://www.korea.net/NewsFocus/Society/view?articleId=106458
URL Copy
Department Global Communication and Contents Division, Contact Us