Expert meeting on land-degradation neutrality held in Seoul
Jul 03, 2013
Land and soil experts from around the world gathered in Seoul on June 26 to discuss ways to preserve healthy land and curb the growing threats of desertification and land degradation.
The two-day expert meeting on achieving a land-degradation neutral world was hosted by the
Korea Forest Service
(KFS) and facilitated by the
UN Convention to Combat Desertification
(UNCCD), a UN body that strives against land damage. Participating experts considered options for global sustainable development by addressing environmental issues such as desertification, land degradation, and drought. These have become an important topic of the day in the international community, receiving attention at the UN General Assembly, and through initiatives such as the UNCCD and the
UN Conference on Sustainable Development
(UNCSD, or Rio+20).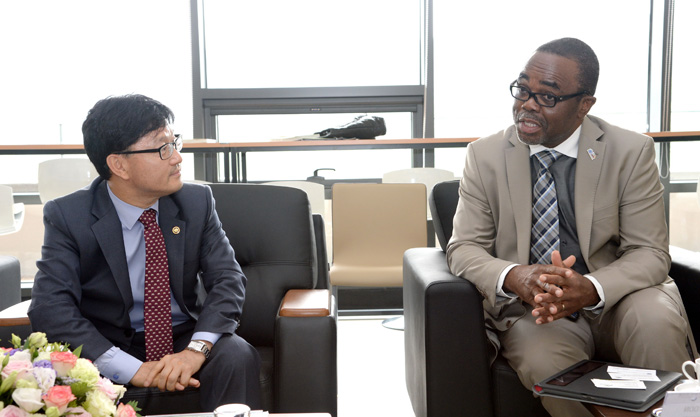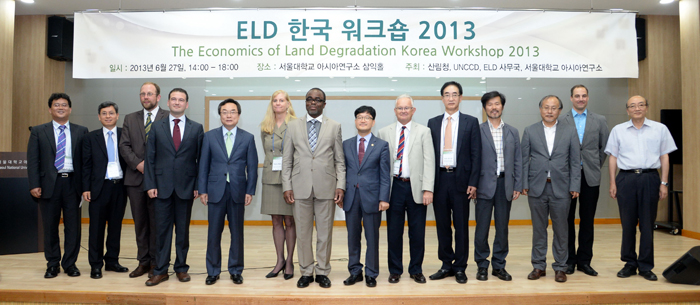 Land-degradation neutrality is the goal of a global effort to restore derelict and damaged land through reforestation and afforestation projects.
Despite continuing efforts by the international community since 1966, land degradation has actually accelerated. At every single minute, 25 hectares of tropical forests are disappearing, ten hectares of soil are being polluted, and 23 hectares of land is turning into desert.
Within Korea, efforts to prevent this kind of desertification have been well underway, led by Korea Forest Service. Korea has been working to achieve the goals set by the Changwon Initiative proposed by the nation at the 10th session of the Conference of the Parties (COP 10) hosted in the city of Changwon in 2011 (read
related Korea.net article
).
Korea also plans to report the outcome of this meeting at the upcoming COP 11 in September and help set up the platform for the international community to discuss issues of land-degradation neutrality in-depth.
Interview with Minister Shin Won-sop of the KFS
Q: Given that forests and fresh air are critical to human survival, the Korea Forest Service, in some aspects, seems to seek opposite values to industrialization. What exactly is the role of the KFS?
A: It is true that fast-growing industrialization and urbanization have actually brought the importance of forests to the center stage to this day. More people are looking for greenery in a way to reduce their daily stress, and in this regard, the KFS's efforts to recover and restore the natural environment have been considered a critical role in enhancing people's physical and emotional health.
It is time for us to consider further advantages of trees and forests, beyond mere economic benefits. In response to growing health demands, it will be a good idea to create new programs focused on the healing powers of forests.
Q: Lately, Korea seems to actively participate in international efforts to prevent land-degradation, attending three major global conventions in a month. How serious has land-degradation progressed so far and how good or bad is it in Korea?
- A: Korea's 40-year-old tree-planting project has actually received much attention from abroad including the
United Nations Food and Agriculture Organization
(FAO). Land degradation and desertification have gotten worse worldwide, influenced by excessive carbon dioxide and climate change and that is requiring Korea's intervention.
In Korea, the KFS has been responding to such demands offering short- and long-term training programs on planting techniques to countries that need it. The KFS has already had a chance to share experiences with some Asian countries such as Mongolia and Indonesia and plans to cooperate with nations in Africa and Central and South America in the future.
Q: Recently, the new concept "forest welfare" came into being. How did it develop?
A: Korea's efforts to restore forests in hope of having a positive impact on human life are almost 40 years now. The KFS has been working on raising the level of life satisfaction of people by making the most of what forests can provide. At present, plans are under way to create programs that suit each stage of the life cycle. Programs will be launched soon ranging from prenatal education, after-school lessons, and woodland trekking to recreational and nursing facilities all available in forests.
By Wi Tack-whan, Lee Seung-ah
Korea.net Staff Writers
whan23@korea.kr
Department Global Communication and Contents Division, Contact Us