[Interview] Korean War, though painful, to be remembered: Colombian ambassador
Jul 17, 2013
Colombian Ambassador to Korea Jaime Cabal said we should all remember the Korean War (1950-1953), which has become a "Forgotten War," although it is a painful part of history.
In an interview to commemorate the 60th anniversary of the armistice, Cabal said he hoped that people should remember "there were many nations that came to help Korea in their struggle for democracy."
Cabal also said it is sad that "many Koreans do not know Colombia played a role in the war" and talked about what it means to participate in a war.
For a free trade agreement signed between Korea and Colombia in 2012, Cabal said that the two economies are complementary and said Korean consumers can take advantage of lowered prices for Colombian foods and beverage.
Colombia, located on the opposite side of the Earth from Korea, is well known for its first-grade coffee and as the second-largest exporter of flowers. The country is also the home of Nobel Laureate Gabriel García Márquez, pop singer Shakira, and renowned painter Fernando Botero. Cabal said he hopes to promote Colombia's culture through such Colombians, who stand out internationally in their fields.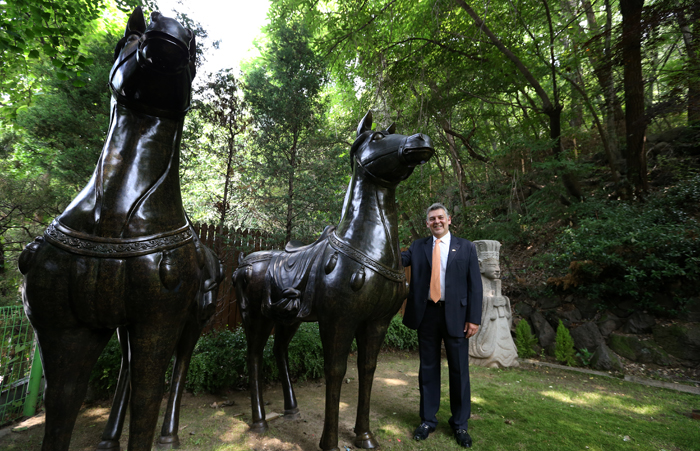 Before he was assigned to Korea in March 2011, Cabal served as president of the Colombian Hotel and Tourist Asscoation (COTELCO) between 2002 and 2011. Before that, he served as Minister for Economic Development and Minister for Labor, Agriculture and Foreign Trade.
Cabal was interviewed at his official residence in Seongbuk-dong, northern Seoul recently.
Q: While the Korean War is considered a "Forgotten War" in many countries that participated in the war, Colombia has the Association of Korean War Veteran Descendants. What kinds of activities does the association engage in, and how do their activities improve the relationship between both countries?
A: Indeed, there is an Association of Korean War Veteran Descendants in Colombia.
They work so that we don't forget that there was a group of Colombians who fought and gave their blood for Korea's democracy. This is, of course, for both Colombia and Korea not to forget the war.
They also try to distribute scholarships and education opportunities for the descendants.
Hopefully, this type of association -- I guess that also exists in other countries which participated in the war -- can help continue the memory of many people who fought and worked for democracy in this beautiful country, Korea.
As you mentioned a "forgotten war," I think that the Korean government and institutions should also make effort so that young people do not forget that there were many nations that came to help Korea in their struggle for democracy.
Sometimes it is sad to see young people in the street, who do not know the history and that Colombia played a role in the war and what it means. That is important.
I hope that the Korean government and institutions try to maintain the memory of this event, which was unfortunate but an important turn for democracy in Korea.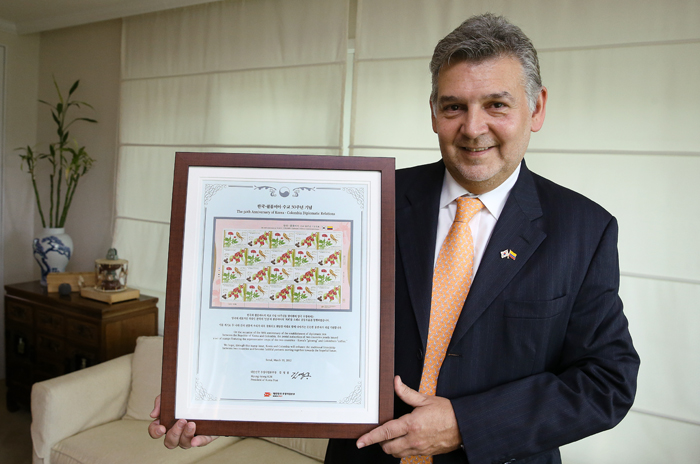 Q: While Korea and Colombia formed an alliance of blood 60 years ago, the two countries are now getting closer through culture. How would you describe the Korean wave in Colombia, and how do you think it affects the relationship between the two countries?
A: Korea has a great virtue, and when they intend to do things, they do them very well.
They are doing very well in the field of productions and applying technology to musical or other kinds of performances, and for that reason, K-pop and the Korean wave have expanded to many countries.
Colombia has opened its arms to Hallyu and has hosted many K-pop groups' performances. They even appeared on television.
There is a TV station in Colombia, Caracol -- which means snail in Spanish -- that has held contests between Colombian singers, and winners are given a chance to visit Korea. This means that they have adopted part of the Korean wave.
But Colombia is also making great effort to publicize the authenticity of its music, culture, and customs [in Korea]...because culture should flow in both directions.
Colombia is one of the happiest countries in the world and has expressed it through music.
It is a leading country in Latin America in musical performances and so we wanted to introduce to Korea our culture such as salsa music and the vallenato folk dance, and also festivals as another expression of our culture. We are working to let Koreans know more the cultural richness of Colombia.
Q: Can you please describe the work you do to make Colombia better known in Korea?
A: We are not only doing various cultural activities but also promoting opportunities and wealth in Colombia.
Colombia is not as developed as Korea but is at a level of significant development, with a growing economy. The level of social welfare is improving, reducing the rate of poverty and this has generated many business opportunities for the development of the economy and society in the country.
Colombia is rich in natural resources and is pursuing green development. The biodiversity of Colombia is one of the largest in the world.
We also have the greatest biodiversity on the planet per square kilometer and have a wealth of our two oceans -- the Pacific and the Atlantic -- and the Caribbean Sea. We have jungle of the Amazon, an Andean zone, and urban areas as well.
We have different regions, different opportunities in various economic sectors and this is what we are trying to promote in Korea.
But we are also promoting our culture, our literary values through our Nobel literature prize winner Gabriel García Márquez, through our renowned artists such as Shakira and Juanes or other many emerging artists, through our painters such as Fernando Botero who is well known in Korea, and through Colombians who stand out internationally in different fields; we want Korea know about this also.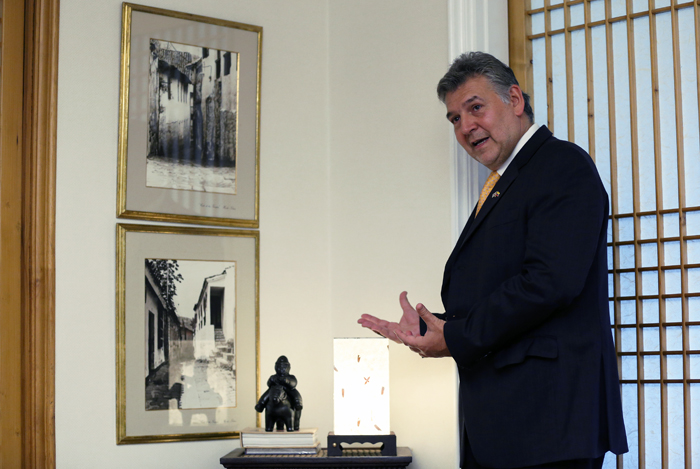 Q: The economic exchange between the two countries is increasing every day, and the Korea-Colombia FTA was finalized recently. What kind of synergy do you think the FTA will bring to the economies of both countries?
A: There are two incidents that could bring a new form of relationship between Colombia and Korea.
No doubt the Korean War marked the history of an alliance of blood and close friendship... but we can not only keep living in history but have to put our relations in a new context.
And one of the two significant developments is the declaration to raise the two countries' relations to the highest level, strategic cooperative partnership.
And the other fundamental development is that the two countries negotiated and signed a free trade agreement on February 21, 2013. It is not yet in force, yet it is awaiting the ratification by the Congress of Colombia and the National Assembly of Korea. We hope that Korea will ratify it as a fundamental development for the two economies, which are complementary.
And the fact that they are complementary economies means that Koreans will have better opportunities to export to Colombia and expand its exports at lower prices, with more Korean products to be consumed.
It also means that Colombian products enter Korea at more competitive prices due to lower tariffs. We can better meet the needs for Colombian foods and beverages in Korea, with lowered prices for otherwise expensive products.
For example, Colombia is a major producer of meat, dairy products, fruits, vegetables, coffee -- our coffee has the highest quality in the world. We are also the second-largest exporter of flowers in the world.
Of course, one of the great benefits of the FTA is that imports and exports between Korea and Colombia can grow together. Our trade balance is 1.6 billion pesos.
We estimate that with the FTA, it can grow at the rate of 30 to 40 percent annually. The other great benefits are investment opportunities. Korean companies can invest in Colombia and vice versa.
Q: Many Asian countries are competing in diplomatic areas to expand into the Latin American markets, such as Colombia. What kinds of efforts do you think Korea needs to make to succeed in the Latin American market?
A: I think that Korea should learn more about the situation of today's Latin America and not to generalize this situation as for all countries. Each country has its own reality.
Colombia is different today, different from many years ago, and at the same time it also differs from Brazil, Peru, and Mexico. All the countries of Latin America today have their own reality.
On the other hand, Colombia is growing much faster than others. For example, few Koreans know that Colombia is now the third-largest economy in Latin America after Brazil and Mexico.
It has a population of 48 million inhabitants like Korea with a large domestic market. An external market was created in association with the creation of the Pacific Alliance that includes Peru, Chile, and Mexico.
My advice is that Koreans learn more about the situation of each country, study it more, amd collaborate with Colombia's local entrepreneurs, and I am confident that the business will be very successful.
Q: Lastly, if there is anything you would like to share with the Korean audience, please do so.
A: I would like to tell you many things to Korea and Koreans as we are brothers since we fought together for democracy and the freedom of Korea.
One of them is that I hope Koreans have more interest in Colombia. This can do very good things. Koreans can come to Colombia as tourists. Colombia is a country rich in tourism, with a diversity of regions, spectacular beaches, beautiful coffee farms, and cities such as Cartagena, Bogota, Cali, Medellin, and Barranquilla. Among many others, we also have carnivals, great joy, and cultural diversity. It is a country, still, to explore.
Many countries including the United States chose Colombia as the no. 1 tourist destination. So did other countries in Europe and the Americas.
I want to encourage Koreans to come to Colombia because they are going to be surprised with the spectacular country.
And the second message is that Colombia is a country of peace, which has overcome their past problems today. We're trying to settle accounts with the past, and so we are in a process of reconciliation.
We also hope that South Korea can have the process of reconciliation with North Korea in the future. We hope to see a reunified peninsula, which is not only the dream of many Colombians, but in many countries of the world.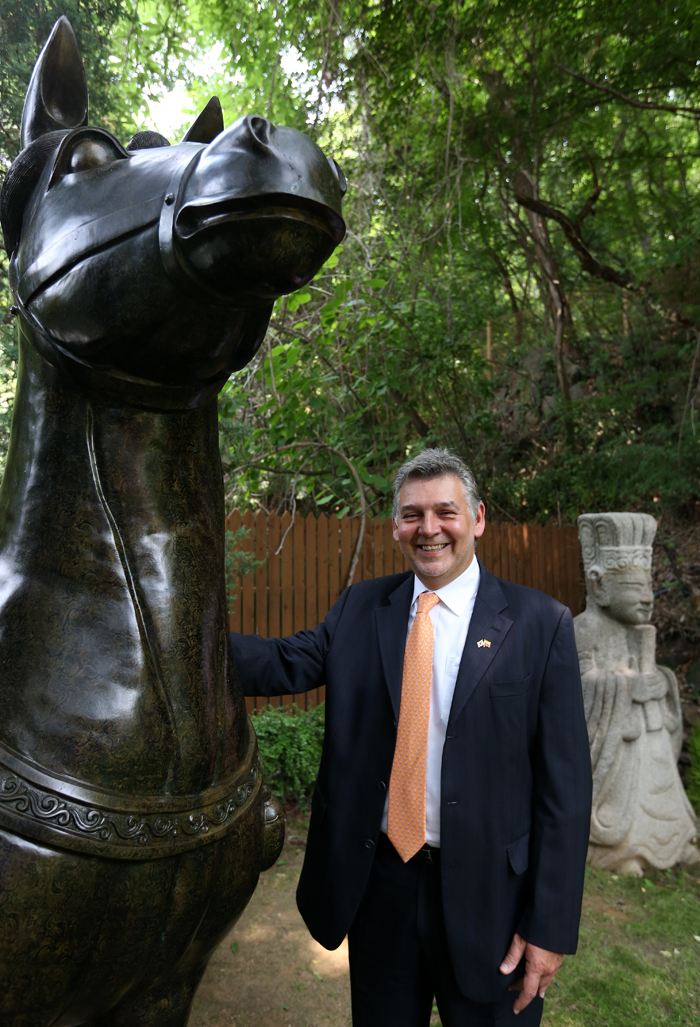 By Limb Jae-un
Korea.net Staff Writer
jun2@korea.kr
Featured Topics
http://www.korea.net/NewsFocus/Society/view?articleId=109981
URL Copy
Department Global Communication and Contents Division, Contact Us