Korean high school student honors Korean War sacrifice of UN troops
Jul 05, 2010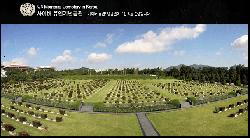 There is to date only one United Nations Memorial Cemetery in the world, and that is in Busan, Korea. Its official website is here. On it is a searchable list of the soldiers interred there, 2300 in all (breakdown by nations can be seen here). The park covers 35 acres, and was first used as a burial ground for UN soldiers in 1951. Over time, bodies from other cemeteries were reinterred here.

President Lee Myung-bak visited this cemetery in June, in the week leading up to the commemoration of the 60th anniversary of the start of the Korean War, to pay tribute to the soldiers who fell far from their homelands. It was the first time a Korean president had been there since Park Chung-hee in 1966. While there, he said that their sacrifices are the kind of sacrifice that maintains world peace and national sovereignty.

There is also another very special website dedicated to this cemetery, and that is www.unpeacezone.com. This site was set up and is maintained by a Korean high school student named Ko Yujin.

One of the special aspects of this website is the growing number of Korean War veterans from around the world who have heard about this website, and who have left messages of thanks, encouragement, and reminiscences about their wartime experiences.
Korea.net conducted an email interview with Yujin.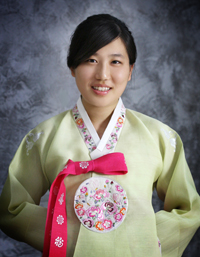 Q: Tell us a little about yourself.
A: I am in my second year at a girls' high school in Busan. My father is a presiding judge of Busan District Court and that always has an effect on my view on the environment around me, especially people from an underprivileged background.

Q: How did your project begin? What have you been doing as part of this project?
A: I am a native of Busan and live in the neighborhood of the United Nations Memorial Cemetery. Every time I pass by the site, I think about the foreign soldiers who fought so selflessly and bravely in our country to preserve the peace and freedom that we currently have.

This year, 2010, is the 60th anniversary of the beginning of the Korean War. I read in the newspapers that many veterans are revisiting Korea to commemorate the anniversary. Their war stories were so moving and I tried to read all of the visiting veterans' stories that were published in the Korean newspapers. I realized how superficial my knowledge was about the Korean War and was deeply impressed by the young foreign soldiers' braveness and sacrifices.

In the interim, I heard about the pending status of a bill in the Korean National Assembly to designate the United Nations Memorial Cemetery in Busan as a Special United Nations Peace and Culture Zone. At that moment, I knew that I wanted to do something to spur the passing of that bill even though I am only a high school student. I wanted to add my small effort to my community.

First, I launched and led a campaign among my high school friends. We conducted street campaigns in various towns including Jeju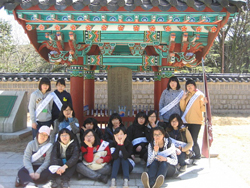 Island (please see more detailed information with photos on my website). I also began to send "thank you" emails to Korean War veterans in other countries, including the United States and Canada. My friends and I met and greeted many of the veterans who have visited the United Nations Memorial Cemetery for the 60th year commemoration and offered beautiful flowers.

In addition, I developed a website with my younger brother to make the project visible to more people.

When I sent emails to several war veterans, I simply wanted to express my gratitude as a Korean high school student who lives in Busan. I was quite shocked when I received replies from many veterans who were friends and colleagues of the original group that I contacted.

I also encouraged my younger brother, who is a reporter for the Cheong Wa Dae Kids Newspaper, to write an article about my correspondences and emails with foreign veterans regarding their interest in the United Nations Peace District Project.

Great news came from the Korean National Assembly that they have passed a bill designating Busan United Nations Memorial Cemetery as a special United Nations Peace District!

Q: What effect will the bill have?
A: In a nutshell, the designation of the United Nations Memorial Cemetery as a special United Nations Peace District (full title is: "Busan Nam-gu Special Peace and Culture Zone for the United Nations") covers two large categories:
Peace Land: This is the main purpose of the bill. Unfortunately, the United Nations Memorial Cemetery has not been properly promoted among the Korean people, not to mention the fact that it is not well known in other countries. The construction of The United Nations Peace Memorial Hall in Danggok Park will begin in November. We hope that the United Nations Memorial Cemetery might play a significant role as a unique and special Peace District, paying respect to those veterans who sacrificed themselves during the Korean War.

Cultural Zone: In addition to the building of the United Nations Peace Memorial Hall, a United Nations Festival, Cultural Street and Youth Square will be created inside Danggok Park. Busan City anticipates an increase of employment and production from these new construction projects. The local university also plans to host seminars on the Korean War and the United Nations.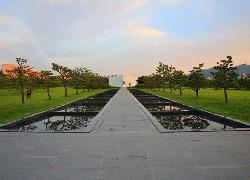 Q: What is the next step in this project?
A: I will continue writing emails to the Korean War veterans. I have learned that many more visits are scheduled by Korean War veterans to mark the 60th anniversary this year. I plan to greet them at the United Nations Memorial Cemetery whenever my friends and I can throughout the year.

I also would like to promote 21st century Korea by sending booklets or pamphlets to the war veterans acknowledging that a big portion of it was possible thanks to their selfless sacrifice.

I learned that many Korean War veterans have had financial difficulties in their old ages. I would like to begin a fundraising event (e.g. school, town or government campaign) and help them as a gesture of our gratitude.

Q: What do you want to be when you grow up?
A: I would like to study international relations law at college and become an international relations specialist.
My project for the UN Peace District was inspired by the appreciation that I have for Korean War Veterans. I would like to learn more in detail about relations among the countries in the world and contribute my efforts to promote peace and freedom for Korea and, ultimately, for the world.

My role model is the current United Nations Secretary General Ban Ki-moon who is, in my opinion, an exemplar of the status of Korea as one of the leading peace-defending nations in the world.

I am very grateful for the Korean War veterans who helped to keep freedom and peace in Korea by sacrificing themselves for this foreign country, and I intend to do something worthwhile with my life, not only to promote world peace but also to transcend national, racial, and religious boundaries. I think that my project to promote UN Peace District is the first step for the contributions I would like to make in society.


Interviewed by Jacco Zwetsloot
Korea.net Staff Writer and Editor
Featured Topics
http://www.korea.net/NewsFocus/Society/view?articleId=81857
URL Copy
Department Global Communication and Contents Division, Contact Us