Environment-friendly electric buses to start operation in Seoul
Jul 07, 2010
Source : Seoul Metropolitan City
Seoul to initially start operating 15 electric buses on 3 routes in the Namsan area in November

Seoul Metropolitan Governmen will begin the operation of environment-friendly electric buses, which emit absolutely no air pollution, this November. These buses were jointly developed by the Seoul Metropolitan Government and a local bus manufacturing company. Development is now complete and according to announcements made on the Thursday, June 24th, 15 buses will start normal operation initially.

Electric buses run purely on electricity. Since these buses have no gas exhaust outlet, they do not emit fine dust particles, smoke, or other air pollution agents, not do they discharge greenhouse gases such as carbon dioxide like diesel buses. Electric buses are regarded as an environment-friendly means of public transportation for the future. Heat and gaseous particles that are emitted by CNG buses are not emitted by electric buses, and thus electric buses help create more pleasant road and living environment conditions.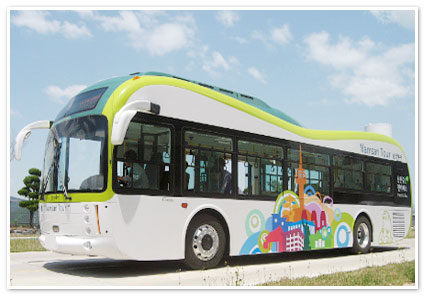 Takes only 20 minutes to recharge and can travel 120km with a single charge

The new electric buses boast the world's best recharging capabilities, taking only 20 minutes to recharge. The high capacity batteries enable the buses to run for 120 km after recharging once and reach a maximum speed of 100km/h.

Instead of using iron plates for the main body of the bus, electric buses use a material mainly used by vehicles of the future – carbon composite material. This new material decreases energy consumption by reducing the vehicle weight by 25% and thus extending the distance traveled after a single recharge. The main components of the electric buses such as the battery, motor, inverter etc. were developed using local technology. The technology applied is currently one of the most advanced in the field.

The 15 buses will begin operating in the Namsan circular route – one of the more challenging routes in downtown Seoul and an area frequented by tourists. The new buses will be yet another attraction in one of Seoul's main hot spots, Namsan. The exterior of the buses were designed to blend with Namsan's scenic natural environment. Also different designs such as Haechi, Seoul's official color, and the Seoul logo give the buses a 'Seoul identity'. On the sides of the buses are graphic icons of Namsan's main attractions – making the buses look like they are on an amusement park excursion. The electric buses will have low floors to improve access of disabled people to Namsan Park.
3,800 buses to run by 2020, reducing 140,000 tons of greenhouse gases a year

Seoul Metropolitan Government will start expanding the operation of these buses starting next year so that 3,800 buses, or the equivalent of half of Seoul's bus fleet, will be electric buses by 2020. The remaining buses will be replaced by hybrid buses, thus completing the green revolution of Seoul's public transportation system.

34 electric buses will be running in 6 different routes by next year. In the second half of next year, Seoul will expand the operation of electric buses on short routes with 1-time operation distances of 20km.

If Seoul meets its goal by 2020, even when considering greenhouse gases emitted by the power plant producing electricity, more than 40 tons of greenhouse gases can be reduced per bus in a year, adding up to 140,000 tons every year by 2020.

Also, 800 tons of nitrogen oxide (NOx) and 350 tons of hydrocarbons emitted every year in the city will no longer be emitted.

130 charging facilities to be installed in government offices, retail chains etc. by this year

In response to the increasing supply of electric vehicles, 41 recharging facilities have been set up in 25 district offices and large retail chain parking lots. This number will increase to 130 within the year. Some of the chargers will be operated for free until a payment system and remote control functions are developed.

Smart Charger – which allows you to pay with your transportation card - to be operated for free during pilot run

Seoul Metropolitan Government and LG CNS co-developed the 'Smart Charger' last year. So far these Smart Chargers have been installed in the Seoul City Hall Seosomun Annex and Namsan Annex. The development for the Smart Charger operating system is now complete and is undergoing a pilot run. Smart Charger is the first recharger with a payment function that is in the commercial stage. To use the Smart Charger all you have to do is register your transportation card with the Seoul Metropolitan Government.

During the pilot period until the end of this year, vehicles will be recharged for free during government office hours. Once the payment system for recharging is set, a fee will be charged.

Kwon Hyeok-so, the head of the Environmental Protection Headquarters, said "By 2020, half of Seoul's buses will be replaced by environment-friendly electric vehicles. Seoul will build an electric car recharging infrastructure that is unparalleled by other cities to ensure the effective supply of electric vehicles."
Featured Topics
http://www.korea.net/NewsFocus/Society/view?articleId=81892
URL Copy
Department Global Communication and Contents Division, Contact Us