Overseas doctors promote Oriental medicine, medical tourism
Jun 20, 2011
Two non-Korean Oriental medicine doctors were appointed as goodwill ambassadors to promote traditional Asian medicine abroad by the Korea Tourism Organization in May.

Dr. Raimund Royer of Jaseng Hospital of Oriental Medicine and Dr. Michii Kobayashi of Azalea Oriental Medicine Clinic may be from different countries, but they have one thing in common. Both have been active in introducing traditional Korean medicine to non-Korean patients.

The appointment ceremony was held on May 18 and attended by Lee Charm, CEO of the Korea Tourism Organization.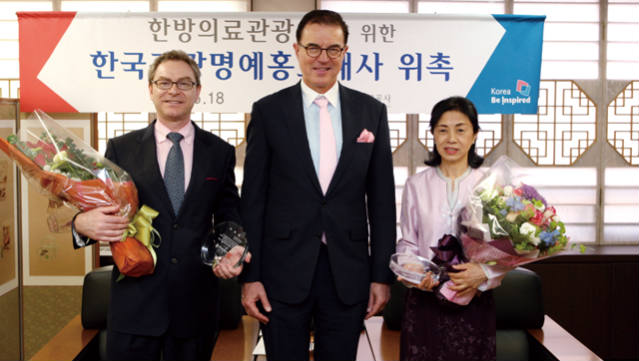 (From left to right) Dr. Raimund Royer, Lee Charm, CEO of the Korea Tourism Organization, and Dr. Michii Kobayashi

Dr. Royer is from Austria, and became the first European Oriental medicine doctor active in Korea after passing the national exam in 1999.

Royer plays an active role introducing Oriental medicine to the international community by serving as an executive member of the Association of Korean Oriental Medicine and the Korean Pharmacupuncture Institute.

He first became interested in acupuncture when he sprained his ankle while learning the Korean martial art of Taekwondo in 1987. He decided to study Oriental medicine after his first acupuncture session.

In order to promote Oriental medicine in Korea, Royer says that Korea needs to differentiate its traditional medical practices from the more internationally famous Chinese practices.

He also urged the introduction of a certification system for Oriental medicinal ingredients to win trust on the international market.

Dr. Michii, originally from Japan but now practicing in Gangwon Province, became the first licensed non-Korean to practice domestically after getting her license in 1984.

Kobayashi has worked to incorporate Western medicine practices with traditional medicine during her eight years practicing in Tokyo, Japan. She has treated more than 12,000 international patients since moving to Korea in 2003.

In an interview on June 7 with the Weekly Gonggam, published by the Ministry of Culture, Sports and Tourism, Kobayashi expressed her desire to continuously promote Oriental medicine to the world.

She has recently focused her efforts on developing special therapy programs which combine Oriental medicine and spa treatments to attract overseas patients.

By Yoon Sojung
Korea.net Staff Writer
Department Global Communication and Contents Division, Contact Us