"Please Look After Mom" to be published in Japan
Aug 17, 2011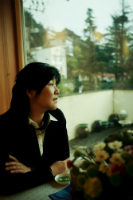 "Please Look After Mom" by Korean author Shin Kyung-sook (left) is set to make its debut in Japan next month. The bestselling novel has already become a hit in the United States and Europe. The Japanese version of "Please Look After Mom" was the last piece translated by the distinguished Ahn Woo-Sik, whose work helped introduce more than 170 pieces of both North and South Korean literature in Japan.
Lee Gu-yong of KL Management announced on August 15 that the Japanese translation will be published together with Shueisha, Inc. by the end of September. The author will pay a 4-day visit to Japan from September 14 to 17 to meet with Japanese readers.
Shueisha previously worked with Shin to publish "A Lone Room" in 2005, along with Jo Jung-rae's multivolume epic, "The Taebaek Mountains" and Yi Munyol's "Son of Man."
"Please Look After Mom" was selected for Amazon's "2011 Best Books of the Year So Far: Top 10" list in June. Translation rights for the book have been sold in 28 countries, including the United States, Italy and Israel, where the Hebrew translation hit local bestseller lists within two weeks of its July release.
By Hwang Dana
Korea.net Staff Writer
Department Global Communication and Contents Division, Contact Us