Learning the Korean language with music
Aug 25, 2011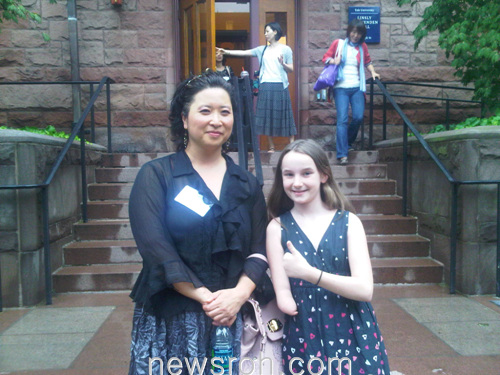 Kim Eun-ju and her student (Photo: Newsroh.com)
Educator Kim Eun-ju wants to use a combination of rap, jazz, and Korean traditional "pungmul" music in the classroom to teach Korean and science. The elementary school teacher, who is also the president of Korean American Arts and Culture Connection (KAACC-USA), introduced her new educational method at a seminar at Yale University.
Kim was invited to the conference at Yale, which was held by the American Association of Teachers of Korean (AATK) which was held from June 23 to 25. She introduced a teaching tool for Korean and science named "rajapoong" which is a portmanteau of rap, jazz, and the Korean style of folk music known as pungmul. As she received a very positive response from attendees at the conference, she was also asked to give a keynote speech for the conference next year.

In the U.S., music recently became a new method for teaching various subjects in school, as it motivates students to study and increases teaching efficacy. Highlighting this new social trend, New York Times also reported on August 12 on a class in a high school that studies history through hip-hip and rap.

While there are many teaching methods that use music, Kim's science and Korean teaching tool also contains traditional pungmul music which is expected to also helps students understand and learn Korean culture better while studying Korean. She said, "I discovered that rap and jazz have a very similar rhythm and beat with pungmul and thought I could mix them together to develop a new teaching method," during the interview with Newsroh.com.


"I was very impressed by my school, which has an amazing long-term plan for teaching Korean culture to students including taekwondo and the Korean language. I hope that this new teaching technique increases students' interest in studying and learning the Korean language."

By Jessica Seoyoung Choi
Korea.net Staff Writer


Featured Topics
http://www.korea.net/NewsFocus/Society/view?articleId=88430
URL Copy
Department Global Communication and Contents Division, Contact Us