Learn Korean with free Korean comic book app
Dec 26, 2011
You can now read Korean comic books, known as manhwa, in your favorite mobile device, courtesy of a new online application now available in both English and Korean.
Officially launched on November 30 by the Korea Creative Content Agency (KOCCA) to amuse those interested in Korean culture and learners of the Korean language, the MANHWA application (
www.lovemanhwa.com
) features a total of 165 volumes from 66 series, also including 13 new works by some of the most popular Korean comic book writers.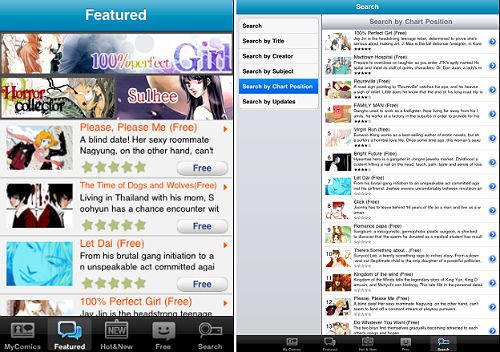 KOCCA MANHWA app (Images courtesy of the Korea Creative Content Agency)
The Korean Culture and Information Service and KOCCA have recently teamed up to facilitate the use of the tool as an easy and fun way to learn the Korean language. Last month, the MANHWA app was introduced on a trial basis to Korean language learners at Los Angeles branch of the King Sejong Institute, garnering favorable responses.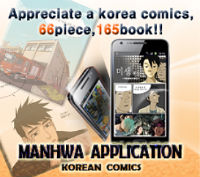 The Moss
, a webcomic thriller by Yoon Tae-ho -- which gained renewed traction through the release of its screen version in 2010 -- was selected as the first title for the 15 branches of the King Sejong Institute in the UK, Canada, the U.S., and other countries across the globe. More additions are planned in the near future to allow students to access to a variety of e-comics of different genres.
The King Sejong Institute (
www.sejonghakdang.org
) is a state-run facility designed to provide Korean language and culture education to foreigners both at home and overseas. The government-sponsored institute now boasts over 50 branches spread out in 31 nations worldwide.
Starting on December 26, the Korean Culture and Information Service (KOCIS) will be holding an online event to promote the use of the application through January 25, 2012. Anyone can participate by visiting the organization's website at
www.kocis.go.kr
.
KOCCA's MANHWA Application can easily be downloaded at several app stores, including iTunes and Android, by searching keywords such as "MANHWA" or "KOCCA." For more information, please visit the official website at:
www.lovemanhwa.com/event_en.php
(English).
By Hwang Dana
Korea.net Staff Writer
Department Global Communication and Contents Division , Contact Us