Seminar on "East Sea" notation opens in Brussels
Mar 12, 2012
A lively discussion on geography took place from March 7 to March 9 in Brussels, Belgium, where scholars from around the world met for the 18th International Seminar on Sea Names, hosted by the Northeast Asian History Foundation and the Society for East Sea. In the midst of ongoing debate as to the correct designation for the body of water between Korea and Japan, this year's seminar gathered a diverse group of panelists to share their perspectives on the concepts and issues involved in naming controversies in an international context.
The seminar was organized in partnership with the EU-Korea Institute and the Department of International and European Law at the Vrije Universiteit Brussel (VUB) and attended by a total of 30 scholars and policy experts from 15 different countries, including Korea, the United States, Germany, the United Kingdom, Austria, and Vietnam.
Dean Park No-hyung of Korea University Law School and head of the Society for East Sea, along with Chang Dong-hee, Ambassador-at-large for Geographic Naming for the Republic of Korea, were among the Korean scholars present to seek support for the parallel usage of "East Sea" and "Sea of Japan" notations.

Notable international panelists included Brahim Atoui, Vice Chair of the United Nations Group of Experts on Geographical Names (UNGEGN), Peter Raper, former Chairman of the UNGEGN and professor at South Africa's University of the Free State, and Élisabeth Calvarin, a consultant-expert in toponymy and former member of the National Commission of Toponymy in France.

The 16 papers presented over the course of the three-day event examined both the existing conceptual framework for determining names of shared geographical features as well as case studies of past naming disputes in Europe and Asia. The final day of the seminar brought the East Sea/Sea of Japan issue to the forefront of discussion, with presenters looking at current usage of the East Sea designation and arguments for the validity of its continued use.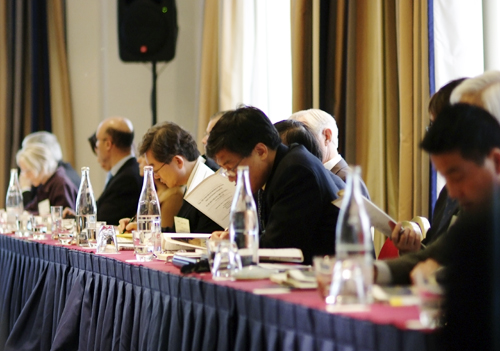 This year's event was organized ahead of the upcoming International Hydrographic Conference, set to take place from April 23 to 27 in Monaco. IHO Special Publication 23 (IHO S-23), which was first published in 1929 by the International Hydrographic Organization (IHO) to define the names and limits of the seas, currently marks the body of water in question only as the Sea of Japan. A new, revised edition of the S-23 was underway and circulated as a draft for a limited period of time in 2002, but the final version has yet to be released. Korean scholars expect that the issue of the East Sea and Sea of Japan designations will appear on the agenda at the upcoming conference.
By Kwon Jungyun
Korea.net Staff Writer
Department Global Communication and Contents Division, Contact Us