East Sea ad published in Wall Street Journal
Mar 14, 2012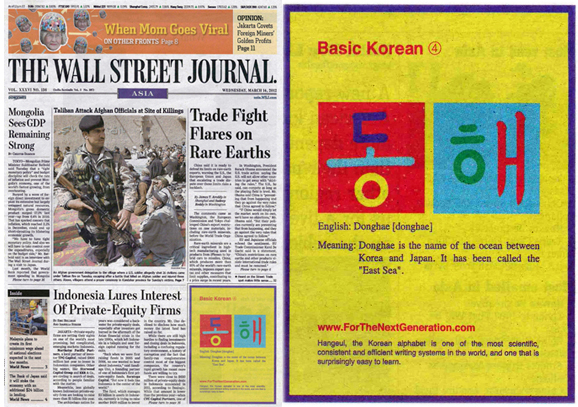 On March 14, the front page of the
Wall Street Journal Asia
featured a Hangeul advertisement for Donghae, or the East Sea, referring to the body of water between Korea and Japan. The advertisement was the work of Seo Kyoung-duk, a visiting professor at Sungshin Women's University who has raised awareness about Korea through newspaper and billboard advertisements.
In October 2011, Seo took out an advertisement on the front page of the
Wall Street Journal Europe
for Dokdo, as part of a "Basic Korean" Hangeul campaign series. Two advertisements featuring the phrases "annyeonghaseyo," meaning "Hello," and "gomapseumnida," meaning "Thank you," followed. This month's advertisement comes as the fourth in the series.
"This month's advertisement was planned in advance of the International Hydrogaphic Conference that will take place in Monaco in April, in order to promote the adoption of the 'East Sea' designation over the existing 'Sea of Japan' designation for the body of water in question," said Seo.
The advertisement displays the word "Donghae" in large Hangeul letters, with the Romanized pronunciation and an explanation of the title below. Also included is a brief introduction to Hangeul as "one of the most scientific and efficient" writing systems in the world, and also "surprisingly easy to learn."
The Hangeul type in the advertisement was designed by renowned installation artist Ik-Joong Kang. Designers from Dcell design studio contributed their skills, while the Korean Culture and Information Service (KOCIS) under the Ministry of Culture, Sports and Tourism, provided the funding.
This advertisement comes less than two weeks after an advertisement for Dokdo appeared in the
New York Times
on March 1, in commemoration of Samiljeol, the Korean national holiday celebrating the March 1 Independence Movement of 1919. The
Times
ad campaign also saw Seo's participation and employed a design that won the grand prize in a Dokdo advertisement contest held by e-commerce company Gmarket in February.
Designed to look like a partially completed puzzle, the advertisement pairs four islands with the flags of their respective countries, inviting readers to draw the connection between Korea and Dokdo on their own.
By Kwon Jungyun
Korea.net Staff Writer
Department Global Communication and Contents Division, Contact Us