Rising global icon Park Tae-hwan generates higher expectations!
Jun 19, 2012
Korean swimming sensation Park Tae-hwan was selected by Yahoo as one of the most promising athletes to watch at the 2012 London Olympic Games along with 15 other competitors.
Yahoo Sports chose 15 global icons who have the potential to become the next Usain or Phelps based on their dominant performances in Beijing.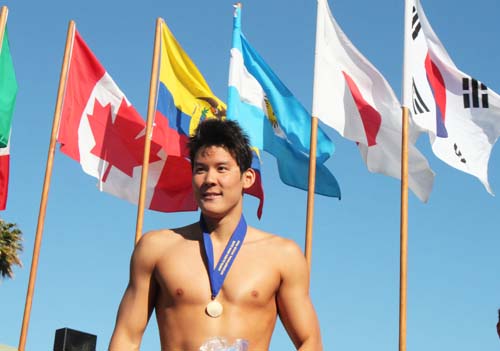 Yahoo Sports introduced Park's past achievements which include winning a gold medal in the 400m freestyle and a silver in the 200m freestyle in Beijing. "We will see how he measures up against Phelps this time," Yahoo added.
Park Tae-hwan strives to achieve his goal of setting a world record at the London Olympics, which start next month. "I have been preparing for this goal for a long time. Considering my age and condition, I have more confidence than ever," said Park. "A world record would bring me a gold medal."
Earlier this month, the
Wall Street Journal
(WSJ) also covered stories about Park, describing him a "turbo-charged swimming superstar."
WSJ reported on his achievements at the Santa Clara International Grand Prix, the final round of the U.S. swimming Grand Prix series. The young superstar raised expectations for a medal haul in London after his victories in the 100, 200, 400 and 800-meter freestyle events.
Park Tae-hwan discovered his true vocation when he started swimming to take care of asthma. In 2004, he came to join the national team for the Athens Olympics as the youngest athlete on the squad, and the following year he set six new domestic records. He began to gain international attention when he won the gold medal in the 400-meter freestyle and silver in the 1,500-meter freestyle at the Macau East Asian Games. The 2006 Asian Games in Qatar earned him the Most Valuable Player Award for winning three gold, one silver, and three bronze medals.
The 2008 Beijing Olympics offered the most glorious moment in his life. He brought the first Olympic medals in swimming to Korea by winning the gold medal in the men's 400-meter freestyle and silver in the 200-meter freestyle.
In comparison to his last Olypmic appearance at the Beijing Olympics four years ago, he says he feels less excitement and more pressure. He revealed his confidence for the performance and results he will bring in London next month.
Park left for Australia for a final training session scheduled to end on June 30 and enters final preparations in France on July 3. He will arrive in London on July 21 and make his first appearance at the 400-meter freestyle on July 28.
By Lee Seung-ah
Korea.net Staff Writer
Featured Topics
http://www.korea.net/NewsFocus/Sports/view?articleId=100769
URL Copy
Department Global Communication and Contents Division, Contact Us