Taekwondo, taking Hallyu farther
Jul 11, 2012
As
Hallyu
continues to introduce modern and traditional Korean culture to new audiences, the traditional martial art of
taekwondo
is enjoying growing visibility and popularity across the world.
The sixth annual
World Taekwondo Culture Expo
opened on July 6 in Muju County, Jeollabuk-do (North Jeolla Province), where the taekwondo discipline is said to have been practiced and taught by martial artists and soldiers as far back as Korea's Three Kingdoms period (57 to 668 AD).
Sponsored by
Muju County
,
Jeollabuk-do
, the
Korea Taekwondo Association
, and the Taekwondo Promotion Foundation, this year's Expo was attended by over 960 athletes from 24 countries.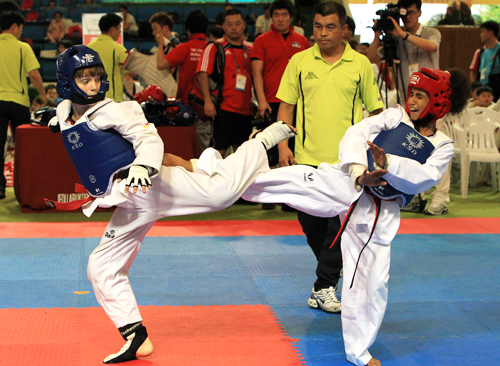 During the Expo's five-day run, participants had the opportunity to brush up on taekwondo theory and techniques and take part in poomsae (forms), kyukpa (breaking), and kyorugi (sparring) demonstrations. Other activities included visits to the scenic Muju Gucheondong Valley, the construction site for
Taekwondowon
, and a traditional culture center.
"We hope to develop Muju into a symbolic destination with a variety of special programs for taekwondo lovers," said Yoon Myeong-chae, director of operations for Taekwondowon.
A week earlier, taekwondo received the spotlight during a cultural festival in Bangkok, Thailand, held from June 30 to July 1 ahead of the coming 2012 London Summer Olympics. A special performance of taekwondo entitled "TAL," put on by the Korea Taekwondo Association, was the highlight of the two-day event.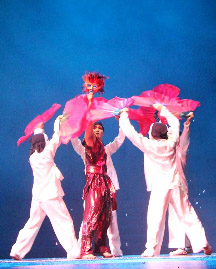 With a dramatic storyline, heightened artistic effects, and a finale set to Thai pop songs, "TAL" proved to be an entertaining performance for the festival audience. It was also attended by Choi Yeong-seok, the head coach for the Thai national taekwondo team, together with three Thai national team athletes.
Also last month, taekwondo made an appearance in Washington, D.C., where more than 120 sixth-graders at Alice Deal Middle School were paired with the
Embassy of the Republic of Korea
through the
Embassy Adoption Program
(EAP), designed to encourage students to experience the culture of another country firsthand.
Taekwondo demonstrations were held as part of the six-month program, which also included group visits to the embassy as well as visits by staff from the embassy's Korean Cultural Center for taekwondo workshops.
"Students who are often quiet in the classroom came out of their shells, and students who don't excel academically were able to shine in a way I have never seen before," said Harlan Kinzer, a teacher at Alice Deal, who spoke with the embassy regarding her impressions of the taekwondo workshops.
"[The students came] to understand that taekwondo [is] about strength, commitment, discipline, and dedication to one's self, community, and academics," continued Hinzer. "Students wanted to achieve high levels of commitment to their school and community."
By Lee Seung-ah
Korea.net Staff Writer
Department Global Communication and Contents Division, Contact Us