Team Korea: gold medal dreams in reach
Aug 06, 2012
Day nine of the
2012 London Summer Olympics
saw Team Korea close in on its
goal to win ten gold medals and place in the top ten for the gold medal count
by the end of the games. The gold medal won by South Korean shooter Jin Jong-oh in the men's 50-meter pistol finals on Sunday, August 5 (local time) marked South Korea's tenth gold at this year's Summer Olympics.
Men's shooting
Each shot by Jin, who had qualified for the final round in fifth place, brought him closer to catching up with teammate Choi Young-rae, who had entered the finals in first place with a seven-point lead. Showing consistent accuracy, Jin jumped to second place by his fourth shot, and his tenth and final shot placed him half a point ahead of Choi for the gold medal.
Sunday's victory was the second gold medal win in London for three-time Olympian Jin, who took gold in the men's 10-meter air pistol event on July 28. Jin, who is now the first athlete in Korean Olympics history to win two gold medal titles in individual events, was joined on the winners' podium by Choi, who earned the silver medal in what was his first international shooting final.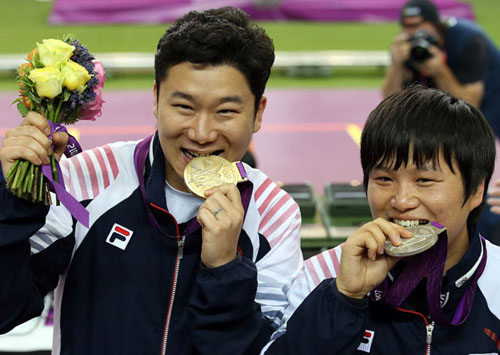 Team fencing


Another welcome addition to South Korea's medals count came the day before, on August 4, when the women's fencing team won silver in the team epee finals against China at the ExCel Centre.
Team members Choi Injeong, Jun Hyojung, Choi Eunsook, and Shin A-lam, whose first appearance at the ExCel Centre on July 30 for the individual epee semifinals had ended in a
controversial, unsuccessfully appealed elimination
, secured their title after victories against the United States and 2008 gold medalists Romania in the semi- and quarterfinal rounds. The team silver marked Korea's sixth fencing medal at this year's Olympics.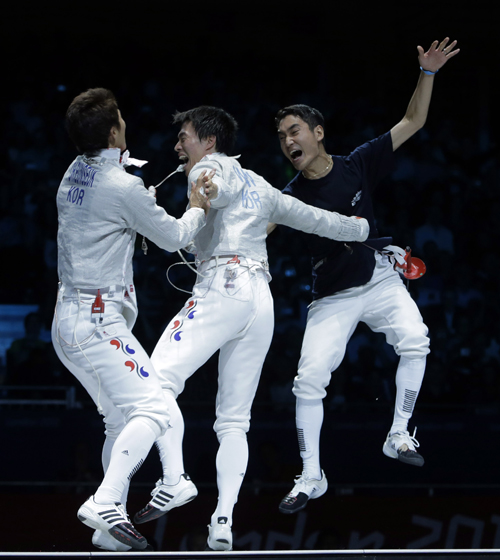 The fifth was another team title, an unexpected gold medal win by the South Korean men's fencing team in team sabre on August 3. Teammates Gu Bon-gil, Kim Jung-hwan, Won Woo-young, and Oh Eun-seok topped Romania 45-26 after winning against Germany and Italy in earlier rounds.
With one team gold,
one individual gold
, a team silver, and three individual bronze medal wins South Korea's total fencing medals at this year's games alone add up to six, a number topped only by Italy's seven.
Soccer: a historical advance to the semifinals
To the excitement and cheers of soccer fans all over the country, the South Korean soccer team defeated Britain 5-4 in a quarterfinal matchup on August 5.
In a scene that was reminiscent of the last moments of the Korea-Spain quarterfinal match at the
FIFA World Cup in 2002
when Korea advanced to the semifinals after winning 5-3 in the penalty shootout, final Korean kicker Ki Sung-yueng followed the miss of final British kicker Daniel Sturridge with a shot that secured a 5-4 victory for Korea and the country's first ticket to the Olympic semifinals.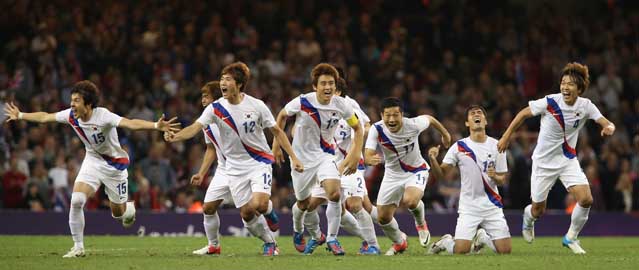 With a goal for Korea at the 29-minute mark by forward Ji Dong-won and a penalty goal by Britain's Aaron Ramsey six minutes later, the score remained 1-1 after regulation time and overtime until Ki's decisive winning penalty kick.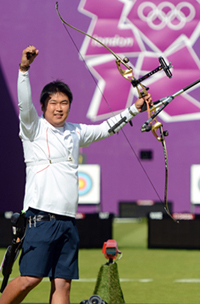 On August 3, Oh Jin-hyek won Korea's first gold medal in men's individual archery at the 2012 Summer Olympics(photo: Yonhap News).
With the Korean team making its first advance to the semifinals at a major competition in ten years, and this under the leadership of coach Hong Myung-bo, the memorable final penalty kicker against Spain in 2002, the coming match against Brazil on August 8 promises to be especially meaningful.
Men's individual archery


Celebrations for Team Korea's
successes in archery
continued with a gold medal win in men's individual archery by Oh Jin-hyek on August 3. With his 7-1 win against Japanese archer Takaharu Furukawa, which included seven ten-point maximums out of ten total shots, Oh secured Korea's first-ever gold medal in the event.
Korea has won three archery golds this year, with
earlier wins
in the women's individual and team events, along with a bronze in the men's team event.
Badminton, weightlifting

In men's doubles
badminton
, top-ranking South Korean duo Lee Yong-dae and Chung Jae-sung finished their seven-year partnership with heartfelt celebration after a bronze medal win on August 5.
Twenty-nine-year-old Chung, who had said Sunday's game would be his last, and 23-year-old Lee, who won gold in 2008 in mixed doubles, overcame the disappointment of their semi-final loss to Denmark with a 23-21, 21-10 defeat of Malaysian pair Koo Kein Keat and Tan Boon Heong.
On August 4, Olympic medal hopeful
Jang Mi-ran
finished fourth in the women's +75 category, saying goodbye to her dreams for three consecutive medals at the Olympic Games. With a week left to go before the Olympics draw to a close on August 12, and popular events such as taekwondo, wrestling, handball, and volleyball yet to come, the anticipation surrounding Team Korea continues to grow.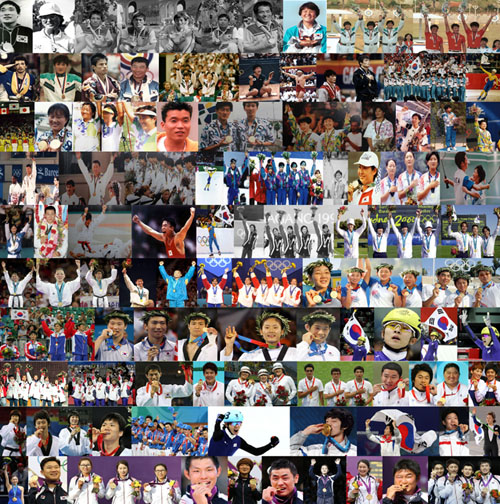 Gold medal count
South Korea currently counts ten gold medals, four silver medals, and six bronze medals, and is in fourth place in the medal rankings. The gold medal win by the South Korean fencing team on August 3 marked the 100th gold medal for South Korea since
participating for the first time at the 1948 London Olympic Games
.
By Kwon Jungyun
Korea.net Staff Writer
Department Global Communication and Contents Division, Contact Us