London 2012: Team Korea's rise to the challenge
Aug 13, 2012
The excitement and drama of the 17-day multi-sport event that was the
2012 London Olympics
closed with a final fanfare of celebrations on August 12. But for the members of Team Korea and for the spectators who applauded their athleticism, passion, and sportsmanship throughout the past two weeks, Sunday's finale marked the beginning of a new chapter in Korean sports.
New records and a new standard

Team Korea heads home with not only a record 28 medals, the fifth highest medal count at this year's games, but also a wealth of other valuable firsts.
Only nine days into the Olympic Games,
shooter Jin Jong-oh
won South Korea's tenth gold medal, bringing Team Korea close to its
goal of winning ten golds and placing in the top ten for final gold medal count
. Jin's triumph was only the latest addition to a sudden medal sweep, including the first ever Korean gold in women's fencing, that helped restore the loss of morale that had followed several initial
disappointments and controversies
.
The next few days of the games also saw Korea's fencing and shooting teams emerge, to the surprise of the rest of the world, as the newest leaders in two events traditionally dominated by other countries. Their wins of six medals and five medals, respectively, included a
gold medal win in men's team sabre
that marked Korea's 100th gold medal since its maiden appearance at the 1948 London Olympics.
Meanwhile, Korea's football team advanced to the semifinals for the first time in Olympics history after an astonishing win against host team Great Britain, and the women's volleyball team similarly headed to the semifinals for the first time since 1976. Korea's first gymnastics gold was captured by rising star
Yang Hak-seon
, who not only left spectators breathless with his daring signature triple-twisting front somersault but also emerged as an inspiring symbol of personal success against all odds.
More than anything, though, this year's Olympic Games will be remembered as the stage on which the members of Team Korea showed their personal and collective strength and maturity as athletes.
For one, despite having to adjust to time zone differences, the athletes maintained themselves in prime physical condition before and during the games thanks to advanced systematic training and self-monitoring. Age also proved little more than a number when it came to physical consistency, with almost half of this year's medalists having competed as returning Olympians. A significant number of these, including gold medalists judoka Song Dae-nam and shooter Jin Jong-oh, as well as the silver-medal-winning table tennis team, all in their 30s, earned their victories against much younger competitors.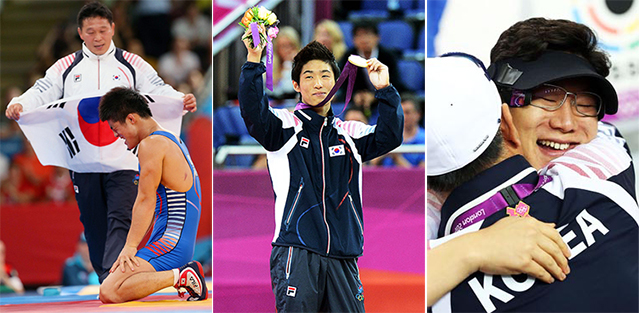 Another significant attribute common to the individual narratives of Korea's Olympians was a pure, even effusive love of the sport.
"Fencing is everything to me," was the declaration made by
gold medalist fencer Kim Ji-yeon
after her historic win in women's sabre. Kim's evident post-victory elation was echoed in the roars of the thrilled spectators in London.
Gold medalist wrestler Kim Hyeon-woo
, whose coach Park Jang-soon had described as "a player who truly enjoys the sport of wrestling," made a similar statement after his win: "Wrestling means everything to me."
"I think it's when you love what you do and enjoy what you do, that you earn positive results," said shooter Jin, whose gold-medal performance in the 50-meter pistol had been praised by commentators as an exemplary display of calm focus under pressure. The markedly emotional post-match greeting that followed between
Jin and fellow teammate and silver medalist Choi Young-rae
attested to the extent of their sportsmanship.
This deep appreciation for the value of competition as a test of personal fortitude became apparent also in the interactions of Korean athletes with their competitors. Beijing gold medal winner
Park Tae-hwan
, who had earned silver in the men's 400-meter freestyle after suffering a stunning almost-disqualification, was praised by fans in Korea and in China for his sportsmanship after he publicly congratulated long-time rival Sun Yang of China on his victory. Sun, who also expressed his respect for rival Park and gladness at his reinstatement, went on to share the silver medal with Park in the 200-meter freestyle event.
Judoka Cho Jun-ho, who had been awarded a victory against opponent Masashi Ebinuma of Japan in the under-66kg event only to see his victory go to his rival after a controversial referee intervention moments later, received a standing ovation from the audience in London as he left the mat.
"I did my best, and the judgment is made by judges. I accept the result," said Cho following the match, admitting his disappointment but maintaining that he wished the best for Ebinuma. The final snapshot from the event, which featured Cho and Ebinuma, both bronze medalists, standing side by side, became one of the most memorable images of the London Olympics.
The fourth-place finish by defending female weightlifting champion and two-time Olympic medalist
Jang Mi-ran
, together with the equally memorable fourth-place wins by Korea's women's volleyball and handball teams, were no less inspiring for not having included medals.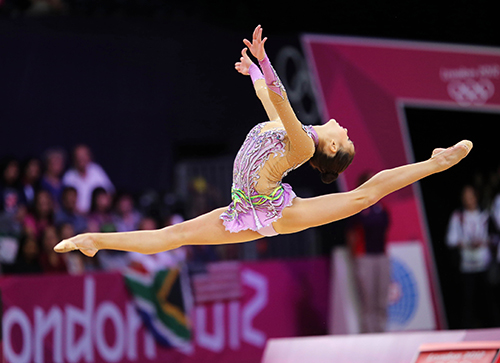 After scoring 0.225 points shy of a medal in the Olympics' last days, Son Yeon-jae, Korea's first athlete and the first Asian athlete to compete in rhythmic gymnastics, expressed her disappointment at not performing better, but remained positive about what she had gained.
"The London Olympics are not the end," asserted the young athlete. "They are just the beginning."
The performances of Korean athletes and their interactions with their competitors in London were described by commentators at home as a testament to the changing landscape of the Korean sports world, where ever-rising standards for competitive professionalism and physical and mental discipline are being matched by the athletes' own passion for their sports.
"Korean athletes have been displaying fine sportsmanship that even goes beyond the stature of their country," said President Lee Myung-bak in a radio speech delivered on August 6. "This truly represents great hope for the nation and serves the national interest very well.
"There also are cases in which some athletes failed to realize their dreams despite their best efforts and the perseverance and pain that they have undergone for a long time while training," continued President Lee. "But the nation will remember their sweat, tears, and glorious challenge forever."
Wins in soccer, boxing, taekwondo round out medal count

On the final weekend of the London Olympics, Team Korea delivered a series of memorable last performances, beginning with Hwang Kyung-seon's gold medal win in the women's 67kg taekwondo event on Friday, August 10.
Defending champion Hwang, who followed a bronze medal win in Athens in 2004 with her first gold medal title in Beijing in 2008, defeated Turkey's Nur Tatar 12-5 and secured Korea's 13th gold medal in London. With her second gold title, Hwang became the first woman in Olympic history to win taekwondo medals at three successive games.
On the same day, the Korean men's football team made Olympics history by winning Korea's first ever Olympic football medal against rival team Japan. The 2-0 victory, the second time that an Asian nation has medaled in Olympic men's football, was clinched with a goal by forward Park Chu-young and team captain Koo Jacheol in each half of the match.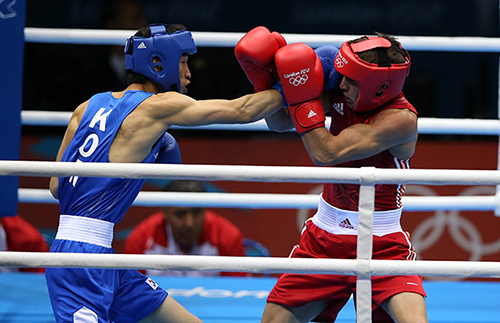 Korea's final medal went to 28-year-old Han Soon-chul, who surprised audiences by steadily making his way from 19th ranked contestant to final opponent against world champion Vasyl Lomachenko of Ukraine in the lightweight boxing competition on August 11. Han, nicknamed "Daddy Boxer" by fans for his obvious affection for his two-year-old daughter, earned the silver medal, Korea's first in the event in 16 years.
With a total of 28 medals, including 13 golds, eight silvers, and seven bronzes, Team Korea has come a long way from the 67 young athletes who traveled to London 64 years ago carrying their new country's first Olympic dreams. Their legacy continues on the shoulders of the 245 athletes who competed at this year's Olympics, both as the next generation of sports icons and as symbols of Korea's unchanging passion.
Next to take on the challenge will be Korea's Paralympics team, in the upcoming 2012 London Paralympics running from August 29 to September 9.
By Kwon Jungyun
Korea.net Staff Writer
Department Global Communication and Contents Division, Contact Us