Pyeongchang learns its Olympic destiny on July 6
Jul 06, 2011
July 6 is a day that has been a long time coming for Pyeongchang, currently vying against Munich and Annecy to host the Winter Olympics in 2018. The Korean candidate city has submitted its third consecutive bid, making substantial efforts in the run-up to the International Olympic Committee (IOC) vote taking place in Durban, South Africa, today.
Starting early this morning, the International Convention Centre (ICC) Durban will be swarmed by press from around the world who have gathered to cover the latest updates. Each candidate city's session involves a 70-minute presentation and media conference, with order assigned by drawing lots. The day will begin with the IOC president's opening remarks, followed by a presentation by Munich, then Annecy, and finally Pyeongchang at noon.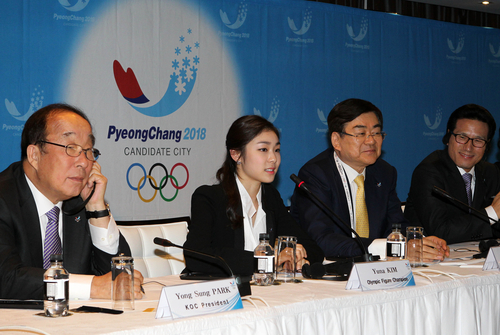 Kim Yu-na, Pyeongchang 2018 Bid Ambassador and Vancouver 2010 figure skating gold medalist answers questions from the press on July 4 during a press conference at the IOC media hotel. (Photo: Yonhap News)
Korea's President Lee Myung-bak, government officials, ministers and delegates of the Pyeongchang bid committee, accompanied by some 500 voluntary supporters, arrived in Durban a few days ahead of the vote to show their support and help with final preparations. Vancouver Winter Olympics champion speed skaters Mo Tae-beom, Lee Sang-hwa and Lee Seung-hoon also flew to Durban to support Pyeongchang's bid.
Since arriving in Durban on July 2, President Lee Myung-bak has reaffirmed the Korean government's support and commitment to bringing the global event to Pyeongchang. President Lee, who is spending more than half of his three country whistle-stop tour of Africa in Durban to affirm Korea's commitment, will appeal to voters during Pyeongchang's presentation later today.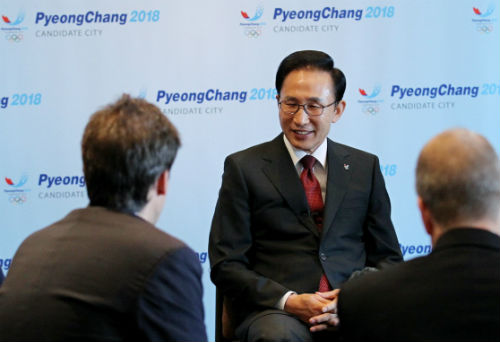 President Lee being interviewed by international reporters on July 4
Earlier on July 4, the South Korean president held an interview with a small group of international journalists from the Associated Press (AP), Agence France-Presse (AFP), Reuters and other major press agencies. During the interview, President Lee said that he considered it his "duty and mission" to deliver the Winter Olympics in Asia, emphasizing Pyeongchang's "aspiration to become a Mecca for winter sports."
If Pyeongchang wins, it will become the first Asian Winter Olympics hosted outside of Japan. The president added that he believed having the games in Pyeongchang' will help ease tensions between South and North Korea and remind people of the importance of peace and stability on the Korean peninsula.
Today's presentation will also include Pyeongchang Bid Committee Chair Cho Yang-ho, Pyeongchang 2018 Bid Ambassador and Vancouver 2010 figure skating gold medalist Kim Yu-na and Korean-American skier and Olympic bronze medalist Toby Dawson. Pyeongchang's presentation will deliver an important message throughout Asia under the slogan of "New Horizons," while conveying Pyeongchang's vision for the games.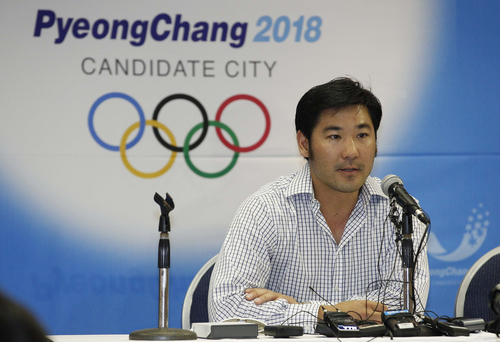 Toby Dawson held a press conference on July 3 at the Riverside Hotel in Durban, South Africa. (Photo: Yonhap News)
Once all candidate cities' presentations wrap up, a report session by the IOC Evaluation Committee will be held prior to the vote. The election of the host city for the 23rd Olympic Winter Games will then be in the hands of IOC members. The results will be announced at 5:00 pm in Durban (12:00 am Korea Standard Time.)
By Hwang Dana
Korea.net Staff Writer
Department Global Communication and Contents Division, Contact Us