Journey to Yeosu Expo gets faster
Apr 25, 2012
The opening of Expo 2012 Yeosu Korea is just three weeks away. Rated by CNNGo as one of the world's top places to visit in 2012, the international event is gearing up to draw an expected 10 million visitors throughout its three-month run, equipped with an enhanced transportation infrastructure.
Yeosu, a maritime city lying on the southern coast of Korea, had been considered remote until recently, despite its abundant variety of tourist attractions and the clarity of its ocean waters. A journey to the coastal city was prone to take more than six hours by car and over four hours by rail ahead of the completion of Korea's rapid-transit rail system known as the Korea Train eXpress (KTX).
In a bid to make the host city more accessible and more convenient to other regions, the Korean government has undertaken a number of nationwide transportation network expansion plans, such as the construction of expressway and rapid-transit-line projects.
As a result of efforts poured into building the necessary infrastructure for the successful organization of the upcoming Expo, the once-faraway destination is closer than ever.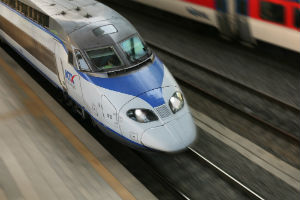 Amongst the diverse transportation facilities offered, the Jeolla KTX Line is considered to be the most convenient means of transportation to get to the Expo host city, connecting the capital city's Yongsan Station and Yeosu in less than three hours. In service since last October, the double-rail line drops guests off just a five-minute walk from the Expo venue, becoming a main national artery.
Korail plans to additionally increase trains temporarily during the Expo period, while also reintroducing the discontinued midnight train linking Yongsan and Yeosu, making Yeosu a one-day-distant point. On weekends and national holidays, visitors to Suncheon Station can take advantage of a free shuttle train to Yeosu Expo Station. A 30% discount rate is offered to Expo ticket holders.
The route via automobile has been improved, with the opening of new expressways. The construction of Yeosu-Suncheon highways was completed on April 12, cutting the driving time between the two cities. On April 26, the opening of an expressway joining Mokpo and Gwangyang is planned, shortening travel time. Drivers should be aware however that access by car will be shut down in selective parts of the city areas to keep traffic in order. Express buses are also set to benefit from the enhanced expressway network. The affordable means of transportation will bring visitors to Yeosu in four and a half hours from the capital area, two and a half hours from Busan, and less than two hours from Jeonju. From Yeosu Express Bus Terminal to the Expo venue, it takes approximately 15 minutes via public transportation.
From Gimpo and Jeju, taking a flight may be another quick way to get to Yeosu in less than one hour. From Yeosu Airport to the Expo venue, it takes another 30 minutes by airport limousine bus. The port passenger terminal is located in front of the Yeosu Expo venue for those travelling from overseas by ferry, providing direct access to the Expo.
For more travel information, visit the official website at:
www.expo2012.kr
(Korean, English, French, Chinese and Japanese).
By Hwang Dana
Korea.net Staff Writer
Featured Topics
http://www.korea.net/NewsFocus/Travel/view?articleId=100003
URL Copy
Related Contents
News Focus
News Focus
News Focus
Department Global Communication and Contents Division, Contact Us