Making the most of riverside leisure
Apr 20, 2012
This spring, Korea's newly restored rivers are becoming a must-see destination for all kinds of visitors. From cyclists and campers to nature enthusiasts and families on vacation, people from across the country have found the riverfront an ideal setting for their favorite activities.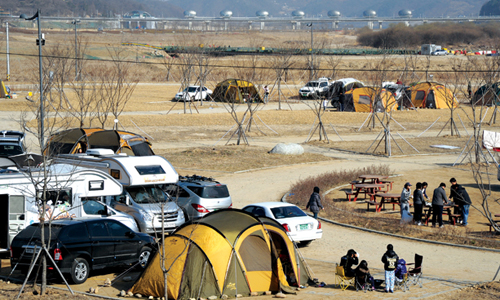 Camping

Approximately 2.2 million people have made their way to the four major rivers following the official opening of 16 new weirs in October 2011, and this figure only continues to grow. Among the pastimes enjoyed by the visitors, an increasingly popular activity is riverside auto-camping.
The camping sites currently in operation at the Ipo Weir and at Hapgangjeong on the Geum River have continued to see packed lots and full reservations since opening for test runs last year. Two new sites were opened on April 14 at Seungchon Weir on the Yeongsan River and Insamgol on the Geum River. With three additional sites set to open later in the year, prospective campers will soon be able to choose from any of seven unique destinations. The Office of National River Restoration plans to open 18 camping sites in total at various locations along the four rivers.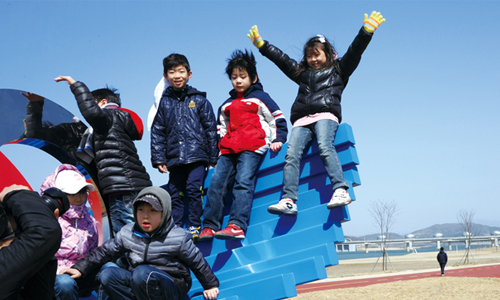 Cultural activities

Visitors to the rivers can also enjoy a wide range of cultural offerings against the backdrop of nature. At the Gangjeong Goryeong Weir on the Nakdong River, the riverfront has become a popular venue for local performers. Concerts have been held on the second and fourth Sunday of every month since February, including a saxophone and guitar duet, solo ocarina, and programs featuring Korean oldies and film soundtracks.
"We are musicians who have a lot of experience volunteering and performing in different places, so we thought it would be nice to put on outdoor concerts by the river," said 56-year-old Jeon Byeong-o, the leader of one of the groups performing regularly at the Gangjeong Goryeong Weir. Starting in May, the concerts will be held at 7 p.m. so that visitors can take in the stunning night views of the river along with the live music.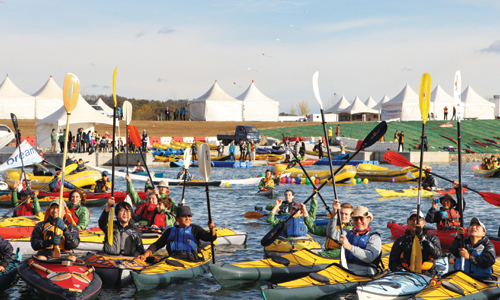 Marine sports and athletics

The four rivers have also become new arenas for marine sports activities. A nationwide windsurfing competition is set to take place at the Ipo Weir on May 26, with over 200 people expected to participate in events like slalom and a five-kilometer long-distance course. A scuba competition for over 100 teams of all ages will open later in September.
In addition, as part of a government initiative to meet growing demand and interest in the marine leisure industry, new facilities are being constructed for water sports such as yachting, kayaking, canoeing, and water skiing. Classes offering training in these sports have been offered free of charge since last April, and will be available until October for adults as well as children.
Soccer, baseball, basketball, and badminton leagues have also found the new waterfront parks and recreation areas ideal for practices and matches, and the Office of National River Restoration plans to add first-class athletics facilities and new fields to the existing offerings. A riverside baseball league is set to open in June.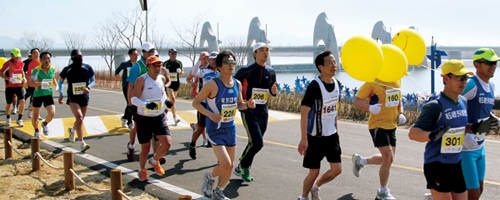 Riverside trails

The four rivers, already popular among cyclists for the easily navigable and picturesque bicycle courses, have also attracted the attention of walkers, runners, and others looking for a fun way to stay fit.
This year's Honam International Marathon, which took place on April 8, took runners along the Yeongsan River and through the Seungchon Weir and over Naju Bridge. The original course began at Gwangju World Cup Stadium and weaved through downtown Gwangju.
"The waterfront was beautiful and much more peaceful than busy city streets," said Han Seok-ju, the winner of the men's full-course event. "With the view of the Yeongsan River stretching out before me, the running was that much more enjoyable."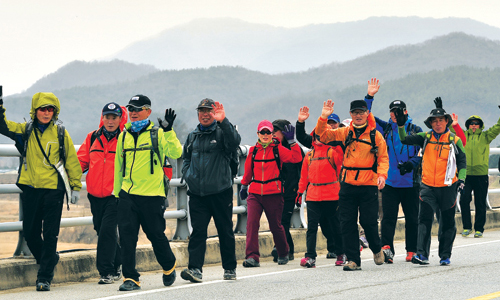 Just a week before, on March 31, a ten-person walking team became the first group of walkers to complete a tour of the entire four rivers area, walking a total of 981 kilometers over 19 days, though the days were spread out over the course of three months.
"As all of our team members work during the week, we would meet on Friday, sleep at our starting point, and begin our walks early Saturday morning, walking 50 to 60 kilometers a day, even through the snow," said 65-year-old Oh Eun-young, one of the ten and also vice-president of the Korea Walking Federation. "The last 20- to 30-kilometer stretch at Baekjae Weir, where we finished, was a perfect way to end, with a beautiful view of the river."
Markets

Another colorful addition to riverfront scenery has come in the form of a nationwide program for weekly farmer's markets. Held every Saturday from 10 a.m. to 6 p.m., the lively markets provide visitors with the chance to buy fresh produce and regional specialties directly from local farmers and vendors. The first markets opened on April 14, and the Office of National River Restoration is looking into adding more market days during the week.
More information on the various attractions along Korea's four major rivers can be found at
Four Rivers Restoration official website
.
Adapted from
Weekly Gonggam

Translated by Kwon Jungyun
Korea.net Staff Writer
Department Global Communication and Contents Division, Contact Us