Travel through a time portal in Jeonju
Apr 30, 2012
Jeonju, the city of discoveries, was the capital city of the Baekje Dynasty and the birthplace of the Joseon Dynasty's cultural renaissance. The region is home to Hanji (Korean paper), music, and cuisine. Of these, the highlight of Jeonju is the Hanok Village District in which 700 plus Hanok houses are clustered about.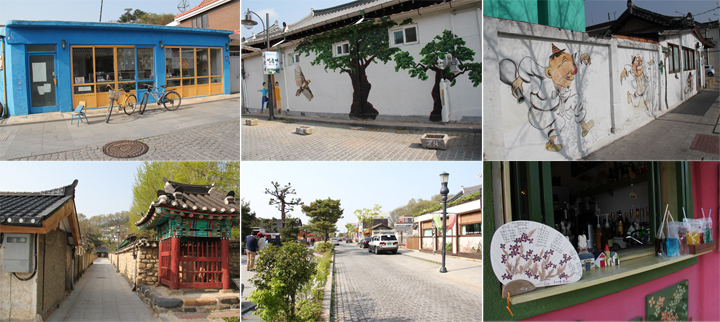 Just like the snail, the mascot of the village, the district designated as an International Slow City is a perfect place to stroll around and can be best explored slowly. At every corner of the winding alleys hide secrets that tug at the feet of passing visitors.
One of the best ways to explore the region is to get lost in alleys and find hidden discoveries, but the themed alleys appointed by Jeonju City will also delight travel bugs with exotic experiences this beautiful spring. There are eight alleys with themes on Hanji, refreshment, love, breeze, brick walls, and more. Following the classical alleys, tourists can discover the Jeonju Art Craft Exhibition Center, the Hanok Living Experience Center, the Traditional Alcohol Museum, the Hanji Center, a herbal medicine experience center, and many more traditional attractions.
Hanji Alley offers a chance to experience Hanji, the iconic product of the slow city. Visitors can learn everything about Hanji from production to completion and get a quick craft experience. Tourists also can meet master craftsmen presenting their masterpieces such as hand-made fans and woodcrafts at their residences and giving lessons to newcomers.

Situated where the fertile plains connect to the ocean, Jeonju is prized for its ideal location. Because the water that flows in Jeonju is clean and low in mineral content, mulberry trees abound. Mulberry trees are used to produce Jeonju Hanji, famous for its durability and sheen. Since early in Korean history, the quality of Jeonju Hanji was widely praised, and the royal court in the Joseon Era often used Jeonju Hanji to write official diplomatic letters.

Some pieces can be completed within a few hours but most work requires more effort and passion. A diverse selection of experience programs for making ties, socks, wallets, soup, and lights utilizing Hanji will be on your way.
Jeonju in May is flooded with a wide collection of hand-made Hanji crafts and related cultural events. More detailed information can be found on the
official website
operated in English, Chinese, and Japanese.
By Lee Seung-ah
Korea.net Staff Writer
Department Global Communication and Contents Division, Contact Us