Tourist destinations near Yeosu
May 14, 2012
Suncheon, an Ecological Treasure House
Suncheon Bay is one of the world's five most important wetlands, along with the coast of the North Sea in Europe and the wetlands at the mouth of the Amazon River. A reed field stretches 5.4 kilometers to the north, and a vast wetland runs 22.6 kilometers to the south. In spring, deep green reed shoots come out and glitter under the sun, growing taller than adults and waving in the wind. This is something you should not miss. You are also strongly recommended to see the two famous temples Songgwangsa and Seonamsa as well as Nagan Eupseong, a village preserved as it was 600 years ago.
Boseong, Green Tea Plantation
The hills of Boseong appear as if they are covered by an endless green carpet. Boseong is the center of green tea cultivation in Korea. There is also a path through a thick forest of cedar trees that was blazed 55 years ago. It is so beautiful that it is frequently used as a setting for movies and TV commercials. The path cuts through a forest of 20-meter cedar trees, and walking along it is refreshing for both the mind and body. From the top of the green tea fields, you can see Deungyang Bay. Every May, green barley and wheat ripple like the sea in the wind.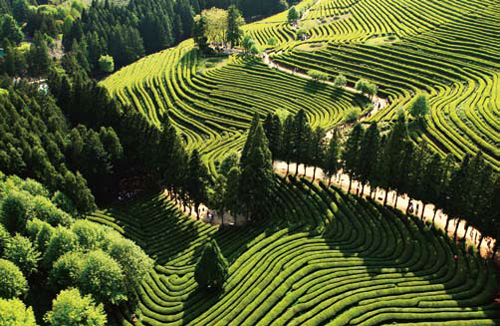 Hadong and Gwangyang with Wavy Water and Flower Paths
Hadong and Gwangyang are ensconced by the Seomjingang, a river famous for its clear water, and look down on the sea south of the Korean Peninsula. The landscape is naturally decorated with brooks and flowers of the most heavenly beauty.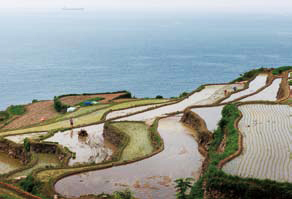 Hwagae Jangteo in Hadong is a traditional Korean marketplace and sells wild herbal teas from Jirisan (Mt. Jiri), fresh produce, marsh clams collected from the Seomjingang, and other local specialties. The fields and hills of Maehwa Maeul (Ume Flower Village) are covered with white ume flowers in early spring and then with their fruits in May and June.
Namhae and the Beautiful Coastline
CNN recently designated 50 must-see destinations in South Korea; the village of Namhae was third on the list. The name of the village is Gacheon Daraengi Maeul. Daraengi means terraced rice paddies on mountain slopes. The staircase of the daraengi in the village runs down more than 100 steps to the clean blue waters of the sea south of the Korean Peninsula. Seosang Port in Namhae sells tickets to Expo 2012 Yeosu Korea. A passenger ship from Seosang Port or Norang Port in Namhae will bring you to the expo site in only 20 to 30 minutes.
* Article from Korea Magazine (May 2012)
Department Global Communication and Contents Division, Contact Us