Enjoy foods from all around the world at Yeosu Expo
May 29, 2012
Out of the 51 countries participating in the International Pavilion at Yeosu Expo, 19 feature their traditional foods in food stands or restaurants. Most of those restaurants are run by famous local chefs; it is indeed a good opportunity to try various types of cuisine from all around the world in one place.


Near the exit of the German Pavilion, there is a German restaurant that features grilled sausages, smoked sausages, and pork ribs. It also has a daily special which changes every day and is served with famous German draught beer.


The Spanish Pavilion runs a Spanish restaurant serving famous Spanish foods including paella which is a sort of fried rice with seafood and chicken. Tapas, a collection of small dishes, can also be found at the restaurant at budget prices.

At the Belgium restaurant, its famous mussels with special white sauce can be found along with carbonard, pork marinated in black beer. Waterzooi, or chicken mixed with cream sauce, is also one of the popular Belgian foods at the restaurant.


The Peruvian Pavilion is decorated as a restaurant. It has adopted the design of the restaurant which was well-received at the Shanghai Expo. The restaurant serves the classic Peruvian dish ají de gallina, or chili pepper chicken, and Peruvian fried rice arroz con mariscos.






At the Turkish restaurant, kebab dishes offering ten types of kebab, are one of the most popular foods. Turkish pizza, topped with beef, cheese, and egg, is also a unique cuisine to try at the restaurant. Its yogurt drink ayran and chewy ice cream dondurma also can be found at the restaurant.

For those who are too busy to look around the venues at the Expo but want to try some unique foods, take-out at the Denmark Pavilion or Sri Lanka Pavilion would be perfect. The Denmark Pavilion presents a traditional Danish sandwich served with shrimp and cream, grilled mackerel, and cucumber salad. It also runs a water bar selling glass water bottles to promote the campaign to reduce plastic bottles.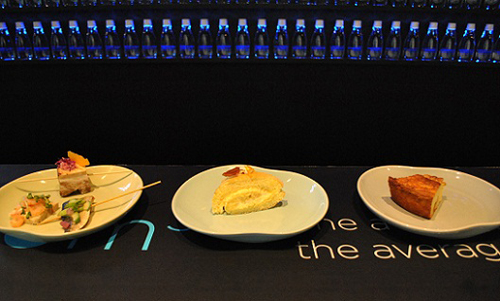 At the Sri Lanka Pavilion, kottu roti (fried chicken and vegetables) and godamba (meat pie) are served as take-out.


At a souvenir shop in the Netherland Pavilion, the four-color Netherland kimbab is served. Rolled with various fruits and vegetables such as wasabi, green beans, and mints, Netherland rolls are also found on the take-out menu.


Other pavilions serving traditional dishes include the Australian Pavilion, which serves kangaroo tail stew, and the Malaysian Pavilion, presenting roti canai (flat bread with sauce).

* Adapted from Gonggam Korea
Translated by Jessica Seoyoung Choi
Korea.net Staff Writer

Department Global Communication and Contents Division, Contact Us