How deep have you been in Yeosu?
Jun 13, 2012
Breathtaking scenery, delicious food, and all sorts of attractions. These are what make a city a wonderful place to visit. Many cities and towns in South Korea meet these conditions, but Yeosu is arguably at the top of the list this spring and summer.
Not only is it because of its scenery and food, which have long been famous, but because it is playing host to the International Exposition Yeosu Korea 2012.
The first things that come to mind for most Koreans when thinking about Yeosu are
sipgyeong
(ten scenic locations) and
simmi
(ten tastes). The ten scenic locations are Jinnamgwan (a historic building), Odongdo (Odong Island), Hyangiram (a hermitage), Dolsan Bridge, Baekdo (Baek Island), Sado (Sa Island), the lighthouse on Geomundo (Geomun Island), the Yeosu National Industrial Complex, Yeojaman (Yeoja Bay), and the colonies of azaleas on Yeongchwisan (Mt. Yeongchwi).
Jinnamgwan is an especially important historic site. It was first built in 1599 during the Joseon Dynasty (1392-1910) and had been used as a guesthouse for the navy command of western Jeolla for over 400 years. It was rebuilt in 1718 after a fire.
Odong Island is frequented by many tourists, particularly in winter when it is covered with camellia flowers. Hyangiram is a hermitage from which you can enjoy the sun over the horizon of the sea, graced by the tolling of the temple bell and beautiful scenery.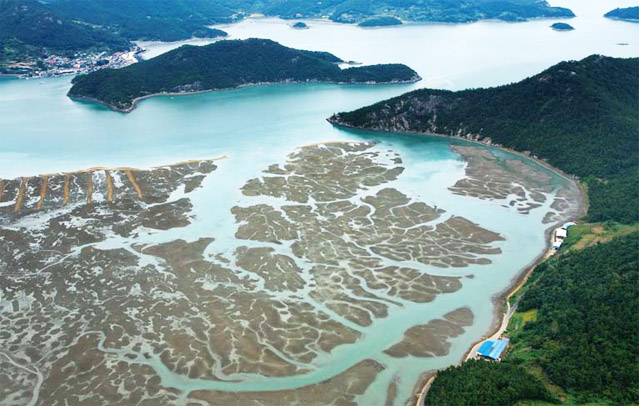 On Sado are more than 4,000 dinosaur footprints. The island is taking steps toward inscription on the UNESCO World Heritage List. Curious-looking rocks and sedimentary layers show how the stratigraphy has changed over tens of millions of years.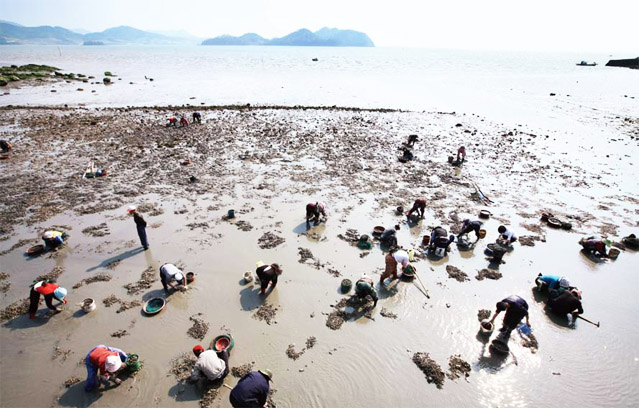 Yeoja Bay is well known for its mud flats, which stretch as far as Suncheon City and Boseong County. The glow of the bay under the setting sun is a nearly ineffable sight to behold. Every autumn, a festival takes place to celebrate the beauty of the evening glow on the mud flats of Yeoja Bay.
Traditional culture and bucolic villages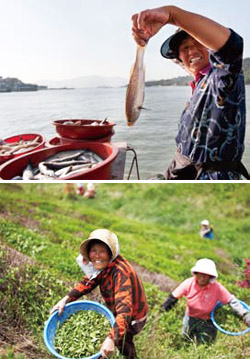 Suncheon City, Boseong County, Goheung County, Jangheung County, and Gangjin County are all tourist destinations with heavenly beauty, all found within one to two hours from Yeosu by the sea called Dadohae. Here, more than 1,700 islands and islets form a picturesque archipelago. The pristine waters, mudflats, and bathing resorts here and there along the seashore beckon tourists with their irresistible charms.
Maryang Port in Gangjin is a two-hour ride from Yeosu and exudes the feeling of a typical rustic village of old Korea. Driving as directed by the mileposts, you will encounter the open, turquoise sea. Midway, you will even see a sign that reads "Scenic Road" in Korean. There is, surprisingly enough, an exhibition hall in memory of Hendrick Hamel (1630-1692), the Dutchman who wrote a book on his first hand experience with the Joseon Dynasty in the mid-17th century. He was an employee of the Dutch East India Company, and he and a number of shipmates were sailing to Japan when they were shipwrecked on Jeju, the largest island of Korea. He lived in Korea for 13 years—in Seoul, Gangjin, Yeosu, and other locations. Seven of those years were spent in Gangjin. In commemoration of Hamel, Gangjin County forged a sisterhood relationship with the municipality of Gorinchem, Hamel's hometown in the Netherlands, in 1998, and a monument was erected in his honor.
In the immediate vicinity of Gangjin is Jangheung. It has no gorgeous attractions to speak of, but does have a long-standing traditional culture that thrives amid the rustic life of the countryside. The township of Yuchi in Jangheung is a Slow City certified by Cittaslow International. It is a special place where you can experience what a traditional rural Korean village feels like.
Jade Sea and Mudflats rich in life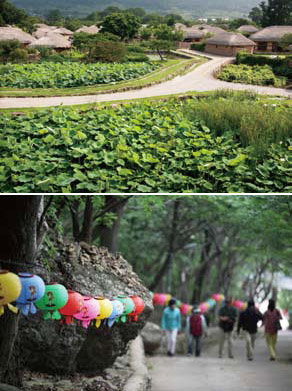 Boseong is famous for its green tea. The tea fields unfold endlessly into a swelling scene of idyllic happiness. Leading through Daehan Dawon, Korea's largest green tea plantation, is a path through a thick cedar forest. The area is so attractive that it is frequently used as a setting for movies and TV commercials. The path stretches for about 500 meters (1,640 feet) through the forest of 20-meter-tall (65-foot-tall) cedars, and the walk is refreshing for both the body and soul.
The greatest charm of Boseong is that you can relax and be refreshed wherever your feet take you. There is a seawater green tea bath next to Boseong's Yulpo Beach. It is similar to a natural hot spring, but not exactly. It is fed by natural bedrock seawater pulled up from 120 meters (394 feet) under the sea. Green tea leaves are added to the water and it is then heated. You can bathe in this special hot spring while enjoying views of the beach. After bathing, you may also want to walk along the seashore and take in the tranquil coastal scenery of the Bay of Deungnyang. Goheung County brings many things to mind. Among others, you will consider the fathomless universe at the Naro Space Center, the primary spaceport of the Korea Aerospace Research Institute. South Korea became the 13th country to have its own space center when Naro was completed in 2009. Visitors can have virtual experiences through the center's space traveler course, astronaut course, space explorer course, and space leader course.
Another attraction in the area is Suncheon, the city nearest to Yeosu. It is famous for the Bay of Suncheon with its vast wetland, Nagan Eupseong (a village preserved as it was 600 years ago, and Songgwangsa (a temple whose name literally means "temple of spreading pines"). Suncheon Bay is ensconced by the Yeosu and Goheung peninsulas. The bay reveals the bottom of an S-shaped stretch of waterway at low tide where women on slime boards catch cockles, making for an idiosyncratic scene.
Songgwangsa is considered to be the greatest of the three jewels of Korean Buddhism. Built in 867, the temple has been home to many great monks throughout the ages.
*Article from
Korea Magazine
(June 2012)
Department Global Communication and Contents Division, Contact Us