Time to visit the Yeosu Expo!
Jun 27, 2012
Yeosu Expo, the global marine-themed festival taking place on the southern tip of the Korean Peninsula has entered the latter half of its three-month run. In order to give more visitors the opportunity to visit, the Expo Organizing Committee will be offering discounted prices on the season pass and the evening pass as well as expanded service for overseas visitors.
The season pass for adults, originally sold at 200,000 won, will be sold at the 50% discounted price of 100,000 won starting from June 28. The same pass for teenage visitors and children will be sold at reduced prices of 75,000 and 50,000 won, respectively.
The discount will be applied to evening passes as well. Adult visitors will be able to purchase the evening pass for 10,000 won, originally priced at 16,000 won, while students, visitors with disabilities and senior citizens will be able to purchase the pass for 5,000 won. The evening pass, originally adopted in June as a temporary measure to meet increasing demand, will continue to be sold until the end of the Expo, providing visitors with the chance to enjoy the 'splendid nighttime ocean view' at an affordable price.
A special type of ticket for international visitors has also been released as part of the recently announced measures. Overseas visitors who visit the Expo through select travel agencies will benefit from enhanced incentives, including guaranteed tours of least two of the eight reservation-required pavilions as well as special seating at various performances. International students currently residing in Korea will also be given priority for lodging at nearby university dormitories in the city of Yeosu.
With the Expo Pop Festival underway at Cruise Park, where K-Pop concerts have been staged every night, it is expected that the number of Expo goers will only increase during the next month and a half.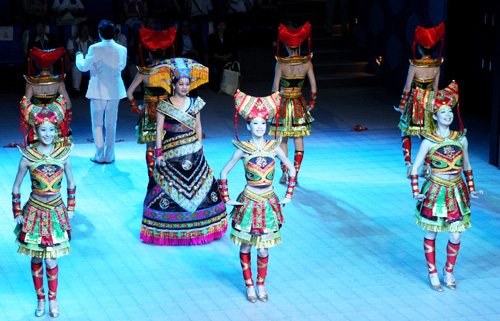 One upcoming event that has already attracted widespread attention is Chinese National Day, which will be hosted at the Chinese Pavilion on June 28. Among the various festivities that are being prepared, the closed-door commemorative ceremony has been highlighted as the Chinese head of state is expected to attend.
Visitors to the Chinese Pavilion will be able to hear the sound of the waves and look at white whales, the pavilion mascot, swimming overhead on an LED ceiling. Emphasizing the importance of the relationship between humans and the oceans, the pavilion showcases the development of China's marine-related sectors, including resource development, economics, and culture.
By Lee Seung-ah
Korea.net Staff Writer
Featured Topics
http://www.korea.net/NewsFocus/Travel/view?articleId=100989
URL Copy
Department Global Communication and Contents Division, Contact Us