Ulleungdo, an island of mysterious beauty
Jul 10, 2012
The name
Ulleungdo
means hill-like island with dense primeval forests. The prospect of a trip to Ulleungdo can make your heart flutter not only because of its matchless beauty but also because of its arrogant inaccessibility. Weather permitting, you can set foot on the island within three hours after your departure by ship, but due to strong winds and heavy waves, there are many days in which not even a single ship to Ulleungdo will heave up anchor and leave dock.
Soon after embarking on a boat heading to Ulleungdo, the flutter that started in your heart goes down to your guts. Even if the boat is a large high-speed ferry, it navigates no better than a tiny leaf on the high waves. Overcome by seasickness, you become oblivious to the expectations you had. However, the moment you set foot on the island, your heart once again flutters. Wherever your eyes fall there is breathtaking scenery—the turquoise sea, thick forests, and rocks of all sorts of odd shapes and sizes. You soon convince yourself that there must be nothing like them anywhere else.
Besides the main island, Ulleungdo has 44 islands and islets, and is inhabited by some 10,000 residents. They mostly live in Dodonghang (the largest port of Ulleungdo), Jeodonghang (a multipurpose port with a range of facilities), Taeha Maeul (a small fishing village famous for its dried squid), and Cheonbu Maeul (the most remote village of Ulleungdo). From May to June, the island generously grants easier access to outsiders and you will spot more tourists than residents on the island.
There are two primary ways to enjoy the island. You may want to travel along the seashore or climb Seonginbong (Holy Hill), a peak more than 984 meters (approx. 3,230 feet) above sea level.
Clear, emerald-green sea
One of the best seashore walking trails stretches from Dodonghang to Chotdae Bawi (Candlestick Rock) in Jeodong. The trail bends along the meandering rocky coastline with cliffs of bizarre shapes and natural caves. When a series of volcanic eruptions created the island Ulleungdo, they carved out wonderful shapes on the rocks. Amazed, exclamations come out of your mouth that cannot be held in. You wade into the crystal-clear seawater and enjoy the waves as they splash against your calves. Before you reach Chotdae Bawi, you will come to Dodong Lighthouse.
If you are tired, you can end your walk here. Once you are back at your lodging, you will find that two hours have flown by. Another beautiful seashore trail leads you to the Naesujeon Sunrise Observatory from where you can see Jukdo (the largest island belonging to Ulleung-gun behind Ulleungdo) and its picturesque surroundings unfolding before your eyes.
Driving along the coastal road is an excellent way to look around the entire island. The coastal ring road starts at Waoksa in Sadong. From the car window, you can gaze upon the pebbly seashore and the clear seawater through which you can even see the dancing seaweed underwater. Along the road are beautiful rocks with interesting names—Geobuk Bawi (Turtle Rock), Tugu Bong (Helmet Peak), and Saja Bawi (Lion Rock).
Pull your car over at Taehahang (Taeha Port) where there is a monorail that will bring you up to a natural forest of cedars. When ascending to the top of the mountain, oddly shaped rocks and green cedar woods come into view, and when descending, your eyes will take in the magnificent sea west of Ulleungdo.
Let's drive further clockwise. A 452-meter-high, pointy peak called Songgotbong (Awl Peak) that extrudes from Seonginbong (Holy Hill) grabs your attention, followed by Gwaneumdo (an island belonging to Ulleungdo with a pair of twin natural caves), Samseonam (Three Angel Rocks), and Gongam (Elephant Rock), which are called the three mysterious scenic views of Ulleungdo.
At some point you have to turn your car around. The coastal ring road has been under construction for the past 50 years, and roughly 4.4 kilometers are left to be paved yet.
Seonginbong covered in primeval forests
The various treks leading to Seonginbong (984 m) are all narrow cuts through thick natural forests preserved from ancient days. When Lonely Planet, the world's largest publisher of travel guide books, dubbed Ulleungdo one of the world's best kept secret islands in 2011, it mentioned Seonginbong in its short introduction of the island.
Walking a steep hillside for more than two hours, you are then greeted by a thick virgin forest filled with camellia, silver magnolia, hemlock spruce, island linden, and mountain ash trees. The closer you get to the summit, the more Korean beech trees there are, which grow exclusively on Ulleungdo.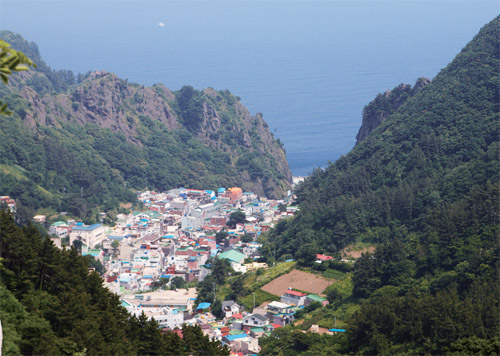 Coming down from the peak toward the north, you reach Nari Bunji, a basin that is the only flatland on Ulleungdo. Having been born as a volcanic island, Ulleungdo experienced two major volcanic eruptions. The crater from the first eruption, Nari Bunji, is unlike typical craters as it holds no water. Covered with volcanic ash, Nari Bunji is unable to retain enough moisture in its soil for farming. In addition, it is covered with up to three meters of snow during winter, which does not start thawing until April. This harsh natural environment gave rise to unique housing styles such as tumak jip and neowa jip, which are made of log walls surrounded by ground-to-eave outer walls of cornstalks or silver grass. Despite this unwelcoming natural environment, 16 households still inhabit Nari Bunji, and many of them rent out rooms or run restaurants as the number of tourists that visit the basin is steadily increasing.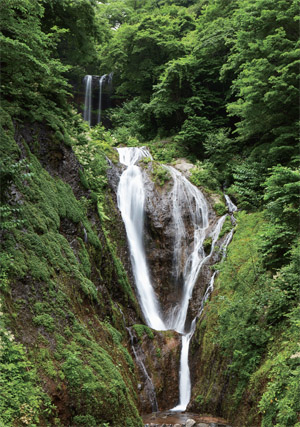 One of the nicknames of Ulleungdo is the heaven of herbs and wild greens. All greens that sprout from the earth in the mountains and fields of Ulleungdo are edible, some of which are even medicinal herbs. Famous among them are
myeongi namul
(
Allium victorialis
Linné),
bujikkaengi namul (Erysimum aurantiacum
Maxim), osmund, and goatsbeard. In particular,
myeongi namul
(an herb that helps sustain life during elderly years) grows through piles of snow in early spring.
Dokdo Museum
Dodong is the most bustling area of Ulleungdo. More than half of the population lives here, and its narrow alleys are lined with restaurants and lodgings. A port and public offices are also found in this area.
It is also in Dodong where the
Dokdo Museum
is located. The museum exhibits historical materials that support Korea's claim that
Dokdo
, also known as the Liancourt Rocks, is part of Korean territory. Items here also show the lifestyle and natural environment of Ulleungdo and Dokdo.
Next to the museum is a cable car railway that carries people to the peak, Manghyangbong (Peak of Nostalgia). If the weather is good, you will be able to see Dokdo (which is just 87.4 kilometers away) with your naked eye.
[Travel Information]

-What to eat
Once you are on Ulleungdo, don't miss the opportunity to eat honghap bap (seasoned rice with mussels), myeongi namul, and yakso bulgogi made from cattle that feed on herbs and wild greens including bujikkaengi namul (Erysimum aurantiacum Maxim) and kudzu (wild arrowroot). Yakso is less fatty and more delicious than regular beef.
Honghap bap is a sort of special flavor bibimbap in which rice is cooked with mussels and then mixed with soy sauce and sesame oil. Myeongi namul is often pickled in soy sauce and has a sweet and sour, and bitter taste. However, do take caution as pickled myeongi namul will stimulate your appetite so much that you will end up eating much more than a normal portion of rice.
-How to get there
(Ship) Weather permitting, high-speed ferries depart from Gangneung, Mukho, and Pohang once a day during the weekdays and twice a day on the weekends. Travel time is roughly two and a half to three hours.
*Article from
Korea Magazine
(July 2012)
Featured Topics
http://www.korea.net/NewsFocus/Travel/view?articleId=101170
URL Copy
Department Global Communication and Contents Division , Contact Us