K-shuttle offers easy travel options for foreigners
Jul 27, 2012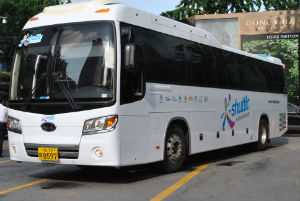 Travel within Korea just got easier for foreign visitors lost in translation.
The
Visit Korea Committee
and the
Seoul Metropolitan Government
jointly launched the K-shuttle service on July 26, in partnership with
Busan
, Korea's second biggest city, and
Jeonju
, the
gourmet capital of Korea
, also known for its well-preserved
Hanok Village
and authentic
cultural heritage
, alongside four other local governments.
The itineraries of the
K-shuttle
packages invite non-Korean participants to enjoy some of the must-see routes of Korea to their fullest within a short given time. The program was designed to reinvigorate tourism in provincial areas.
The foreigner-exclusive shuttle bus departs at 8:30 a.m. from Donghwa Duty Free Building in Gwanghwamun, downtown Seoul, connecting to major tourist hotspots across the country during the three-day itinerary. Tourists may choose from the three package courses. The Southwest Tour, departing every Tuesday, Thursday, and weekend, brings you to Buyeo, Jeonju,
Yeosu
, and Busan.
Overseas visitors who wish to explore the southeastern region can choose either Southeast Area Shuttle course A departing every Saturday or course B departing every Tuesday. While course A takes you to the Gangwon-do (Gangwon Province) area, making stops in Pyeongchang, Gangneung, and Wonju then moving to the Gyeongsangbuk-do (North Gyeongsangbuk-do)
Andong
,
Gyeongju
, and finally to Busan, course B invites you to start your journey in Busan, making stops the other way around.
Costing 290,000 won per person, the package includes two-night accommodations, two breakfasts, and admission fees to select destinations. A licensed tour guide-translator is on board each shuttle to escort you throughout the journey.
You are free to get off the shuttle at any stop you want and create your own custom-tailored travel route.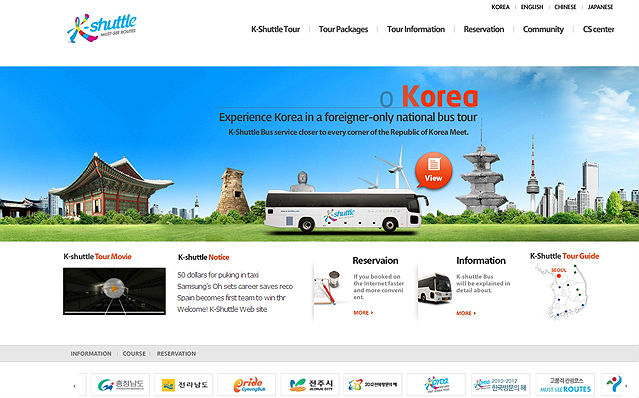 For more information or to make a reservation, please visit the official website at:
www.K-shuttle.com
or call (+82) 1899-2508 (Korean, English, Japanese, and Chinese).
By Hwang Dana
Korea.net Staff Writer
Featured Topics
http://www.korea.net/NewsFocus/Travel/view?articleId=101541
URL Copy
Department Global Communication and Contents Division, Contact Us