Tastes of Korea in Seoul
Oct 02, 2012
In addition to a fast-growing population of over 10 million people,
Seoul
is also well known for its ever-expanding array of unique sights and flavors.
Leading Swedish daily newspaper
Dagens Nyheter
recently spotlighted the capital city's diverse culinary offerings in its September 9 edition.
In an article entitled "Smaka på heta Seoul," or "A Taste of Seoul," internationally acclaimed chef and regular
Dagens Nyheter
food writer Jens Linder offered his take on how to get the full Seoul experience.
Towering skyscrapers, the skyline reflected on the flowing
Han River
, a well-connected network of roads and railways, and a beautiful natural landscape -- among Linder's list of Seoul's distinguishing features, the
traditional markets
were mentioned as places where visitors can feel the vitality as well as the warm affection of the Korean spirit.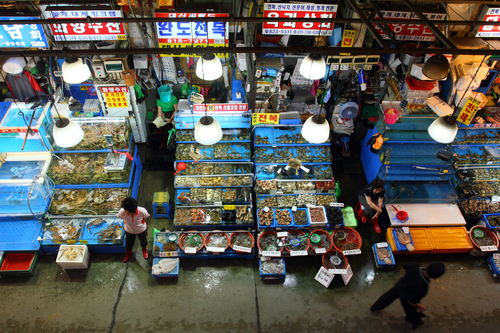 From nokdu jeon (mung bean pancake) to jokbal (pig's feet), an astounding variety of foods are available to try at markets such as
Gwangjang Market
, wrote Linder, who added that it would not be an exaggeration to say that
Noryangjin Fish Market
, located north of the Han River, boasts one of the world's most diverse assortments of seafood.
Linder, who confirmed that
Hansik
(Korean food) is enjoying great popularity around the world for its accessible flavors, also picked Seoul as one of the best cities in the world for food lovers.
Bibimbap, different kinds of jjigae, fried foods, and noodles can be found in restaurants large and small across the city, continued Linder. His top recommendations were a visit to the
Kimchi Field Museum
for introductions to new kinds of kimchi as well as a bulgogi meal for the perfect mix of savory meat cooked on the spot and a variety of fresh vegetables.
More information on Seoul's traditional markets
More information on Korean food

By Kwon Jungyun
Korea.net Staff Writer
Department Global Communication and Contents Division, Contact Us