Catch autumn's colors at Korea's national parks
Oct 22, 2012
For travelers looking to get the best views of the season's changing colors, the Korea National Park Service is providing information on ideal routes as well as peak times to catch some vibrant autumn foliage.
A total of 20 national parks can be found across Korea, but the 15 that are located by and named for the country's most prominent mountains will be the ones to visit in the coming weeks.
Seoraksan
located in Korea's northeastern Gangwon-do (Gangwon province) and
Jirisan
which spans across three southern provinces are among the better-known of these.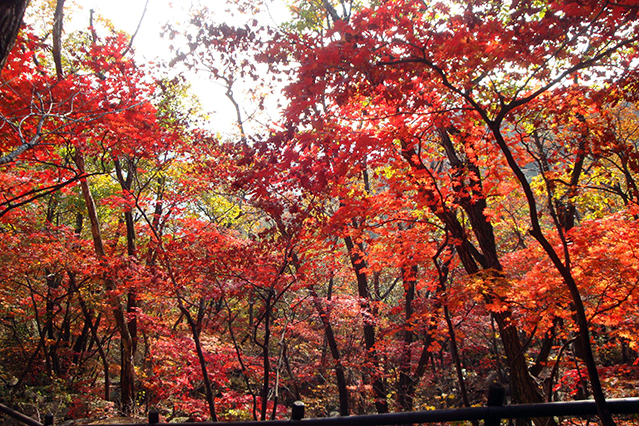 Leaves have already begun changing color on Korea's mountains since earlier this month, beginning at northernmost Seoraksan and spreading southward to Woraksan and Songnisan, with Naejangsan and Duryunsan in the south expected to be the last in line to don their autumn dress (around October 25 and 28, respectively). Peak foliage, which refers to when approximately 80% of the leaves on any mountain have changed color, has likewise arrived first on Seoraksan (on October 17). The central region is expected to reach peak foliage within the next two weeks.
"It usually takes ten days or so for the colors to spread from the peak of the mountain to its base," said Lee Sang-bae, public relations director for the Korea National Park Service. "Whether you prefer hiking or light trekking, you can choose from a variety of trails for the most satisfying outing."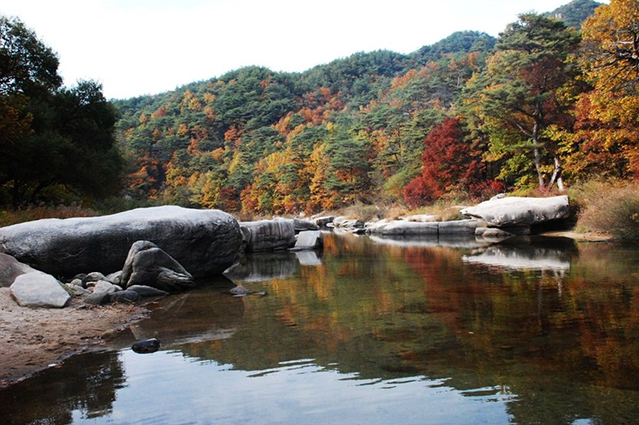 Ideal times to visit the different parks, as recommended by the National Park Service, are as follows (all dates are approximate):
October 11-25: Seoraksan National Park, Jirisan National Park, Odaesan National Park
OCtober 13-27: Chiaksan National Park
October 17-31: Deogyusan National Park, Woraksan National Park, Sobaeksan National Park
October 19 - November 3: Bukhansan National Park, Songnisan National Park, Gayasan National Park, Juwangsan National Park, Gyeryongsan National Park
October 30 - November 13: Naejangsan National Park, Byeonsanbando National Park
November 4-18: Wolchulsan National Park
More information on visiting Korea's national parks, including directions and photographs, can be found at the website of the National Park Service:
http://english.knps.or.kr/
.
By Kwon Jungyun
Korea.net Staff Writer
Featured Topics
http://www.korea.net/NewsFocus/Travel/view?articleId=103231
URL Copy
Department Global Communication and Contents Division, Contact Us