Hanok Homestay program invites visitors
Dec 06, 2012
More Koreans may be living in apartments than ever, but the traditional Korean house is making a comeback. Known as the Hanok, it is becoming a popular attraction not only for foreign visitors, but also Koreans. The Hanok Homestay program ensures that visitors have access to a quality stay and enriching cultural programs.

To help meet the high demand for a Hanok experience, Jongno District recently opened the Hanok Homestay Information Center. Located in Bukchon Hanok Village, it provides tourist information as well as assistance with reservations and interpretation services. The center, which is housed in a Hanok itself, also has an exhibition room used to host hands-on experience programs all year round.

The Hanok Homestay program launched in May 2010, building a network of Hanok-owning families willing to open their homes to guests. The district government helps ease the burden of investments and also assists the creation of programs intended to introduce Korean customs and culture to visitors.

Hanoks are rich in cultural heritage, and there is much to learn about Korea by visiting a Hanok. Since around three quarters of Korea is mountainous, the decision of where to build is very important. Traditionally a Hanok should be built in a location with a mountain behind it, and a river in front. Traditionally, Korean culture emphasized a harmonious relationship between buildings and nature. Ceremonies such as Gaetoje (rite of opening the earth) and Sangnyangsik (putting up the ridge beam) are performed during construction to ask nature to welcome the building's human inhabitants.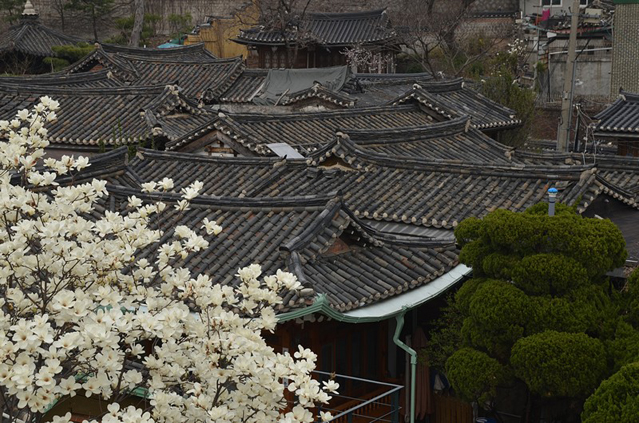 In Seoul, two of the best known remaining Hanok villages are found on either side of Gyeongbokgung, the main palace of the Joseon Dynasty (1392-1897).

Bukchon Hanok Village to the east of the palace has 600 years of urban history. The area has exploded with hostels and homestays since 2009, when revisions were made to the Enforced Ordinance of the Tourism Promotion Act, allowing such businesses in residential neighborhoods.

On the west side of Gyeongbokgung is Seochon, a much quieter area with its fair share of Hanoks, labyrinthine alleyways, art galleries, and history. Of the 1,400 Hanoks located within Seoul's traditional city walls, over 300 are found in Seochon.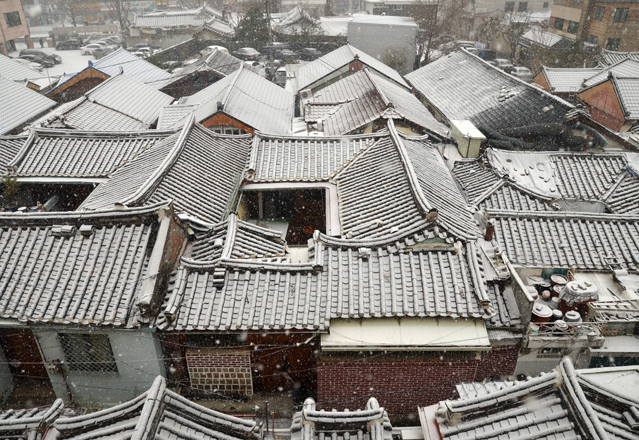 One such Hanok is Gowoondang, a beautiful structure over a century old, located deep within Seochon's alleys. Like all Hanoks, it has a courtyard known in Korean as a madang, and Gowoondang's madang has two juniper trees that are more than two centuries old.

Gowoondang is currently owned by Kim Deok-hwan, who is fluent in English, Chinese, and Japanese and loves helping visitors enjoy their stay. He lives in the Hanok with his wife Yoon Jeong-ae and son Kooman, and as members of the Hanok Homestay program they have a constant flow of guests sharing their quarters.

They opened the wonderfully preserved Hanok to homestayers in April this year, after moving to Seochon from Gangnam where they lived in a typical apartment.

"It's my first time since middle school living in a Hanok," says Yoon.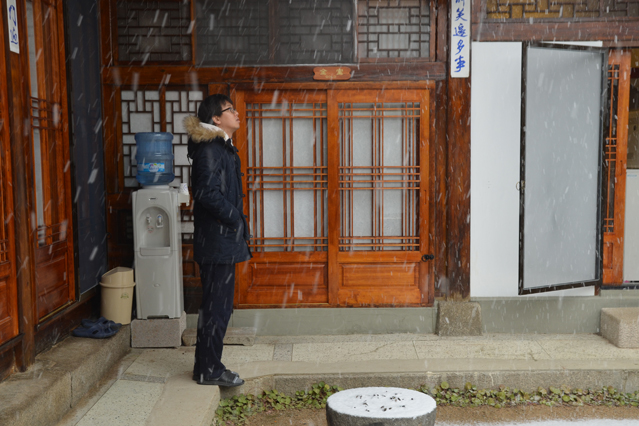 She recalls how they had the idea to run a Hanok homestay after a visit to Beijing. On a tour of the Forbidden Palace, she noted the surrounding neighborhoods, characterized by narrow alleys lined with traditional Chinese houses.

"I was shocked by the environment," she says. "It was like Korea 50 years ago. The Forbidden Palace was very fancy, but the area around it -- which was also part of the tour -- was well-preserved, yet not the same picture of luxury."

Realizing that there was demand for such traditional experiences, she moved with her family into Gowoondang and opened it to guests. The homestay has been popular with guests, who sleep on the floor, which is heated by an ondol heating system that's perfect for cold winter nights. They also get to sample authentic Korean food, prepared at home by Yoon.

She says they also make their own kimchi. "Last week we had a guest from Hokkaido," Yoon says. "We had to tell her we couldn't host her right now, because we were busy with gimjang (the kimchi-preparing process). But she told us 'That's why I want to visit.'"

Yoon says about 80 percent of the foreign guests come from China, Taiwan, and Hong Kong, 15 percent from Japan, and the remaining coming mainly from South Asia and Europe.

Also, surprisingly, a large number of her guests are Korean families, bringing their children who've never experienced life in a Hanok.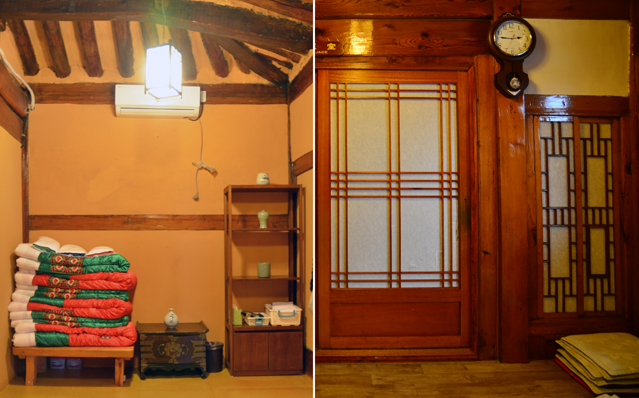 The Hanok Homestay program is increasingly a great way to experience traditional Korean city life. Many of the Hanok host families offer their own cultural experience programs, including language lessons, playing Korean musical instruments, trying on traditional Hanbok clothes, making kimchi, and calligraphy.

The Hanoks in Bukchon and Seochon are also close to many historic sites, palaces, and museums, and more information about spots worth visiting is available at the Hanok Homestay Information Center.

For more information on the Hanok Homestay program, visit the official website (Korean, English, Japanese, Chinese). There is also a Hanok Homestay app available for the iPhone.

By Jon Dunbar
Korea.net Editor
Featured Topics
http://www.korea.net/NewsFocus/Travel/view?articleId=104110
URL Copy
Department Global Communication and Contents Division, Contact Us